Things you should know before you move to Northern Ireland, from someone who grew up here!
Medical student Kathryn has been born and bred in N.I. If you're considering making Belfast your home for university, here are some essential things she thinks you should know before you get here.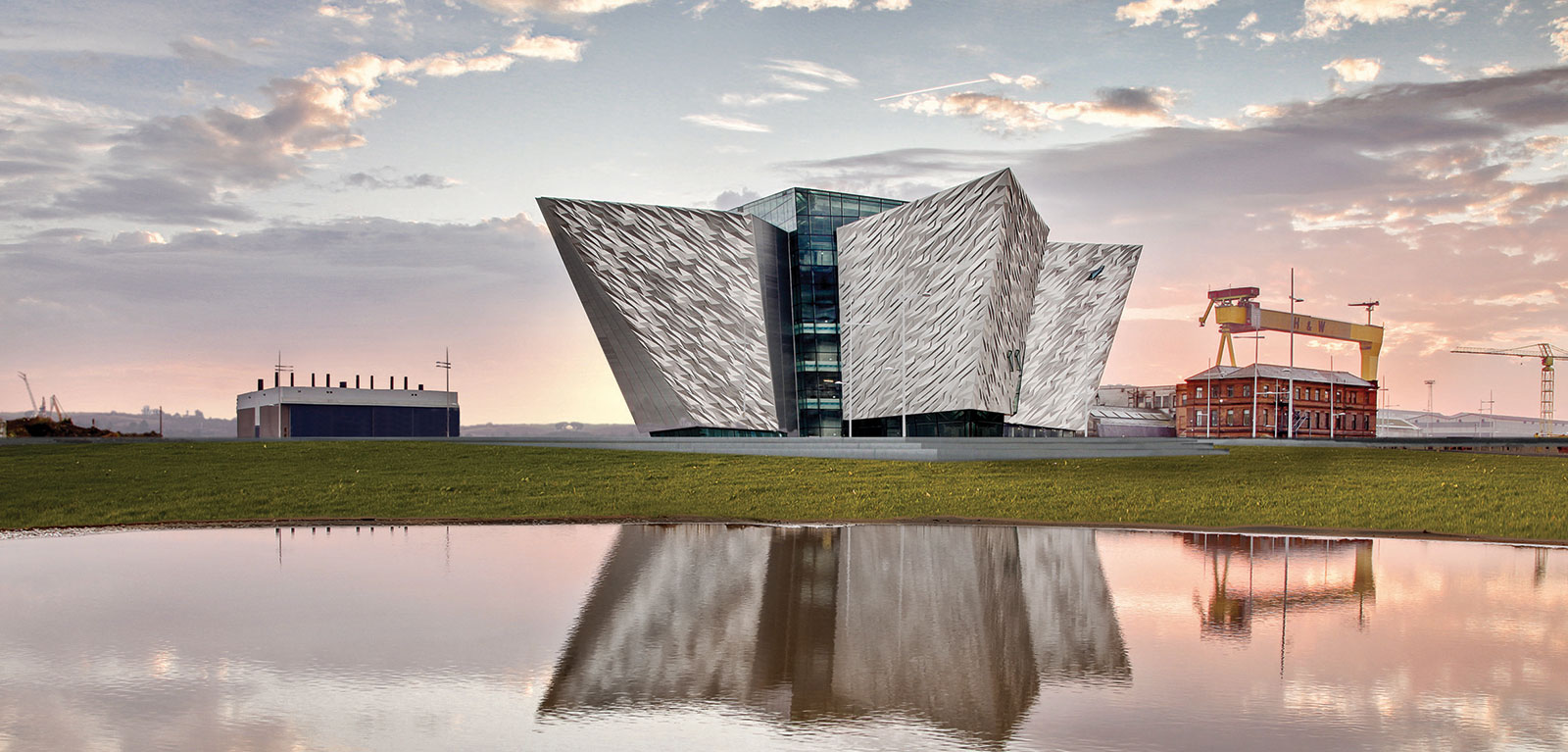 When I decided to move to Belfast and attend Queen's for university, it involved a 25 minute car ride from my parent's house to my new home in halls. But for many students here, a much longer or more complicated journey is involved!
Queen's is a truly international university, with students hailing from over 90 countries. And just as each and every person's home country will have traditions, quirks and amazing reasons to live there, the same can be said for Belfast.
I am always so interested in hearing what my international friends think of Northern Ireland, what they like and what they find a little strange. Having spent my whole life here, I feel well-equipped to give you a little taste of things about Northern Ireland that you should know (and that I have come to love) if you're considering moving to 'our wee country' for university!
There's a lot of local slang
Wait… what did I say just there? 'Wee' is just one of many words and phrases I've grown up hearing as part of everyday Northern Irish language that isn't as universal as I thought! When you live in Belfast, expect to hear that word thrown around a lot to quantify just about anything. It basically means small- for example, if someone says they'll be ready to leave for class in 'a wee minute', they're almost ready to go. However, I would expect it to pop up in all sorts of scenarios, even if the object being referred to isn't that small at all.
There are plenty of other specific phrases to look out for too, such as 'eejit'- for someone who is being silly, 'melter' for someone who is annoying you, or 'scundered', for when you're embarrassed. (I guess Northern Irish people have really invented bonus words for any and all frustrating people and situations!)
We're not joking about the weather
Another key part of Northern Irish slang- 'It's Baltic'. You can expect to hear this a lot in the winter time, as it's the only phrase that sums up our typical weather in the colder months - pretty cold!
Do not despair or let this put you off! The weather is probably no worse than the rest of the UK, but we in Northern Ireland do like to complain about it a lot. It's an easy way to make small talk when you meet new people, at the very least.
There are also some definite silver linings - it makes you appreciate a dry, crisp day in autumn and winter all the more, and means that you can join in the national feeling of euphoria that's present the moment the temperature hits 20 degrees in the summer, and you can find every resident outside in their gardens, local parks or the beaches for a sunbathe. (At this stage you might hear the popular 'taps aff' slang when people take their 'tops off'!)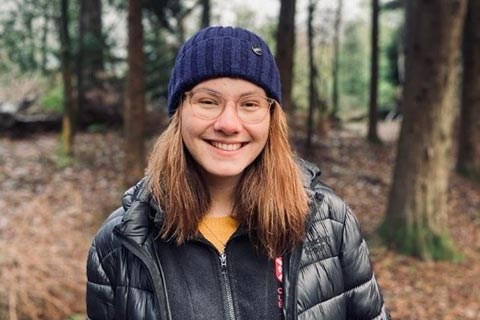 Plenty of layers required!
We're really friendly
Some surveys have even declared Belfast the friendliest city in the UK, and I would be inclined to agree. Whether it's when you're popping into a shop or catching a taxi, you can typically expect to end up chatting to the person you're with. Many Northern Irish people are often very close with their neighbours and local communities too.
If you're thinking of moving to Belfast for uni, please know that this welcome will extend to you too! Us locals are often well-versed at chatting away to anyone and everyone, and the people you meet on your course or in halls will likely be the same. This can help those settling-in nerves in a really significant way. University is also the perfect time to meet people from a variety of backgrounds too, meaning local students are keen to expand their horizons and hear about where you're from, too.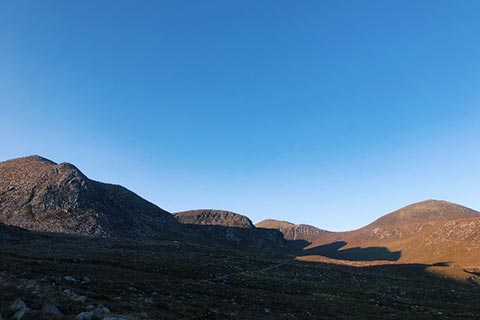 Beautiful Mournes!
Small, but mighty
I've always known that Belfast is a small city, but I didn't realise the true reality of this until I was older and began to travel in the UK and Europe. However, don't confuse small with boring or quiet. I personally think the size is a huge strength and the best of both worlds, as we can go to university in a bustling and developing city with a great range of shops, restaurants, bars and more… but everything is right on your doorstep!
My commute to the city centre is only about 15 minutes on foot, and the university area is right on my doorstep. This means I save money on public transport, live really close to a lot of my friends' houses, and there is always something to do nearby.
The same logic applies to Northern Ireland as a whole - despite being small, we have a bit of everything - rolling countryside, busy cities, coastlines and mountains. A whole range of really beautiful places to take in for yourself, and most very easily accessible just outside of Belfast.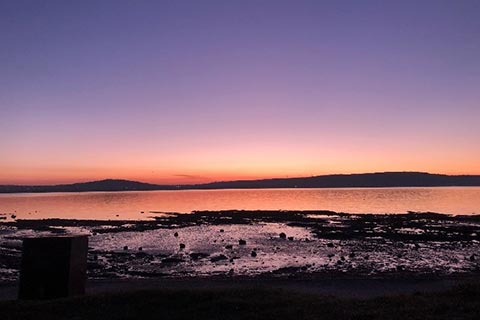 Never far from the sea!
There are some important local delicacies
There are a few food items that are specific to N.I that you should expect to discover when you come to study. The one I feel the most strongly about my international friends trying - Fifteens. A classic Northern Irish tray bake featuring marshmallows, biscuits, coconut and glace cherries to make a delicious treat. Find them in many cafes and enjoy!
Also worth keeping an eye out for an Ulster fry, a fried breakfast, with sausages, bacon, eggs (which is the best version of a fry, also featuring N.I's classic soda bread and potato), Tayto Crisps (especially the cheese and onion flavour), and a good pint of Guinness.
There is a lot of hope
Northern Ireland has had some bad press in the past. When you study at Queen's, you will meet people from a range of backgrounds and differing opinions on politics and religion, as you would expect to at any university. But to most students here, none of it really matters - the young generation of Northern Ireland are increasingly inclusive, informed and committed to making our country a better place to live and work for everyone.
I really do believe it's special to live in a city which is largely committed to hope and looking toward the future, and something that international students that come to study, work and live in Belfast hopefully get to feel a part of.
Ultimately, this is only a taste of why I love Northern Ireland and would recommend it as a place to study- but I hope this blog has given you a flavour of what to expect when you arrive to start your degree! Don a warm coat and get practicing your new found slang- I have a feeling you're going to like it here.
Find out more
More blogs about Belfast and Northern Ireland
Kathryn Allen

Medicine| Undergraduate Student | Lisburn, NI

I'm a 21 year old student originally from Lisburn and starting my fourth year of Medicine at Queen's in September- I love my degree because its combines caring for people, learning fascinating things and working as a team. When I'm not busy surviving placement and exams, you can find me in one of Belfast's great coffee shops with a friend, going to concerts to get my fix of live music, or curling up to read a book with a carefully curated Spotify playlist on in the background!