QUBLAN – Esports Society's First LAN Tournament
Film Studies and Production student Mark tells us all about the Queen's Esport Society's first major hosting event - the QUBLAN, a major competitive gaming tournament.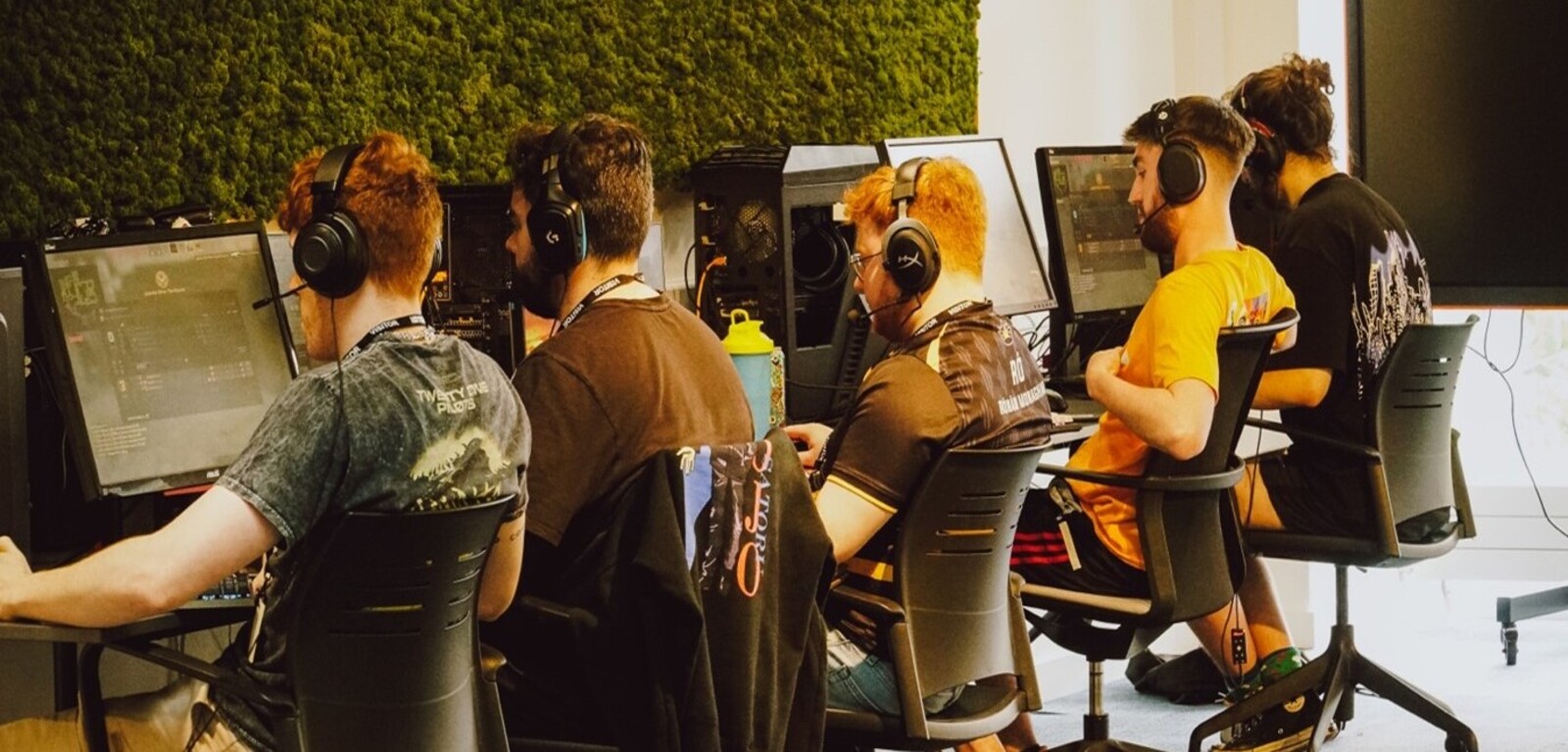 One of the most popular questions that I and the rest of the 2022/2023 committee have been asked, and you could even stretch this back to committees before our time, is: when is Queen's Esports going to host a LAN event? For those who do not know, a LAN tournament is a competitive gaming tournament where participants physically gather in a specific location to compete against each other in a local network. This type of setup allows for low-latency and stable connections, as all players are in close proximity, and allows for players to collaborate in real space instead of online.

A LAN event in Esports is one of the most exciting times for both players and spectators, and it is something that we have always wanted to do, so when the opportunity came to apply for funding from the Queen's Students' Union for a society to host an event, we jumped at the opportunity and pitched the idea of the biggest event that Queen's Esports has ever done – the QUBLAN event.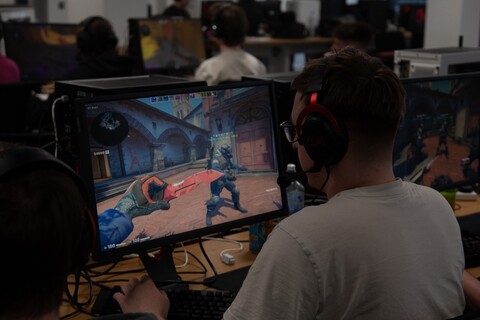 LAN is a competitive gaming tournament
The Collegiate Counter-Strike community
The overall plan for the LAN was going to be an event aimed at the Counter-Strike community, seeing players from the UK and Ireland compete at Queen's University for a prize pool. A bit of background history as to why we chose Counter-Strike for this event was due to Queen's Esports' popular history in Collegiate Counter-strike. Queen's has always been quite a dominant force in both the Irish and UK Collegiate leagues, consistently placing Top 3 from 2021-2023, and was a popular name in the space, in particular with the "A Team" of Queen's, known as "The Back Six", a name that would strike fear into some opponents due to their record of podium finishes over the years and a team of very highly skilled individuals, most of which play in outside leagues as well.
Due to our history in Counter-Strike, and how small and collaborative the Irish Counter-Strike scene is, we decided on hosting an event in Mandela Hall originally for teams to play in person, but we did run into some problems.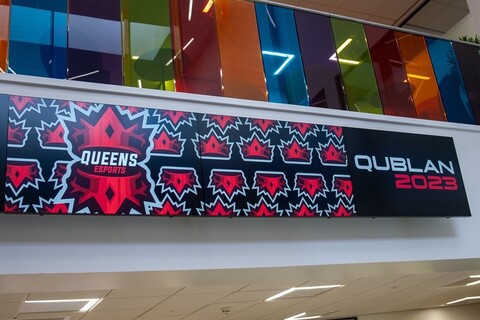 The first Queen's LAN took place in the Computer Science Building
We raised a lot of attention for this event, the last time a LAN had been done in Ireland was in Limerick, so a Belfast Counter-Strike LAN was something that hadn't have been done in many years, the last of which being before the pandemic. Much of the local community was itching for a new LAN event being close to home, so this was a perfect opportunity for us to work together as a team and collaborate with the University community and partners to create an event that would outshine the rest, and we sure did.
EEECS helped the LAN to take off
The LAN was shaping up to be in good progress during the start of the year, we actually switched the venue from Mandela Hall to the CSB as we believed we could make use of some more facilities, but also because we had received interest from the EEECS community at Queen's who wanted to be involved due to their interest in Esports.
I personally don't believe this LAN would have been possible without the staff and students at EEECS, they offered us rooms, cinema room spectating places, food over the days, as well as staff on site to make sure everything was running smoothly if we needed help. Since EEECS was so warm and welcoming of us, I believe that this partnership made the QUBLAN one of the best that has been seen on the island of Ireland.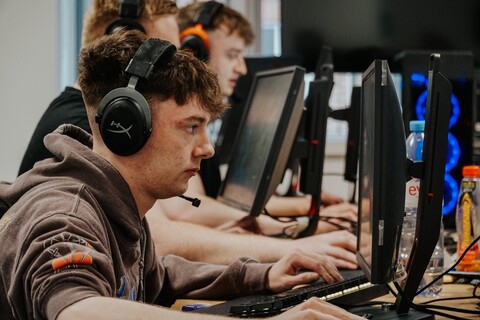 Players competed for a share in a £1500 prize pool
During the first week of sign-ups, we had originally set out a plan to cap the team limit to 8 so we didn't bite off more than we could chew, but we almost hit 100% capacity in the first few weeks of sign-ups, so we extended the cap to 11 teams as we believed, with the help and support from EEECS, Queen's Esports, the broadcasting talent and support from the Irish and UK Counter-Strike scene, that we would be able to handle this amount, and we did. We had 11 teams of 5 in the Computer Science Building, battling it out for a share in a massive £1500 prize pool, with help from the Queen's Students' Union funding programme for societies.
Smooth sailing for the society's first LAN
The event itself over the two days was so smooth, we received some amazing feedback that it was one of the smoothest events that some of these players had been to, and we had some amazing talent at this event too. Some of these players currently play in professional teams, some were broadcasting talents on the biggest stages, but most importantly due to the smallish size of the Irish counter-strike scene, everyone knew each other, and everyone was playing for fun, creating an amazing atmosphere that everyone enjoyed. We even had an official Liquipedia page be created for us, which is a website for Esports events, and can be found at: https://liquipedia.net/counterstrike/QUBLAN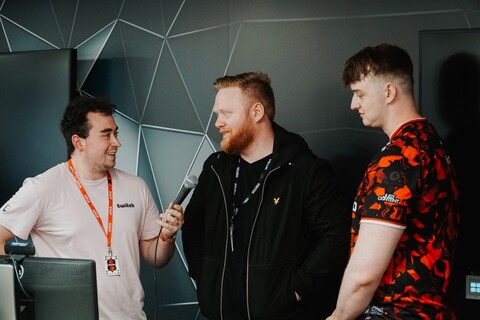 The LAN set a new standard for Irish Counter-Strike events
After the event had concluded, the Queen's Esports Committee and QUBLAN Admin and Broadcasting Team gathered to celebrate this achievement, not only did we just do our first LAN and our biggest event in history, but we also set a new standard for Irish Counter-Strike events - being super high quality, with little to no downtime on games, and incredible facilities for the players and spectators to not only enjoy the competitive games but to also enjoy the environment they were in. With this new profound knowledge that we have gained, I look forward to our next "QUBLAN" which will hopefully be bigger and better.
A massive shoutout to EEECS, Queen's University Belfast, The Irish Challengers League, my Queen's Esports committee, the QUBLAN Admin team and Broadcasting Team, the Queen's University Students' Union, and the players and the community, for their amazing support at this event, and I can't wait to see what can be done in the future.

More photos are available on my website: https://www.pixelpunchproductions.com/home/qublan
Find out more
The Growing Esports Scene in Northern Ireland
Study Film Studies and Production at Queen's
Mark McCourt

Film Studies and Production| Undergraduate Student | Northern Ireland

I am a 21 year old Film Studies and Production student at Queen's and I have just finished my final year, I also am the president of Queen's Esports Society! In my spare time you will either see me at a PC practicing for upcoming Esports competitions or in a gym where I do Powerlifting and have been lifting competitively for just over a year. I have found my journey in Queen's to be a rewarding one, filled with new opportunities and I met so many amazing people along the way, and I hope you find so many opportunities here to find your spark!