How I Make the Most of My Spare Time in Belfast
Wondering how to enjoy your spare time while studying in Belfast? Postgraduate Research student Sreyashi lists her favourite spots and activities in and around the city.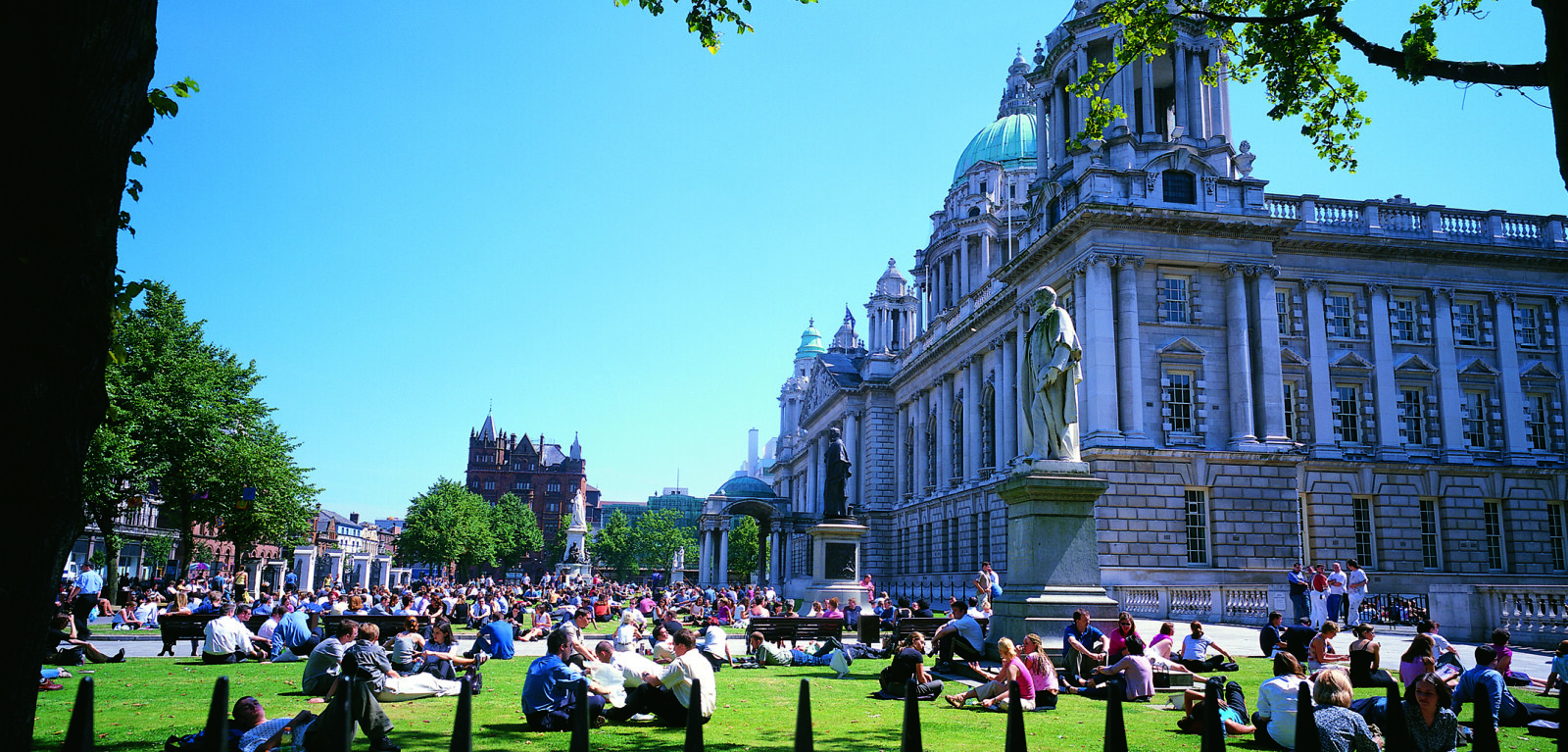 Belfast: a small yet very pretty city surrounded by mountains has become my home in such a short span of time. Honestly, every time I look at the city from the top, it's so breathtaking. But I haven't just become mesmerised by the outer beauty. Every time I take stroll around, I stumble upon a new street or a café which never fails to amaze me.
So, I have penned some of my favourite spots and activities that I like to do in my spare time!
1. Stroll around the City centre
One of the main perks of staying at Elms BT1 accommodation right in the heart of the city is that sometimes when I am feeling a bit bored, I like to take myself out on a "solo" date and explore the nearby shops. Strolling around the bustling yet beautiful city centre with a cold coffee in hand on a warm sunny day is an example of a perfect day out for me.
In the process, I have come across various cute little shops and alleys that for no doubt would be considered an ideal "Instagram worthy" place. One such is the alley of Queen's Arcade. If you are someone who loves decorating your home with flowers, this shop is a must go for you.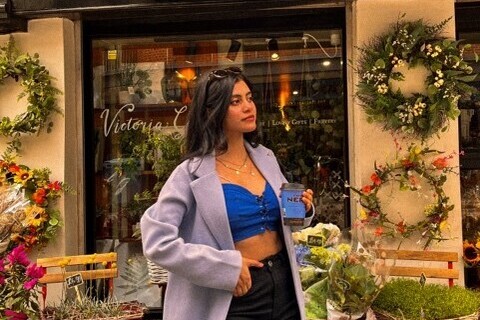 Aesthetics of the Victoria Gault flower shop
2. Spend time and chill with my friends at One Elmwood
When with friends, one of the best places to chill is the One Elmwood Student Centre. Comfortable as it is, this building not only has lounges for students to chill and play games, but also has a café (SOCIAL) downstairs with so many delicious varieties to choose from. Honestly, this is also one of my go-to places when I want to get some work done as it has a lot of study places for students as well.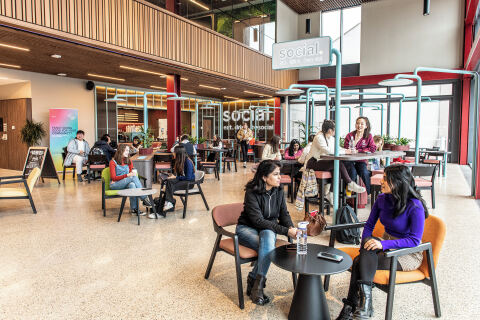 Social cafe in One Elmwood
3. A drink at the SU bar
The most affordable drinks you say? Well, there is no better place in the entirety of Belfast to get a drink or two, or even ten (if you're feeling a little adventurous) than the SU bar inside One Elmwood itself. Surely, a perfect spot to make your Friday night even more "Lit".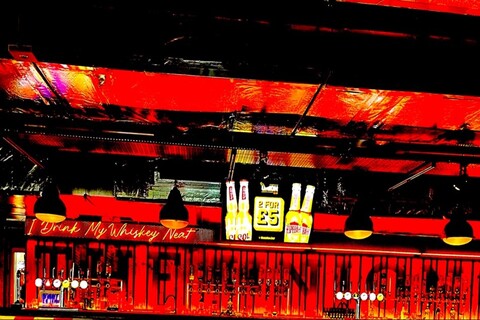 SU Bar
4. Thursday night at Granny Annies
When it comes to drinks, another spot that is an absolute steal is Granny Annies. A place promoting local live bands and close to City Hall, they have some of the best cocktails I have ever had, and they do offers like 2 for £10 (if you grab the happy hour deal) or on Thursdays when they have a fantastic food and a drink combo to choose from for only £10. What an absolute gem of a place that I wish I had discovered earlier.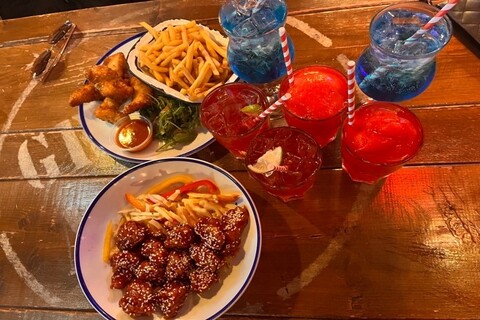 Drinks and food combo at Granny Annies
5. Attending food markets
I wouldn't be lying if I told you that I have experienced one of the best food markets in Belfast this year. These happen twice a year (summer and winter) with a choice of stalls from different regions in and around Europe to choose from. With so many options, it's honestly a bit hard to keep count of the calorie intake (which I don't mind for a day). Personally, I prefer the winter markets as who wouldn't love a warm cup of hot chocolate or some caramel muffins in the freezing cold.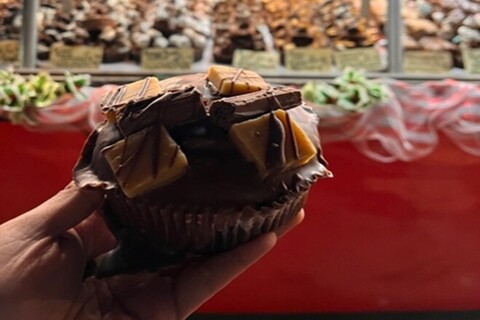 Tasty treats at Belfast Continental Market
6. Exploring new Asian cafes
Being an Asian and a foodie, one thing I miss the most is Asian cuisine. So, I sometimes find myself exploring the hidden Asian gems of Belfast. Among the plenty of different Asian cuisines such as Thai, Japanese, Korean, Indian and Chinese, some of my absolute favourite spots are Kawa- Asian fusion, Sukee Café – for some lip-smacking Korean street food options, Yo! Sushi and Obento – my go-to places for affordable sushi and last but not the least, Tea House for some refreshing bubble tea.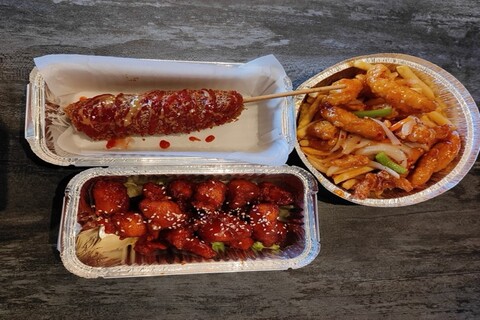 Korean street food delicacies at Kawa
7. Dark Hedges and Rope Bridge
While the popular locations of the well-known television series Game of Thrones such as the Dark Hedges and Cushendun Caves are some of the widely known tourist attractions around Belfast, apart from those, another favourite spot of mine is the Rope Bridge situated near Ballintoy in County Antrim.
The pristine blue waters and stone cliffs all around do not fail to give the place an absolutely breathtaking vibe.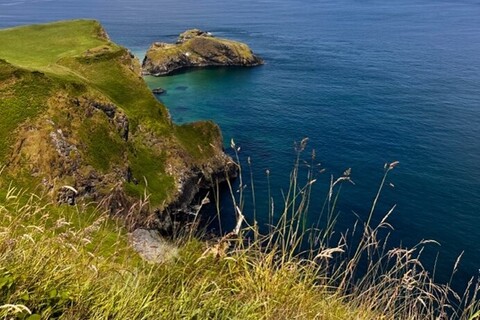 Scenic beauty near the rope bridge
8. Sunset near the Big Fish
Staying in Belfast and haven't heard of the Big Fish? That's impossible. Well, this is a spot be it day or night, it caters to all kinds of beauty. But my most favourite time you ask? It has to be during sunset.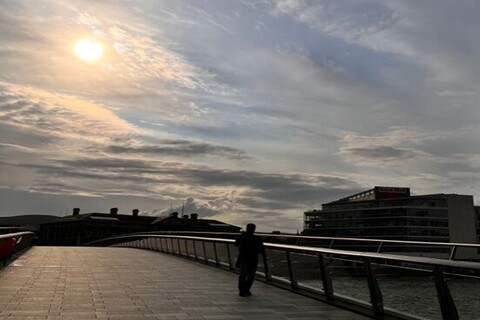 Sunset from the bridge near the Big Fish
9. Chilling with my flat mates at the Elms BT1 common room
Last but not the least, home is always the best place to spend time with your buddies. In our case, the Elms BT1 coffee bar served as the perfect "F.R.I.E.N.D.S" couch as we would often jokingly call it to chill or even share our day-to-day stories with each other.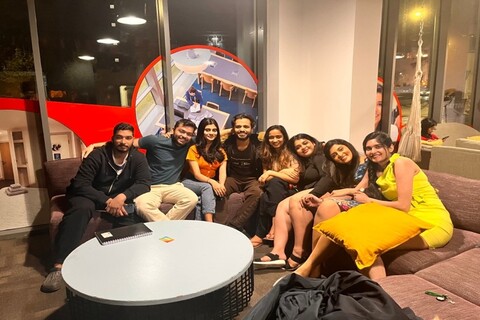 Our F.R.I.E.N.D.S couch
Find out more
More blogs about Belfast and Northern Ireland
PhD Biological Science at Queen's
Sreyashi Acharjee

Biological Sciences| Postgraduate Research Student | India

I am a first year PhD student in the School of Biological Sciences at Queen's. Apart from my love of research, I am also someone who enjoys creating content for social media. Currently a Queen's student ambassador and a course representative, I love getting myself involved in various sorts of voluntary work and as an international student, even though I am still getting used to many things here, I would really be happy to extend my help to fellow students like me.