GB Student Experience: Making Friends and Lockdown Mullets
Starting university is a big deal for everyone. Throw in moving countries AND a global pandemic and there are gonna be a few challenges. Hear from GB History and Politics student James on how he made the most of it all.
Coming over from Bournemouth in the South of England, I was nervous about going to Queen's University. I had taken a gap year, lockdown hit, and I became very comfortable being at home. I was worried about starting at a university where I didn't know anyone or the city, and was worried that Covid restrictions would impact my ability to get to know new peers.
I decided to commit to entering university and had an enjoyable freshers week where I met new people, explored the city and discovered the beauty of Belfast that still stuns me to this day.

There is a certain energy about Belfast that you will not find in other cities which was apparent from the first couple of weeks of being in the city.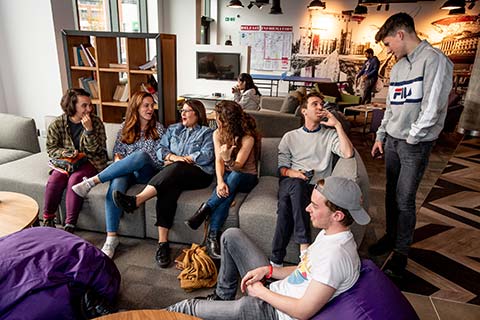 Meeting people during a pandemic is hard!
After returning home for a bit during lockdown I transferred to Elms Village on my return because their apartments had 11 rooms and I was banking on meeting new people and having more of a "first-year" experience in an 11 person-flat. To be honest, this was a great decision as everyone in the flat seemed to have the same idea and all 11 people returned after the rent break, making for a fun flat atmosphere.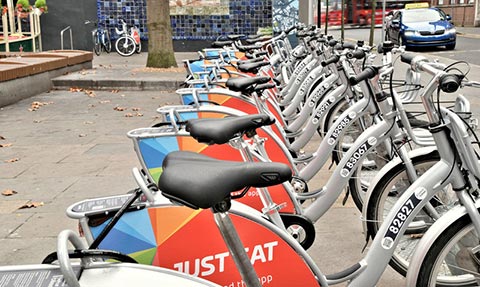 Getting to know the city
We rode the "Belfast Bikes" around the city up to the Titanic Museum. This is something I would recommend every first year to do to familiarise yourself with the city. Being a GB student, I now surprise my friends from Northern Ireland with my knowledge of directions and familiarity with locations around Belfast!
Going lockdown-crazy
Throughout the lockdown semester, our flat activities became increasingly insane, yet amusing. I ticked off an item on my bucket list by getting a home-haircut mullet.
Additionally, in April I began a month-long 50-mile run for Prostate Cancer and made use of the free gym. It has been super helpful to get to the gym whenever I'm feeling stressed out from university work and knowing it is free makes it more rewarding.
Restrictions lifting really opened up Belfast to me
Once restrictions lifted, I got to know more people around the student village. I played golf with a few lads down at Malone Golf Course, not far from Queen's. If you're a golfer, there isn't a better place than Northern Ireland with two of its courses being in the Top 20 Golf Digest World Courses.
With the new people I had met, I frequently headed to the Botanic Gardens for ball games and when the pub beer gardens opened, we went to The Bot and Lavery's. It was here I was asked to move into a house with three others in Stranmillis.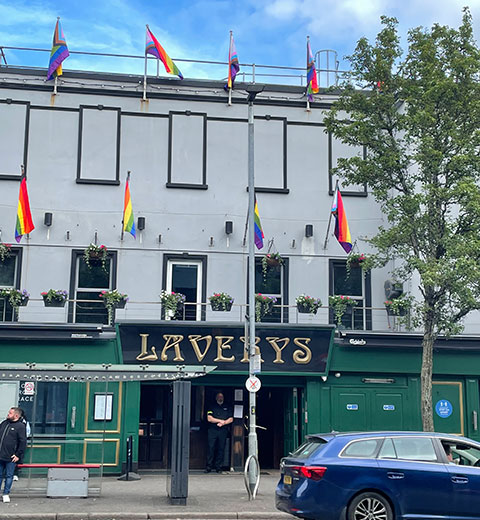 Having an English accent in Belfast...
Having an English accent in Belfast is always a great conversation starter. You can also strike up conversations with other English people when you catch the accent. I find people here have families and friends across in England making them interested in finding out about the city/area you're from. Similarly, having an Irish and Northern Irish family, I get excited talking to new people about the island and all the different perspectives on the areas they are from.
Don't put too much pressure on yourself
From my experience in the first year, I would emphasise not to put too much pressure on making "university friends for life." By putting yourself out there, you will meet plenty of people and eventually find the ones you'll move in with.
Once I came back from summer, the experience of Belfast was much different. The initial buzz of energy that made me love the city when I first arrived was intensified with all the restrictions lifted by the end of October.
Join a club or society!
It was so much fun and getting involved with several different societies throughout the year introduced me to a lot more people. The society I focused on however mostly was the Boxing society which eventually led to me having an exhibition bout at a boxing show by the end of the academic year.
I got a job at The Points and it was fun learning all the Irish tunes. When my friends from England came over to visit, I took them in there for a couple of Guinness' and they absolutely loved it.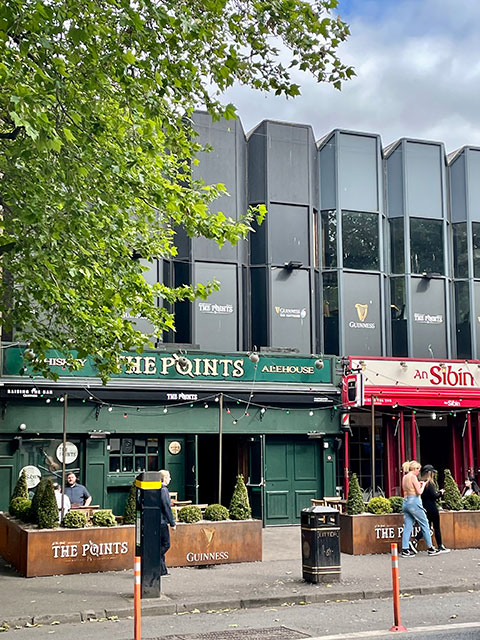 Second year was challenging
With some lecturer strikes in second year I found the workload increasingly difficult. Although it was made clear that essays would not be marked on the missed content missed from striking, assignments were stressful because we were missing so much contextual background information. I recommend watching additional documentaries and online lecturers to supplement your subject knowledge and improve your chances of better grades.
Take advantage of everything Belfast has on offer
Once I finished my second year of academic studies, I thought it was important to enjoy Belfast in the summer. I would recommend to students that can do the same as there were so many fun opportunities across summer in Belfast.
My personal favourite was the AVA festival by the Titanic Slipways. It was a Techno-House Arts Festival. Alongside the friends I met over here, a couple of friends come over from England who absolutely loved it. It exemplified the electric and social atmosphere of Belfast and for sure I will be going again next year.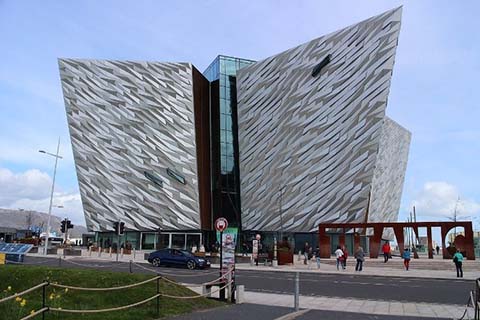 Essentially, I recommend every student joining Queen's from Great Britain to take part in as many opportunities as possible to make the most of their University experience.
Trust the process
Additionally, if you feel as though you are struggling or have not met the social expectations you have set on yourself, take a step back, trust yourself and trust the process that this university experience will work out. I'm sure down the line you'll end up like me, falling in love with the beautiful city of Belfast and thoroughly enjoying the Queen's experience!
Find out more
James McGeehan

BA History and Politics| Undergraduate Student |Bournemouth, England

I am a third-year student heading out to the United States, Washington DC to enrol in a study exchange programme at George Washington University for Semester 1. Once I am back from the States, I will be enrolling in a political Internship that will continue throughout my second semester. I've lived in Elms BT2 and Elms Village and Stranmillis.

Throughout my time at Queen's, I have been a member of the Boxing Society, Golf Society, Wine and Cheese Society, Politics Society and Archaeology Society so I have kept myself busy. If I have free time at the weekend once my studies have been completed my favourite places to party are The Points, the Cathedral Quarter and Thompson's!