Get an asymptomatic test now
Why get a test? Short answer is - you might have coronavirus and you could be spreading it without your knowledge.
No one wants that. Part of the reason this is spreading so fast is because it can go from person to person without them ever showing symptoms. Usually, if you are sick with the cold or flu, you take time off uni, time off work, you keep yourself to yourself and you minimise the risk to others. If you are sick without knowing it you just carry on normally and the spread continues.
Imagine if you gave it to your housemate and then they give it to a vulnerable person?
Imagine if you went to campus and spread it to your classmates?
Imagine you want a night out, a haircut, a holiday…someday?
Let's be honest, this is getting OLD. There's only so many online quizzes one person can do. But if we want to party like Wuhan or live in a 'normal' society like New Zealand then we all have to play our part to get this under control.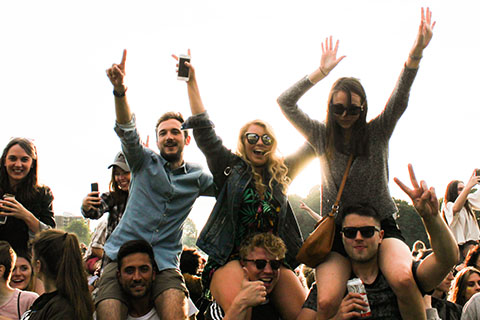 It's just not worth the risk when you can get a FREE and quick asymptomatic test right here on campus.
So, how do you do it and what does it involve?
Here is my experience of getting an asymptomatic coronavirus test.
1. I booked online. There are loads of slots from 11am to 19:50pm. You book your first test and then a second one no fewer than 3 days later. You receive a calendar notification and a barcode via email.
2. I arrived at the Whitla Hall (the building to the right of the Lanyon where Graduation is held) a few minutes before my test was due. You must wear a mask and bring your phone with the barcode you received. It's also useful to have some water and some tissues.
3. I was surprised to see a short queue outside the Whitla Hall but needn't have worried as I was inside within two minutes. At the entrance you present the barcode on your phone to be scanned and then you are given a card with some details and another QR code/barcode.
4. You use the antibacterial hand sanitiser at the door and proceed inside where there are people in masks and visors, should you have any questions.
5. The card has a link on it which you navigate to on your phone. It prompts you to scan the QR code from the card. You fill in a short questionnaire. The floor is marked with spots so everyone keeps a safe distance. You move forward as you are filling in the questionnaire. Just as I had it finished, I was at the front of the line.
6. A student directed me into a booth. It's a bit like a polling station/bank with about 10 booths at either side of the hall. There's a plastic window separating you from the person who will hand you your swab. They explain the procedure to you- basically swab your tonsils three times each side and then swab up your nose. There are mirrors on the wall and the instructions are printed there too so you can identify your tonsils and make sure you are doing it correctly.
7. YOU SWAB YOURSELF. I can't imagine anyone else sticking something up my nose so this was very reassuring. It's useful to have a tissue at this stage because you might sneeze after doing this.
8. You hand the swab back to the person behind the glass and that's you.
9. The whole thing ONLY TAKES 10 MINUTES and I received my results (negative, thankfully) via text message within one hour.
10. There's really no excuse not to.
---
This test is only suitable if you do not have symptoms. If you do have coronavirus symptoms you should book a test here.