Nature in Ireland: A Scientific and Cultural History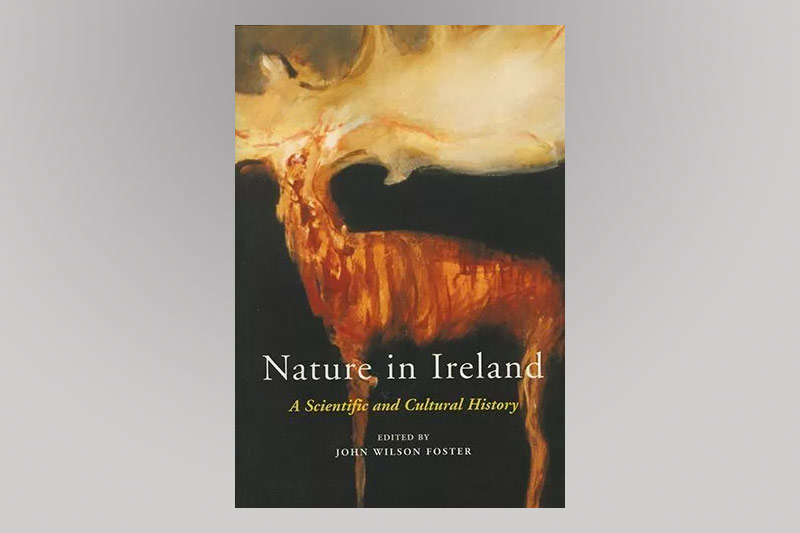 Year: 1997
Category: Nature
Tags: Irish nature; Nature; Ireland
Description
---
Senior Editor: John Wilson Foster
How has Irish nature been studied? How has it been expressed in literature and popular culture? How has it influenced, and been influenced by, political, economic and social change? These long-neglected questions are pursued in Nature in Ireland, a pioneering collection of original essays by leading naturalists, science writers and cultural historians who bring us from the geological prehistory of the island to the environmental threats of the late twentieth century.
Nature in Ireland is an indispensable reference source, containing definitive histories of Irish botany, mammalogy, entomology, fish and fisheries, geology, meteorology, ornithology, woodlands, demesnes and bogs. These essays reclaim the study of nature as a major contribution to Irish culture and a significant field of Irish studies, drawing out the links between scientific study, history, art and popular culture. Others focus on specific cultural aspects of nature in Ireland: Seán Lysaght explores the question of nomenclature in a bilingual society; Michael Viney gives a lively critical history of hunting, shooting and other field sports; Dorinda Outram examines the relationship between the standard continental models of natural history and the Irish experience; John Feehan writes of the challenges of conservation and environmentalism; J.H. Andrews presents the history of the mapping of Ireland's physical geography; David Cabot discusses the essential texts of Irish natural history; and in three magisterial essays editor John Wilson Foster traces the traditions associated with perceptions of Irish nature, elucidates the complex relationship of 'nature and nation' in the nineteenth century, and, in 'The Culture of Nature', takes us on a dazzling tour from Yeats, Wilde, Kavanagh and Heaney to the cultural implications of eco-tourism, deep ecology, genetic engineering and artificial life.
The essays are accompanied by over fifty photographs, maps, paintings and engravings, which illustrate the visual culture of Irish nature. In Nature in Ireland, the disciplinary boundaries that have partitioned the study of nature are cleared away with wit, style, and scrupulous scholarship. It is a landmark publication in the study of Irish history, science and culture.
'A wonderful, eclectic collection of essays. The scope and scale of this volume will make it a reference book and baseline, yet one with appeal to both lay person and professional. This book is one for anyone interested in Irish nature and culture.'
– Mary Mulvihill, The Irish Times
'A lavish compendium of Irish natural history.'
– Karlin Lillington, The Guardian
'A wonderful book, delightful to read… It's a book that every library should possess, and that every Irish reader, native or sea-divided Gael, can enjoy and return to over and over again.'
– Kildare Dobbs, Books in Canada
'A remarkable and successful work. Nature in Ireland is a major contribution to the social and cultural history of the nation and an important source book for many years to come.'
– Laurence Roche, Irish Independent
'An excellent book.'
Eanna Ni Lamhna, Sunday Tribune
'A work of fundamental importance to any collection, not only is Irish natural history illuminated but Ireland too. Perhaps the most remarkable feature of this book is its consistently high standard of literacy and readability.'
– Stuart James, Reference Reviews
'A major thought-provoking landmark.'
– Mic Moroney, The Irish Times
'It is no exaggeration to say that this book will have a major impact on the study of cultural history in Ireland.'
– Archaeology Ireland

'The riches of this book could not be caught up in a dozen reviews.This book will heighten any visitor's appreciation of the land of saints, scholars and now scientists.'
– Herbert A. Kenny, The Boston Irish Reporter

JOHN WILSON FOSTER, the senior editor, is a native of Belfast. He is professor of English at the University of British Columbia, Canada. His books include Forces and Themes in Ulster Fiction (1974), Fictions of the Irish Literary Revival (1987), Colonial Consequences: Essays in Irish Literature and Culture (1991), The Achievement of Seamus Heaney (1995), and The Titanic Complex (1997).

HELENA C.G. CHESNEY, the associate editor, is a malacologist specialising in the study of bivalve molluscs. She is Keeper of Zoology at the Ulster Museum, Belfast.

Contributors: J.H. Andrews, Martyn Anglesea, David Cabot, Helena C.G. Chesney, John Feehan, Peter Foss, John Wilson Foster, Michael Guiry, Paul Hackney, Iain Higgins, Clive Hutchinson, Sheila Landy, David Livingstone, Seán Lysaght, Mary G. McGeown, Brendan McWilliams, Christopher Moriarty, Robert Nash, Eoin Neeson, Catherine O'Connell, James O'Connor, Dorinda Outram, Terence Reeves-Smyth, Patrick Sleeman, Donal Synnott, Michael Viney, Patrick Wyse Jackson.