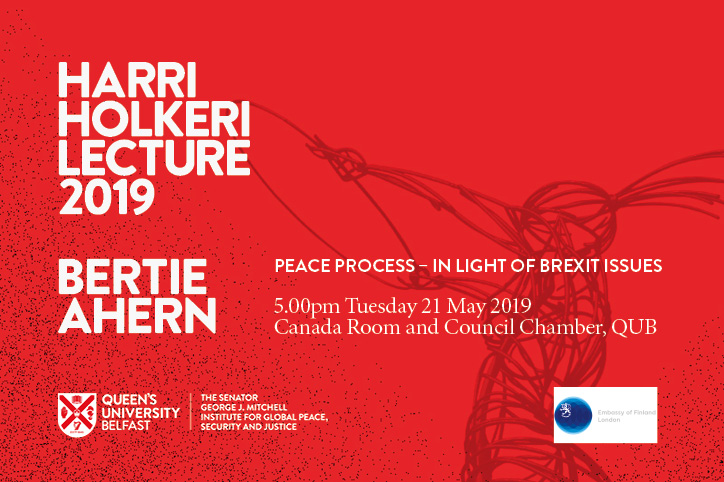 21 May, QUB
Harri Holkeri Lecture 2019
Now in its 7th year, the Harri Holkeri Lecture Series celebrates and recognises the contribution of late Finnish Prime Minister Harri Holkeri to the Northern Ireland peace process. His aim of transforming conflict and promoting social justice in Northern Ireland and across the world is shared by the Mitchell Institute. We are honoured to partner with the Finnish Embassy to host the annual Harri Holkeri Lecture Series.

This year's lecture will be given by Bertie Ahern.


Harri Holkeri Lecture 2019
Study at the institute
MA CONFLICT TRANSFORMATION AND SOCIAL JUSTICE
A unique interdisciplinary programme taught through subject areas including law, anthropology, English, history, philosophy, politics, psychology and sociology.
Scholarship Opportunity
Commonwealth Shared Scholarships 2019
Commonwealth Shared Scholarships are offered by the Commonwealth Scholarship Commission (CSC) in partnership with UK universities. These scholarships are intended for students from eligible developing Commonwealth countries, who would not otherwise be able to afford to undertake Master's level study in the UK, to gain skills and knowledge which will allow them to contribute to the development of their home countries.
Find out more
A flagship for social transformation
The Senator George J. Mitchell Institute for Global Peace, Security and Justice is a Global Research Institute (GRI).
A flagship for interdisciplinary research in areas of major societal challenge, the GRI brings together excellent researchers from a wide range of disciplines to tackle some of the greatest global issues of our age.
Unparalleled expertise to bring about change
Questions about peace, security and justice dominate the discourse of governments, international agencies and civil society.
How can societies emerging from conflict resolve lingering grievances? How can they establish peace on a daily basis? How can the competing demands of justice, peace and security be resolved? The GRI responds to the challenge of building a peaceful, secure and inclusive world, bringing together the unparalleled expertise at Queen's on these issues.

Academic Writing
Date(s): 22/05/2019 - 27/05/2019
Time: 7:15PM - 8:15PM
Location: Various

Exhibition
Date(s): 25/05/2019 - 26/05/2019
Time: 2:00PM - 8:00PM
Location: PS2 Gallery, 71 Royal Avenue, Belfast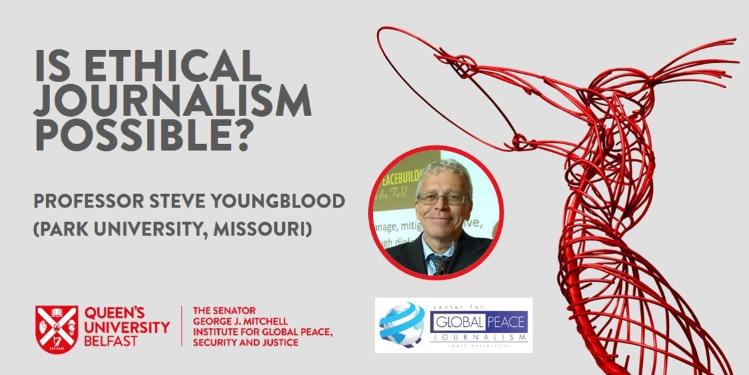 Lecture
Date(s): 27/05/2019 - 27/05/2019
Time: 6:30PM - 8:30PM
Location: Old Staff Common Room, QUB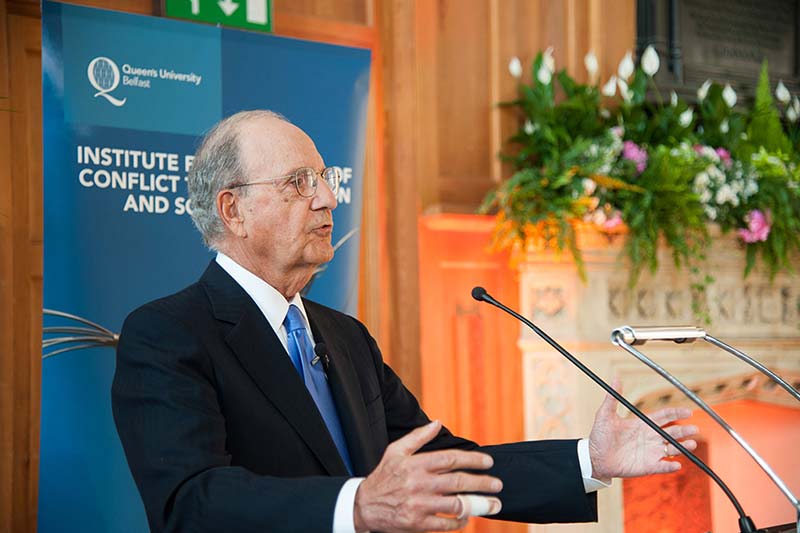 Queen's University Chancellor 1999-2009
Senator George J. Mitchell
"I believe there's no such thing as a conflict that can't be ended. They're created and sustained by human beings. They can be ended by human beings. No matter how ancient the conflict, no matter how hateful, no matter how hurtful, peace can prevail."