Remembering Professor Lord David Trimble
Professor Lord David Trimble has been described as a 'giant of Irish and international politics' by Lord Paul Bew, Queen's University's Professor Emeritus of Irish History, on the sad news of his passing.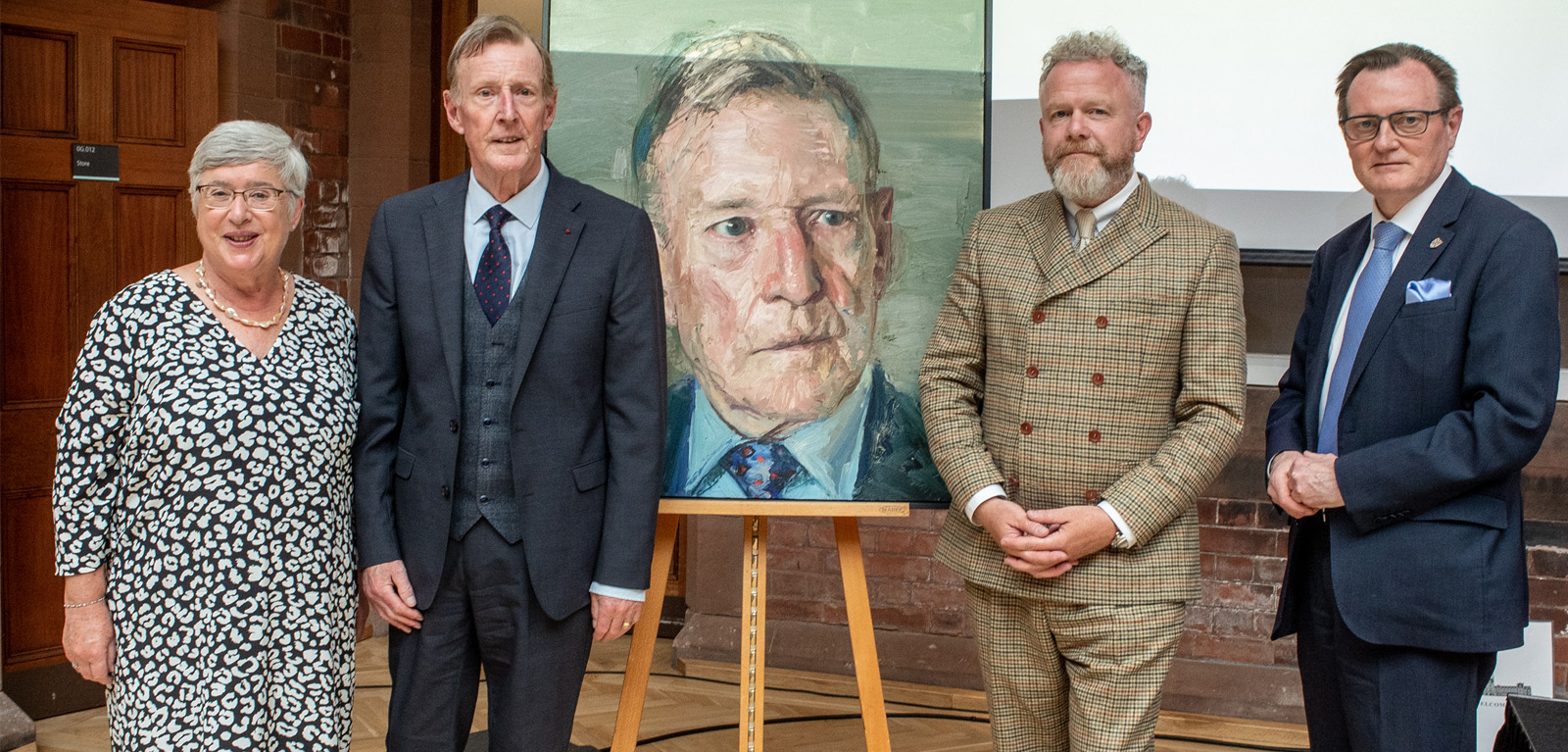 He was part of the Queen's University for most of his life as an honorary Professor, honorary graduate, law alumnus and former academic member of staff. His death has been greeted with deep sadness by its wider community and across these islands and beyond.
David Trimble was a student of law from 1964 to 1968. He was awarded the McKane Medal for Jurisprudence and graduated with a first-class honours, LLB.
After qualifying as a barrister in 1969 he joined the University staff as a law lecturer, becoming Assistant Dean of Law in 1973, Senior Lecturer in 1977, and finally Head of the Department of Commercial and Property Law from 1981 to 1989.
He left the university in 1990 when he was elected MP for Upper Bann and within five years, David Trimble had become leader of the Ulster Unionist Party. He led the party into the peace talks chaired by Senator George J. Mitchell, playing a crucial role the Belfast/Good Friday Agreement in 1998, which he always said was the single most significant achievement of his life.
Following the agreement, he was elected as First Minister in July 1998. His major role in the Northern Ireland peace process was recognised when he was awarded the Nobel Peace Prize, jointly with John Hume, leader of the Social Democratic and Labour Party, in 1998. The following year, he was awarded the Legion d'Honneur by the French Government.
He received an honorary Doctorate from Queen's in 1999, with the then Deputy First Minister Seamus Mallon. In 2006 he was appointed to the House of Lords as Baron Trimble of Lisnagarvey in the County of Antrim.
Lord Trimble's association with Queen's University continued throughout his life. In 2018, he participated in the events to mark the Belfast/Good Friday Agreement 20th Anniversary, hosted by Queen's, and was appointed Honorary Professor of the University in April 2022.
Just last month, celebrating his many achievements, the University unveiled a portrait of Lord Trimble that it had commissioned by renowned local artist Colin Davidson. The portrait will hang in the Great Hall at Queen's. The University also established the annual Lord Trimble lecture with Queen's Professor Emeritus of Irish History, Lord Paul Bew, delivering the inaugural presentation.
Lord Bew, a former advisor to Lord Trimble during his tenure as leader of the UUP and a colleague during Lord Trimble's time at Queen's, said: "Lord Trimble was a giant of Irish and international politics. But he was also a Queen's University man.
"Proud of his undergraduate education and later role on the academic staff, the sharp legal mind he developed at the university was the clue to his intellectual self-confidence and was at the core of his assured handling of the Good Friday Agreement negotiation."
Professor Ian Greer, President and Vice-Chancellor of Queen's, paid tribute to Lord Trimble: "I first met Lord Trimble at the 20th Anniversary events for the Belfast/Good Friday agreement hosted by Queen's in 2018 and I had the privilege of getting to know both David and Lady Daphnie well over the last year. David kindly agreed to accept an appointment as Honorary Professor in April and we were delighted when he also agreed to allow us to commission a portrait of him to be hung permanently in the Great Hall.
"David Trimble had incredible impact with a substantial contribution as an international statesman and champion of peace. At Queen's, we are very proud that he was a leading member of the University community, and celebrated as one of only two Nobel Laureates associated with Queen's. The university's annual Lord David Trimble lecture will ensure his contribution to Queen's and local, national and international politics is never forgotten.
"His strong legacy is the peace enjoyed today by our students, many of whom were born after the signing of the Belfast/Good Friday Agreement. He will be sorely missed. I wish to offer my sincere condolences to David's family circle, especially to his wife Daphne and their children Victoria, Sarah, Nicholas and Richard."
Senator George J. Mitchell, Chancellor Emeritus at Queen's, also offered his sincere condolences to Lord Trimble and his family: "It is with great sadness that I have learned of the death of Lord David Trimble, former First Minister of Northern Ireland and Nobel Laureate.
"There would have been no agreement on April 10, 1998, without the courage and determination of David Trimble. His willingness to take very difficult decisions was a key factor that enabled the two governments and the participating parties to reach agreement.
"The people of Northern Ireland, the UK, and Ireland owe David a heavy debt of gratitude for the personal and political sacrifices he made. He will be remembered as a major political leader whose courage and determination saved hundreds of lives and changed for the better thousands more.
"My sincere condolences to Lady Daphne, Richard, Victoria, Sarah, and Nicholas."