Deadline for Winter School applications extended to 16 January 2016
Peace Building and Conflict Transformation Winter School 2017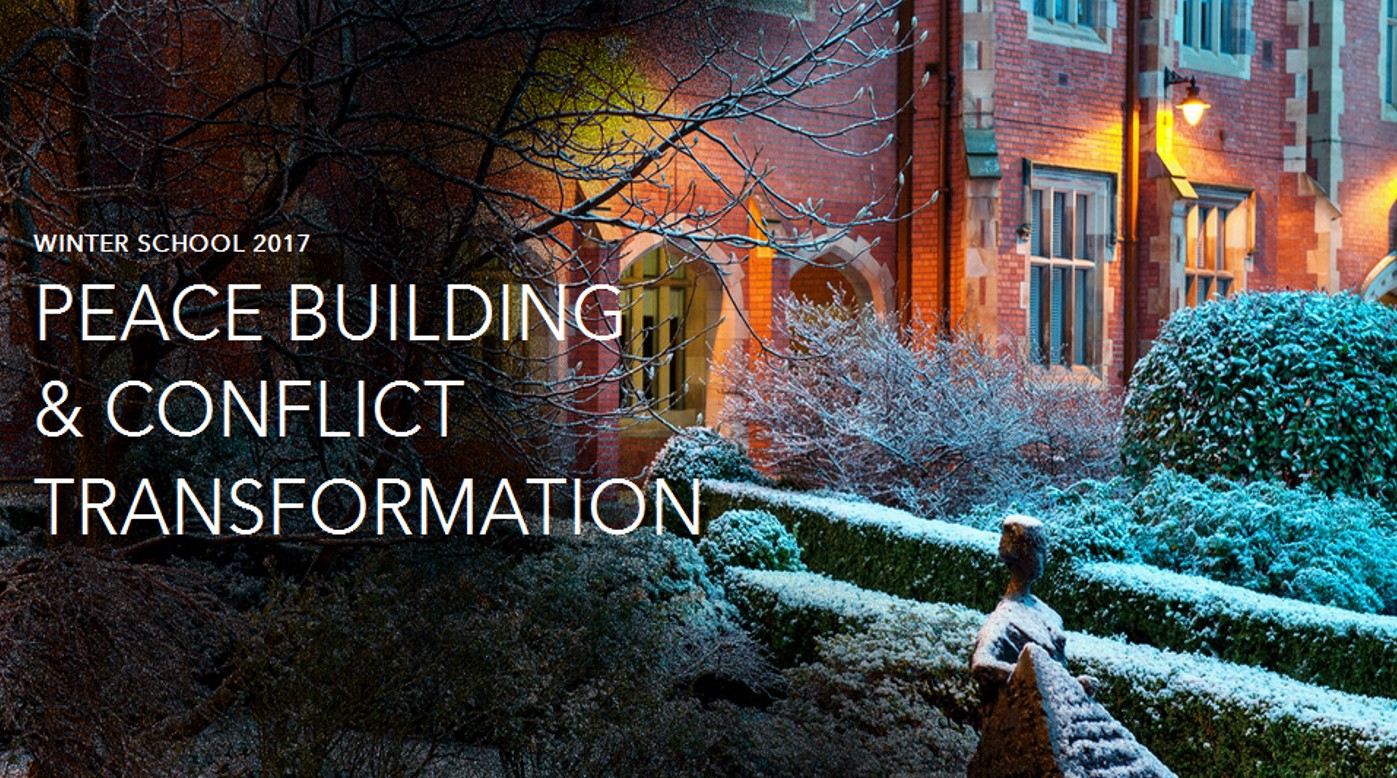 The third annual Winter School will explore how some of the main issues that have been identified by the United Nations as being central to the process of peacebuilding and conflict transformation have been addressed over the past twenty years, with special reference to developments in Northern Ireland.
Northern Ireland offers a unique opportunity to learn about the process of conflict transformation, to hear from people with personal experience of conflict and with the opportunity to see the longstanding impact it has on the social and physical environment.
The Winter School will outline and analyse a number of key themes that are applicable to societies transitioning from conflict, including:
The process of reaching a peace agreement and establishing new institutions of governance;
Creating a broader framework for a peaceful and just society through building a culture of respect for human rights and equality and re-establishing the rule of law through a process of police reform;
The challenges of addressing the legacy of conflict, including dealing with past violence and supporting the needs of victims and survivors; and
Exploring the diverse role of civil society organisations in the ongoing process of conflict transformation.
The Winter School will consider some of the successes of the process of transition in Northern Ireland, while also exploring some of the challenges that remain to be addressed.
The school will be taught by a mix of experienced members of staff from the Mitchell Institute and academics from across Queen's University, and will also have a significant input from non-academics and practitioners who have been actively involved with the issues being discussed.
The course will be based in Queen's University but will include a number of field trips to key locations in Belfast over the course of the week. All sessions will be interactive and time will be provided for participants to engage in discussions to explore issues of comparative relevance and pertinent to different contexts.
click the link to download the Winter School Flyer‌.
Media
Brett Walker
Institute Clerical Officer
The Senator George J. Mitchell Institute for Global Peace, Security and Justice
028 9097 1346