Ministry on a Wounded and Wonderful Island
The Senator George J Mitchell Institute for Global Peace, Security and Justice hosted an event in the 4 Corners Festival, 'Ministry on a Wounded and Wonderful Island,' on Thursday 9 February 2017.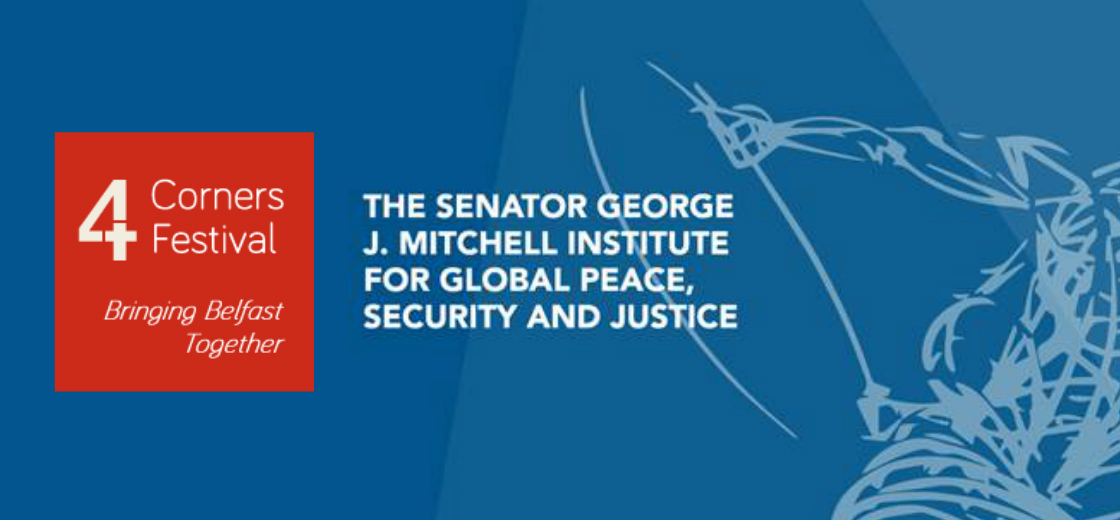 Seminarians and young clergy from the Catholic, Church of Ireland, Methodist and Presbyterian traditions were invited to listen to the stories of four clergy who have made peacebuilding and reconciliation central to their ministry.
The speakers were Rev Dr Heather Morris, who served as the first female President of the Methodist Church in Ireland and is now General Secretary of the Methodist Home Mission; Fr Damian McCaughan, who was ordained a priest in 2011 and since then has been curate in St Mary's on the Hill parish, Glengormley; retired Bishop of Limerick and Killaloe Trevor Williams, who also served a decade as the leader of the Corrymeela community of reconciliation; and Rev Dr Norman Hamilton, a former Moderator of the Presbyterian Church who is well known for his mediation work in the Holy Cross dispute in North Belfast in 2001.
[Click here to read short summaries of the speakers' stories]
The event was organised by Dr Gladys Ganiel, a Research Fellow in the Institute and a member of the 4 Corners Festival committee. She said:
"The event was largely inspired by my own research on religion, conflict and transformation. Over the years, I've had the opportunity to talk with and observe many clergy peacebuilders in action. They have always impressed and inspired me. But I've also become aware of how challenging it is to be religious ministers who are convinced that living out their vocation on this island requires a commitment to crossing boundaries, and a commitment to reconciliation.
We wanted seminarians and new ministers to have the opportunity to learn from clergy peacebuilders first-hand. This event was designed to help them hear those stories, and give them an opportunity to meet seminarians and new ministers from other Christian traditions, who could become their allies in their future ministries."
Dr Ganiel also urged the seminarians, young clergy, and staff of the theological colleges, who were also present, to see the Mitchell Institute as a resource in their future ministries. One of the Mitchell Institute's four priority research themes is 'Ideology and Beliefs.' So the work of a number of Mitchell Institute scholars addresses issues of direct relevance to clergy working for reconciliation. The results of this research are disseminated through the Mitchell Institute's public engagement activities and publications. The Mitchell Institute also offers a module on 'Religion and Peacebuilding' as part of its Masters in Conflict Transformation and Social Justice.
Professor of Post Conflict Studies John Brewer, an international expert on religion and peacebuilding, welcomed the seminarians on behalf of the Mitchell Institute. The event was also attended by Professor Richard English, Pro-Vice-Chancellor for Internationalisation and Engagement, and Dr Joan Rahilly, Director of Queen's Institute of Theology.
The 4 Corners Festival, now in its fifth year, grew out of conversations between Fr Martin Magill, at that time parish priest of St Oliver Plunkett Parish in West Belfast, and Rev Steve Stockman of Fitzroy Presbyterian Church in South Belfast. Both had recently travelled to parts of Belfast with which they were unfamiliar, and had been astonished and transfixed by what they discovered there.
They wanted to encourage others to get out of their own 'corners' of Belfast and go somewhere new – to meet new people, see new sights, and have new experiences. So they had the idea for a Festival with events in all 4 Corners of Belfast, which would entice people to go somewhere that they might not otherwise go.
Although 'Ministry on a Wounded and Wonderful Island' was an invitation-only event, most events are free and open to the public.
---
Dr Gladys Ganiel
The Senator George J. Mitchell Institute for Global Peace, Security and Justice
View Profile