Inter-Ethnic Conflict Transformation Methods: Applications in Eastern Africa
Mitchell Institute Hosts Fr Patrick Devine on Conflict Transformation in Eastern Africa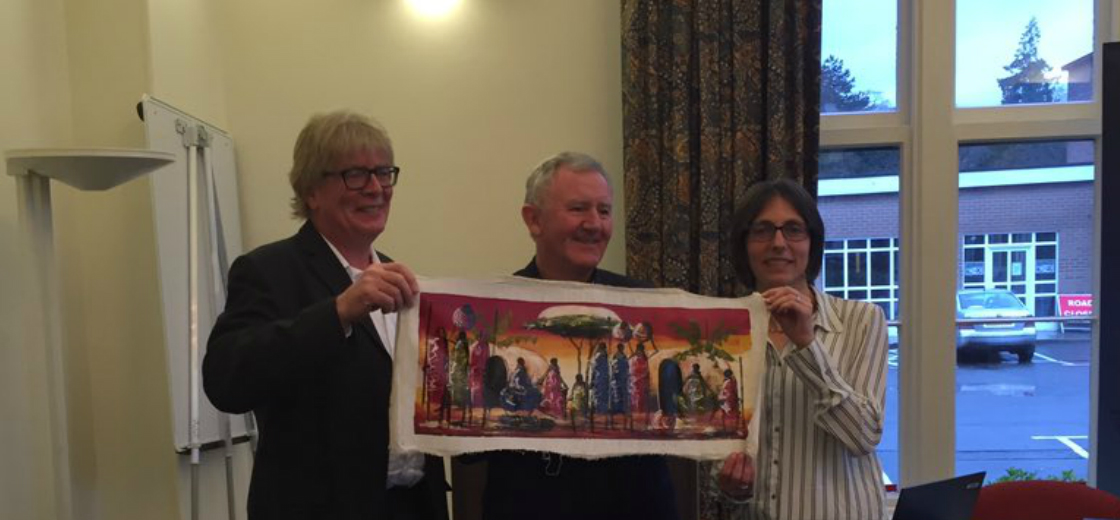 The Senator George J Mitchell Institute for Global Peace, Security and Justice hosted Fr Patrick Devine on 22 March for a lecture on "Inter-Ethnic Conflict Transformation Methods: Applications in Eastern Africa."
Fr Devine is the founder of the Shalom Center for Conflict Resolution and Reconciliation in Nairobi, Kenya, an inter-religious organization pioneering conflict transformation and development work in Eastern Africa.
The Mitchell Institute has a Memorandum of Understanding with the Shalom Center – the purpose of which is to promote collaboration and mutual learning. Fr Devine's lecture opened that learning to the university and the community.
Fr Devine, who belongs to the Society of African Missions (SMA), worked for years responding to crises in Eastern Africa. He became dissatisfied with efforts that seemed only to tackle the consequences of violence and poverty, not the roots.
That dissatisfaction inspired him to establish Shalom in 2009. Shalom's practices are grounded in long-term dialogues with effected communities. Shalom's practices also are informed by conflict transformation theories and strategies developed through research by Shalom Center staff, and informed by international best practices.
Fr Devine reported that the centre currently works with 14 ethnic groups in nine conflict zones in Northern Kenya. The areas suffer from a lack of state and civil society institutions, and have been known for election violence and cattle rustling.
"There's an average of 1.6 AK47's per family," he said, underlining that people are seeking to protect themselves in a situation where there has been a breakdown in the rule of law.
Fr Devine said that before it began its work, Shalom spent 18 months identifying opinion shapers in each ethnic group. Last year, they conducted 85 conflict transformation trainings with key leaders, making sure to include at least 40% women. A special training in 2013 was designed for police officers in an effort to minimize election violence.
"It is transformative for people when they come to understand how structural violence, in the form of neglect by the state, contributes to violence. It is not simply that violence is caused by cattle rustling," he said.
Shalom also has developed special peace education programmes for inter-ethnic schools. Those schools are now powered by solar energy, which was secured through Shalom's work.
"People are open to inter-ethnic peace education and we've moved on that with great success. We've also introduced solar energy in semi-arid terrain. Before students might have to try and do homework around a fire. This solar energy allows schools to stay open from 7-9 pm, or even 5-6 am, with light for the children,' Fr Devine said.
Shalom's work is in much demand and Fr Devine said they hope to expand their model of working to other regions of Eastern Africa, including Sudan.
Fr Devine is from Frenchpark, Co Roscommon. His work in Africa began in 1988 when he went to western Tanzania with SMA. In the aftermath of the Rwanda genocide he coordinated the pastoral care input of the SMA to the refugees from 1994-98.
He was awarded the 2013 International Caring Award, succeeding the Dalai Lama in 2012. Other notable recipients include Jimmy Carter, Mother Theresa, Colin Powell, George Mitchell and Bill Clinton. In 2014, eight countries in Eastern Africa presented him with the prestigious IGAD Award for his visionary contribution to peace and development in the region.
He is also a finalist for this year's prestigious Tipperary International Peace Prize, the winner of which will be announced soon.
Dr Gladys Ganiel
The Senator George J. Mitchell Institute for Global Peace, Security and Justice
View Profile