Playful Ethnography Belfast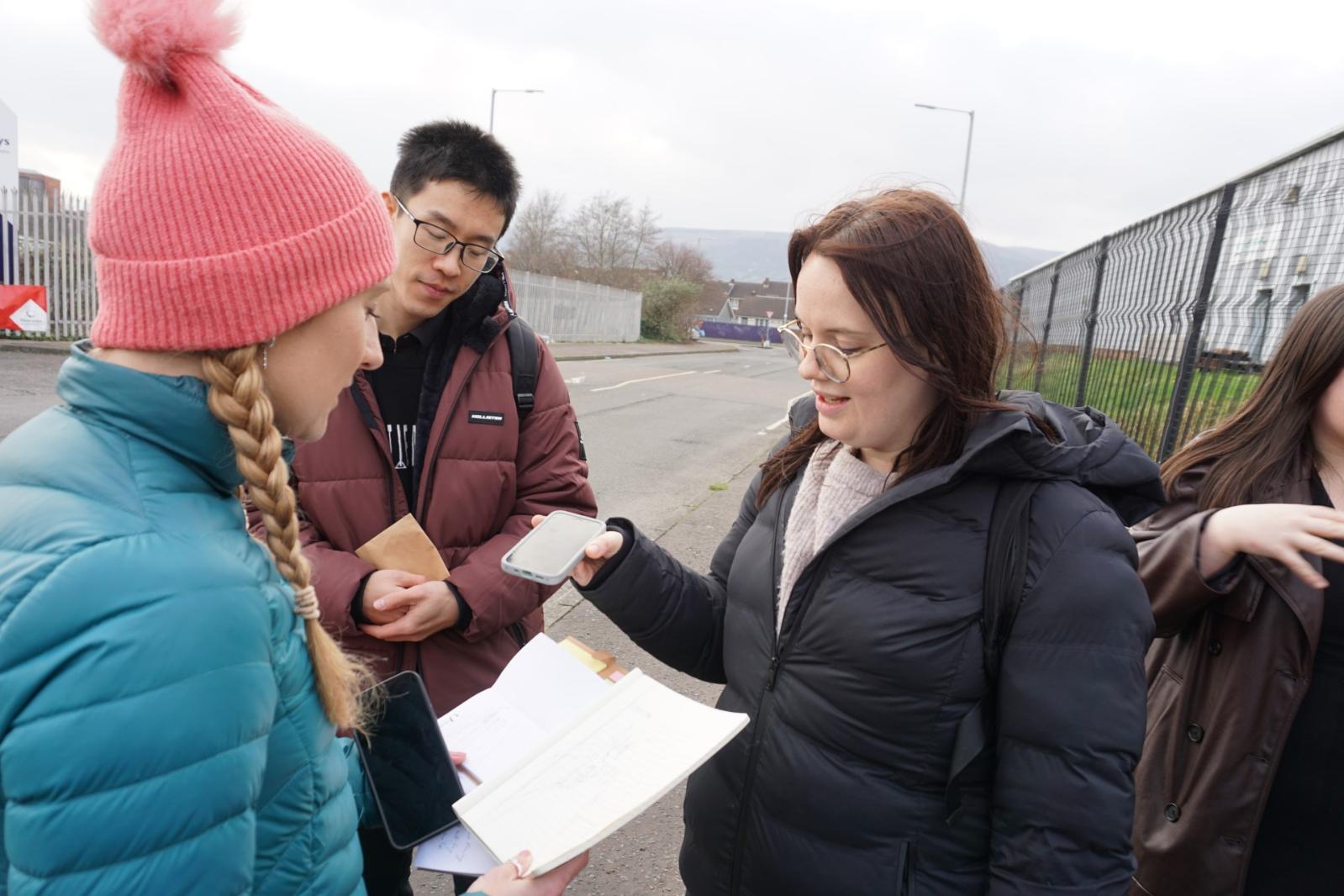 The Playful Anthropology Workshop for MA students in Anthropology at QUB was embedded in the module Advanced Anthropological Methods, convened by Maruška Svašek. The course explores a variety of anthropological methods and ethical issues involved in anthropological research, and encourages students to experiment within and beyond the parameters of standard methodology. The course consists of 10 weekly two-hour seminars:
Sound, Silence and Movement in the Field
Walking, Talking and Visual Methods
Research as (Online) Affective Practice
Playful Ethnography Workshop
Evocative Writing and the Senses
Quantitative Methods
Research Ethics
Playful Ethnography Online Symposium with the University of Delhi and the Universit of Allahabad=
Coding and Interpreting Interview Materials
Reaching Audiences through Exhibitions and Performance
The workshop was a collaboration with the University of Delhi and the University of Allahabad, where postgraduate students played the same game in quite different urban environments. The students met to discuss and compare findings during an online symposium, where they presented Powerpoint presentations and showed the films they had produced.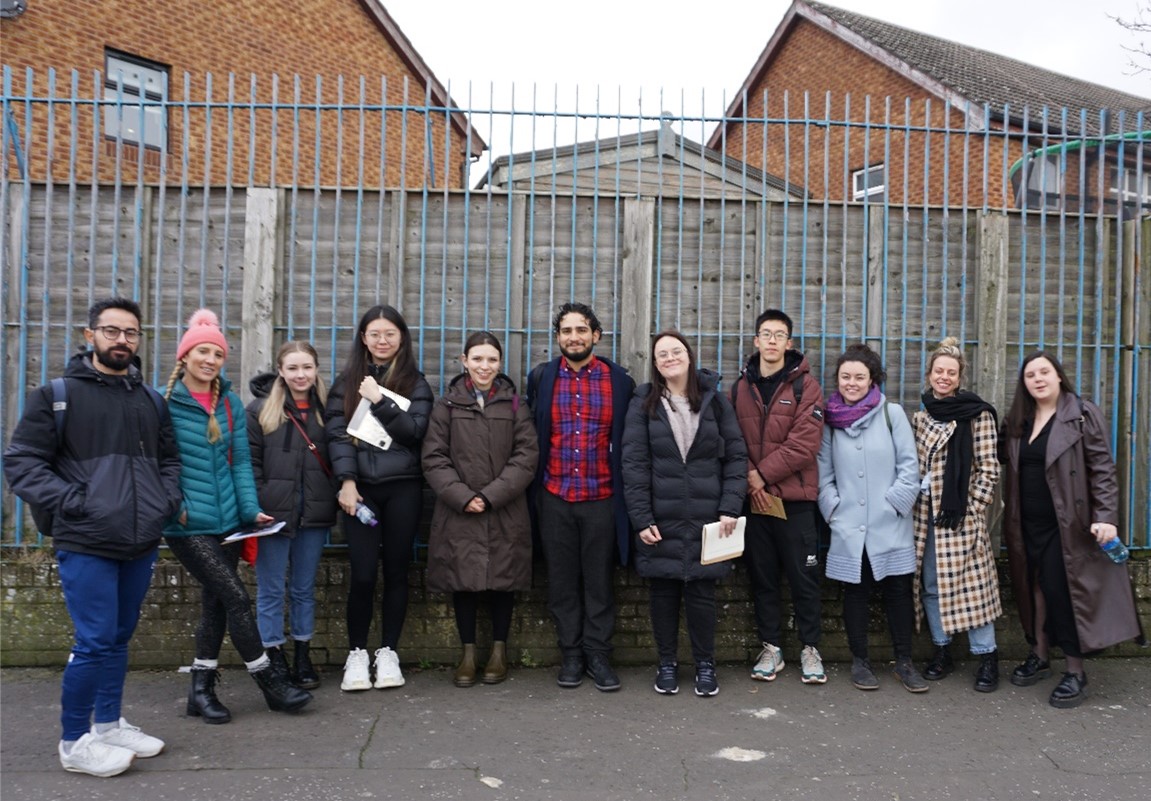 Participating MA Students in Belfast: Arturo Eduardo Zacarias Aldaco, Alice Boyle, Niamh Connery, Anna Hollis, Kadence Hunt, Zihao Li, Muhua Liu, Rebecca Rice, Janette Stuart
Participating Visiting PhD student in Belfast: Selçuk Gündüz, University of Hacettepe, Ankara, Turkey.
Convenor: Maruška Svašek
Procedure: The students met on 13 February 2023 on the corner of Cupar Way and Lanark Way, (https://goo.gl/maps/K2p8jy2euGeZ6CuP9). The module convenor chose this starting point as it is the location of one end of one of Belfast many 'peace walls', which separate majority Catholic and majority protestant neighbourhoods. These walls are visible material traces of both the violent history of the region and the ongoing politics of reconciliation.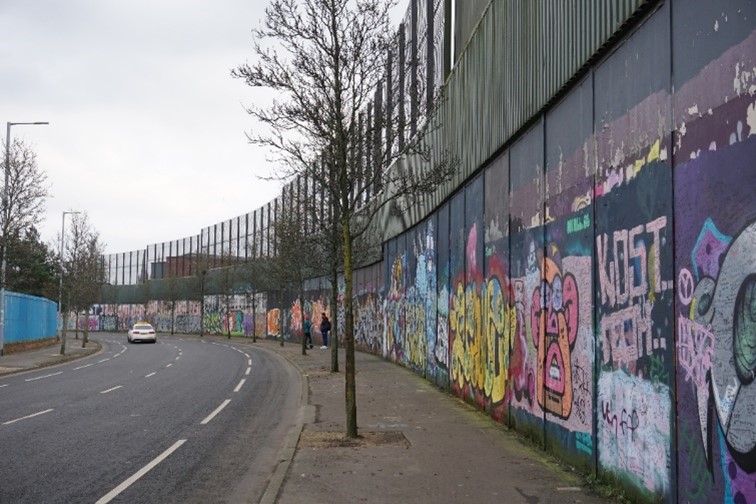 The starting point: the peace wall along Cusper Way
Following the rules of the game, we randomly chose set tasks and added a self-imposed task. The throw of a dice decided whether we would turn left or right. In each street we completed our tasks.
Names
Task
Self-Imposed Task
Image
Niamh and Arturo
Identify three smells in the street, write some notes about their source, and read these out while filming yourself
Bootview video clips 4 seconds and landscape
Selçuk
and
Alice
Take a photograph of something in the street that is brightly coloured. Film it while singing a few lines of a song
Take a video of movement in the street
Anna and Jackson
Choose something that is visible in each street and draw it. Then ask a passerby to describe the object of the sketch and (if they allow) record their answer
Take a photo that reminds us of hope
Bex, Jenny and Sophie
Write a poetic impression about the street, focusing on the sounds that you hear

Act out a piece of graffiti or an impression of it

Amaria and Mihua
Ask a passer-by why they are in the street and what they normally do to stay healthy and (if they allow) record their answer
Take a picture of someone's outfit
Maruška
Take a picture of hair against a contrasting texture
Take pictures of the other players as they are doing their tasks