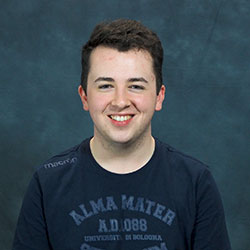 Ben Smith
My name is Ben Smith and I am carrying out my PhD in the Materials and Condensed Matter Physics group at the University of Glasgow. Working under the supervision of Dr Donald MacLaren, my project will investigate the effect high temperatures have on plasmonic functionality, with respect to HAMR (heat assisted magnetic recording) performance. A variety of cutting-edge electron microscopy techniques will be used to analyse samples at the Kelvin Nanocharacterisation Centre at Glasgow University.
Before joining the CDT, I completed my undergraduate degree in Chemistry at Glasgow. My degree course gave me a wide exposure to different areas of science: I studied biology alongside chemistry in my first two years, in particular molecular and cellular biology, where my interest in microscopy was first piqued upon being introduced to stunning cryogenic electron microscopy images of microbes and cells. As I progressed through my degree, I developed a greater interest in physical chemistry, ultimately carrying out my final year research project with Prof. David Lennon on heterogenous catalysis. The physical chemistry courses in my final year enhanced my understanding and enthusiasm for imaging techniques. This led me to applying to PIADS CDT where in my first year I enjoyed the 'Nano and Atomic Scale Imaging' course, alongside other stimulating courses.
Alongside my academic work, I have thoroughly enjoyed the other aspects of the PIADS PhD programme. There have been several opportunities to develop other skills that wouldn't be immediately associated with carrying out a PhD during my first year with PIADS: video production and development; presenting environmental advice to business leaders; organising an online conference; and other team tasks that reinforce how to be an effective contributor in a group. I am also my cohort's student representative on the Research and Training committee.
Contact me:
You can find me on LinkedIn or you can get in touch via email at b.smith.3@research.gla.ac.uk.