The facilities at SARC include the state-of-the-art Sonic Laboratory, multi-channel studios, Broadcast Studio, Interaction Lab and computer labs. The nearby Music building is home to the Harty Room concert hall equipped with two full-concert Steinway grand pianos, a double-manual harpsichord, chamber organ and many percussion and specialist instruments.
SARC's Equipment Store contains an extensive amount of audio and video equipment including studio microphones, portable audio recorders, documentary cameras, and VR cameras.
3D Audio
Sonic Laboratory
SARC is home to the world famous Sonic Laboratory. Often remarked as a 'cinema for the ear'. The Sonic Lab is a specialist acoustic space designed to provide a unique and exciting listening experience, in fact, the auditory equivalent of an IMAX cinema. Forty-eight loudspeakers, strategically located, will project and move sounds throughout the space, including underneath the audience. No other auditorium for sonic art performance and experimentation currently exists with this revolutionary feature. The provision of this facility gives Northern Ireland a unique and pioneering role in a rapidly developing field.
This facility enables research teams to develop and implement cutting edge initiatives in the creation and delivery of music and audio.



The Sonic Laboratory's uniqueness is vested in the degree of flexibility it can provide for experiments in sound diffusion (the relaying of sounds through a large complex of loudspeakers) and for ground-breaking compositional and performance work within a purpose-built, variable acoustic space.
The configuration of the space has been recently upgraded to allow the mixing and playback of Dolby ATMOS surround sound mixes; used in film, music and virtual reality.

As an engineering research facility, the Sonic Laboratory will provide unparalleled opportunities to develop and test new ideas relating to loudspeaker design, loudspeaker placement, music perception, music interaction, delivery and diffusion.
Please note if visiting the Sonic Lab:
| | |
| --- | --- |
| | The ground level is a metal grid that allows sound to come from the basement level. It is therefore advised not to wear heels. |
| | Food and drink is not permitted in the lab |
View the specifications of the Sonic Laboratory
Read more
Read less
---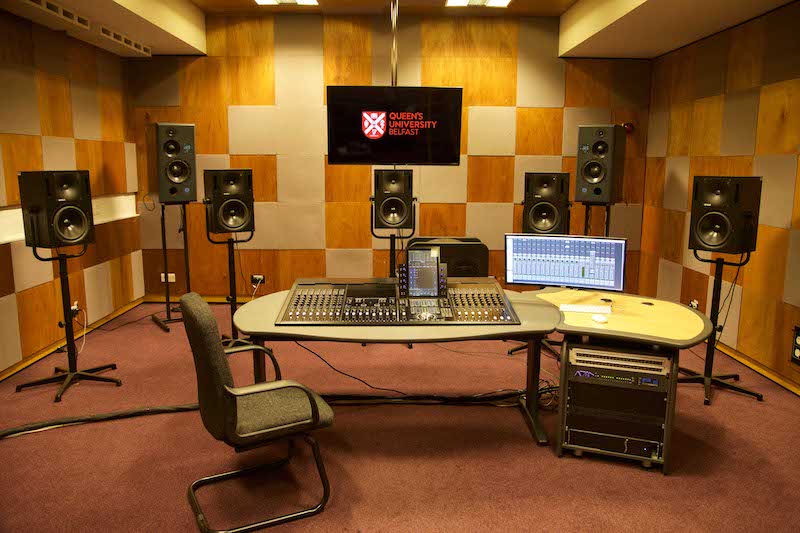 Audio Recording and Post Production
Studios
Studios at SARC include multi-channel and stereo facilities with high quality monitoring loudspeakers. The studios are used for a wide variety of applications including the recording of pop and classical music, electronic music production, Dolby Atmos spatialisation, VR audio, sound design and post production for screen, and mixing for radio and television broadcast.
---
TV & Radio
Broadcast Studio
This facility is made up of a TV studio, with adjacent video and audio control rooms. The studio is equipped with a Blackmagic ATEM live broadcast system including 4k cameras, live streaming converters, talkback system, and LED lighting rig.
The audio control room is equipped with a Studer OnAir 1500 radio broadcast desk. This console can be used for small scale discussion programmes, or can be connected directly to the Sonic Laboratory (via Dante) for the broadcast of large scale events.
---
Installation space
Interaction Lab
The Interaction Lab is a multi use space that is used primarily by students and staff for installations, experimentation and cross-disciplinary research. The room is equipped with motion capture cameras, AV projection, a Behringer x32 digital desk, portable lighting, and 8 Adam loudspeakers.
A permanent dance floor is installed inside this space.
---
Harty Room
Harty Room
With a splendid hammer-beam vaulted roof and warm acoustic, the Harty Room (seating 120) is situated within the Music building where the regular lunchtime recitals and evening concerts take place. It is also the main rehearsal space for choirs and orchestras at Queen's.
It houses two full-concert Steinway grand pianos, a double-manual harpsichord, fortepiano, chamber organ and many percussion instruments.
The Harty Room is also equipped with a large projector screen and audio PA system suitable for events such as concerts and seminars.
Harty Room - Spherical Image - RICOH THETA
Harty Room Specifications
Audio
The room is equipped with a TW Audio stereo PA system. This is normally configured to allow simple laptop connection for lectures and seminars. It can also be used in concerts for amplification with microphone connections on-stage.
PA System:
2 x TW Audio M8 loudspeakers
2 x TW Audio C5 loudspeakers
2 x TW Audio B10A subwoofers
Powersoft OTTOCANALI 12K4 DSP DANTE Power amplifier
Midas MR-18 digital mixer
Video
A 5 meter 4:3 retractable screen is installed at the front of the Harty Room. A Panasonic PT-RZ970 laser projector provides high definition video with HDMI and VGA connections from the stage and rear of the room.
Recording
Digital and analogue tie lines connect the Harty Room to a recording studio beneath. The studio is equipped with an AVID Pro Tools HD system, Prism interface and Genelec monitoring.
Read more
Read less
---
Sonic Arts Research Centre
Tel: +44(0)28 9097 4867 Email:
sarc@qub.ac.uk
‌
‌
‌