Top names in UK agri-food get behind Institute of Global Food Security at Queen's
Key figures from the UK agri-food industry have become official 'Ambassadors' for the Institute of Global Food Security (IGFS) at Queen's University Belfast.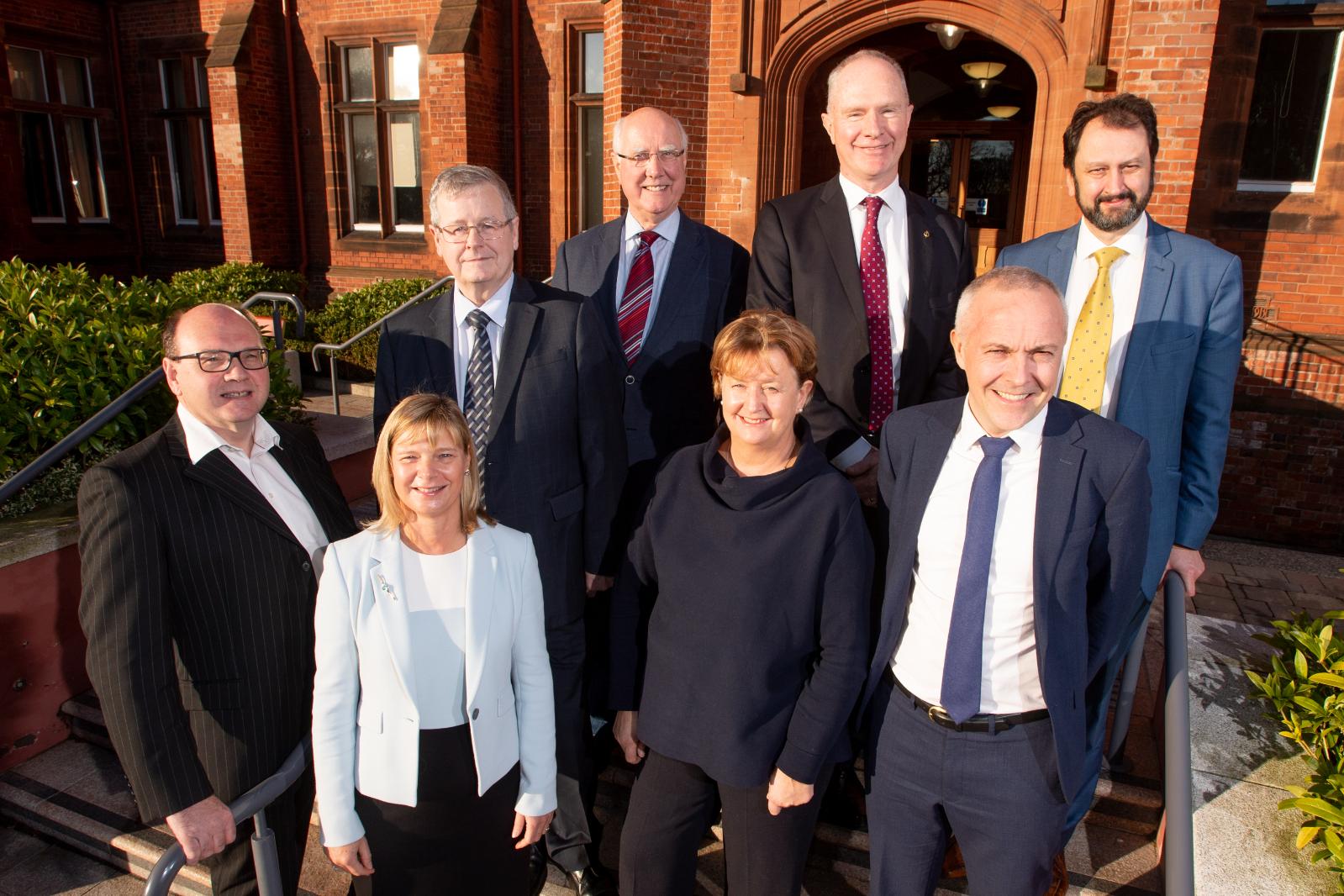 These experienced executives will facilitate engagement at national and international level, under the chairmanship of Tony O'Neill OBE.
A former leader of agri-food 'giants' Dunbia and Moy Park, O'Neill is a prominent figure in Northern Ireland, ROI and UK agri-food, having chaired the Agri-Food Strategy Board and the Board of the Northern Ireland Food and Drink Association. He is also a previous Chair of the Agri-Food Quest Competence Centre, which is headquartered at IGFS, and links over 30 leading agri-food businesses in NI with researchers from Queen's, Ulster University and AFBI.
Another of the Ambassadors, Owen Brennan, Executive Chairman of Devenish Nutrition, is to be awarded an honorary doctorate next week by Queen's in recognition of his services to business. Brennan has steered one of the most successful companies to come out of Ireland; with HQ in Belfast, Devenish now has nine manufacturing sites across NI, Britain, USA and Uganda, and exports to over 35 countries worldwide.
Janet McCollum CBE was given an honorary doctorate from Queen's in 2016, acknowledging her central role in local commerce. Formerly the CEO of Moy Park and a Board member of the NI Chamber of Commerce, she is now non-Executive Director at Glanbia.
Also joining the Ambassadors will be Dr David Dobbin CBE, who headed up Dale Farm for many years, growing it to become the UK's biggest dairy co-op. Dobbin has held many public leadership positions including at Dairy UK, the NI Dairy Council, Ulster Rugby and Belfast Harbour. A first-class Honours graduate from Queen's, he also sat on Queen's Senate, the university's governing body.
The other Ambassadors are: Stuart Lendrum (formerly Head of Sustainability at Sainsbury's); Heather Jenkins (previously Director of Buying at Waitrose UK) and Eric Reid (formerly Production Director at Moy Park).
Launching the Ambassador scheme, Professor Nigel Scollan, Director of IGFS, said it would extend the reach of IGFS at a high level. He said: "We realised there was an untapped opportunity, where individuals with access to key networks in UK, ROI, the US and beyond, could help us foster new relationships and build on existing ones.
"The Ambassadors we have selected have a high level of expertise and knowledge so this will be engagement on an ambitious scale, talking to influential people and decision-makers – across policy, business and academia."
Ambassadors Chair Tony O'Neill OBE said the group was also about promoting a safe and robust food industry for Northern Ireland, underpinned by a robust, scientific evidence-base from IGFS. He said: "The work IGFS is doing in this space is unique – the model doesn't exist anywhere else in the UK. In that sense we are indebted to the trailblazing work of IGFS founder, Professor Chris Elliott. We now have a real opportunity to build upon that work and create a world-leading food system here in NI, in terms of quality, integrity and traceability.
"NI has a natural advantage in that supply chains are relatively short and safe. Put that together with the world-leading research taking place at IGFS and you have something very special. Brexit may be a challenge, but it could also be the opportunity to develop a strong NI food brand, joined up right across the supply chain, from fundamental research through to the product on your plate."