Farming under the spotlight at business-creation workshop
The EIT Food team at IGFS recently hosted its second, annual workshop for small and medium enterprise (SME) businesses with a focus on the challenges facing agriculture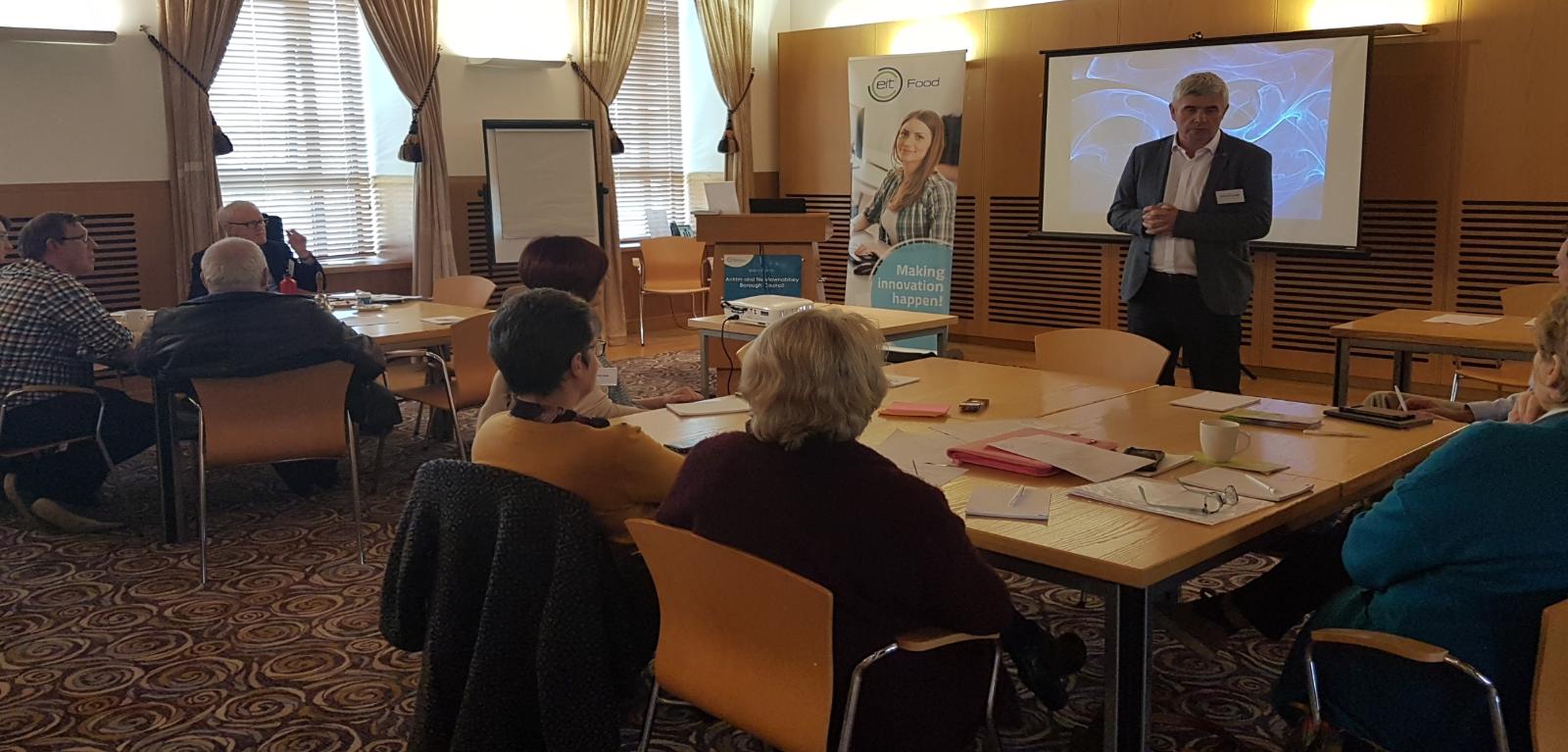 Local farmers came together with researchers and other staff from IGFS to discuss the theme: "Living on the Land – Rethinking Farming".
The workshop took place at Yarn Suite, Mossley Mill on Monday 21 October 2019 and was addressed by keynote speaker, leading Irish businessman and entrepreneur, Pádraig O'Ceidigh.
Mr O'Ceidigh is the founder of Aer Lingus Regional, among many other businesses across transport, publishing, entertainment and online marketing. He is also a member of the Irish Senate, one of the two houses that make up the Irish parliament.
Although not a farmer himself, Senator O'Ceidigh explained the skills needed in any type of business were similar – for example, surrounding oneself with a strong team, looking after each other and not simply "chasing the money".
He said farmers needed to be agile, adaptable and dynamic and to realise that change was needed and needed fast in order to survive uncertain and changing times.
"Farming is important and farmers are constantly redefining the future," he said. "We are totally responsible for our future, so let's make sure it's a good one. When you are down, get up again. We must get up, stay up, and lift others up.

"Farmers must co-operate with each other, and with consumers. They must look for problems and then figure out how to fix them.

"The future of farming may well develop into an online business or branch off into other areas. We must add value to the traditional farm. Farming today cannot be the same as farming yesterday."
After hearing the keynote, attendees broke up into discussion groups to discuss and prioritise the most pressing issues facing farmers on the island of Ireland today. These included:
Emerging new techniques/agtech
To be seen more as champions of soil, carbon, countryside, conservation
Better food for better informed consumers – new nutrient targets
New opportunities with new crops
New crops/animals for higher-value return, sustainability and health
New co-operatives, business models and strategies
In a feedback session, farmers also pointed out the importance of "telling their stories" to better educate urban populations about the role of farmers and farming.
Many farmers felt strongly that, for example, the rest of the population often did not understand that farming could actually help with environmental management – ie. that farming can capture and sequester carbon, as well as creating it via methane emissions from livestock.
There was a consensus in the room that better education, communication and marketing was needed to win back public trust and allow farmers to be seen as champions of countryside and conservation – working with nature, rather than against it.
Follow-up actions included the creation of an online box scheme selling fresh produce direct from the farmer to customer; experimental farming on small patches of land to test new systems before rolling out to larger areas; and the creation of a new marketing body to promote the positive face of local farming. EIT Food will be actively involved in taking forward all of these initiatives.