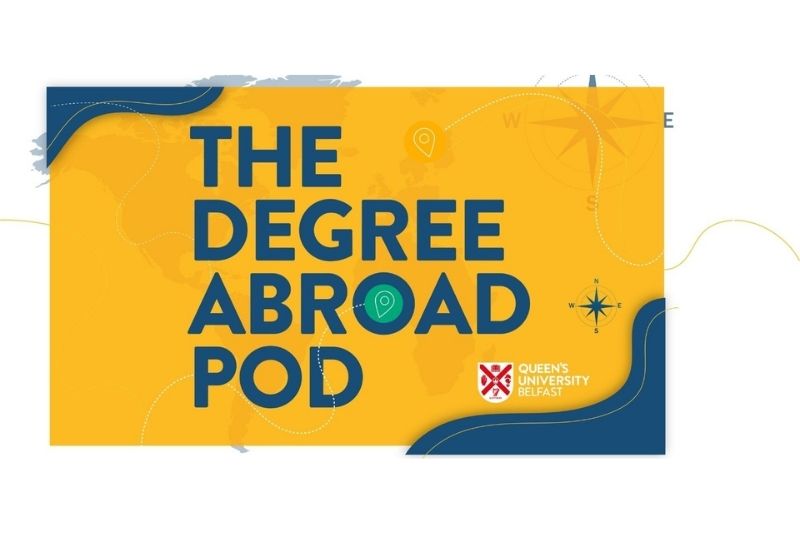 'THE DEGREE ABROAD POD' PODCAST
Studying for a degree abroad can be an amazing and life changing experience.
It can also feel daunting and inaccessible without support. The Degree Abroad Pod from Queen's University Belfast is here to help with that!
In each episode we discuss the opportunities, experiences and challenges of studying overseas. You'll hear from current and past students who have made the journey from the USA to Northern Ireland for Bachelors, Masters or PhD study. If you are thinking about studying abroad, this show is for you!
Maybe you're thinking about studying overseas. It's a big decision and there is a lot to consider. What school should you choose? How to pick a major? Which country?! The Degree Abroad Pod is here to help. In this episode, we meet with two Queen's University students from the USA - Emily and Megan. Emily is studying for her Masters in Global Health and Megan has completed both her Bachelors in International Politics and her Masters in Human Rights in Belfast. we'll hear about their student journeys and, ultimately, why they took the leap to study overseas.
More and more American students are applying to college outside of the USA. For some, this is about finding an affordable degree abroad. For others, it is about adventure and exploring a new people and places. Whatever the motivations, there are some common hurdles students encounter when applying to study outside the US, from the admissions process to assessment methods. In this episode we meet with Mac – an economics major from NYC - and Caitlyn – an English major from LA. We also explore transferring into a new school and how to navigate school during a pandemic.
Getting a graduate degree abroad is an increasingly popular career move with options outside the US offering choice in program length, cost and new experiences. More than 6,000 students from the USA were enrolled in Masters in the UK in 2019. So why do students come across the pond for grad studies? In this episode, we meet with current students Callahan and Natalie to talk about their experience of being graduate students abroad.
Thinking about studying abroad but worried about how to finance it? This is all about how to fund the cost of studying outside of the USA. We'll talk about how to take FAFSA to eligible international schools like Queen's University Belfast, scholarship options, day-to-day spending and how to budget for college abroad. Meet with Jamie and Keava and hear about how they are making their money work for them as grad students.
One of the greatest draws to study overseas is the opportunity for a new cultural immersion, meeting with new people and broadening your perspectives. So where do you start?! In this episode we meet with two Queen's students who have really gotten under the skin of Belfast and have integrated with the local community to make this place home.
WORLD-CLASS UNIVERSITY
One of the world's most beautiful universities' (Huffington Post), Queen's is the 9th oldest university in the UK, established in 1845 with over 170 years of teaching excellence.
FAST TRACK YOUR STUDIES FOR LESS
Graduate sooner with a shorter degree – bachelors are typically 3 years and Masters are typically 1 year, helping you reduce the cost of study in a UK city with the lowest student cost of living (Mercer Cost of Living City Ranking 2023).
CAREER LAUNCH PAD
You'll have opportunities to boost your future career through high-quality, transdisciplinary training and development programmes and internship opportunities.
State-of-the-art Facilities
Our historic campus is also an innovative learning environment featuring a dedicated postgraduate building, development events and community hubs.