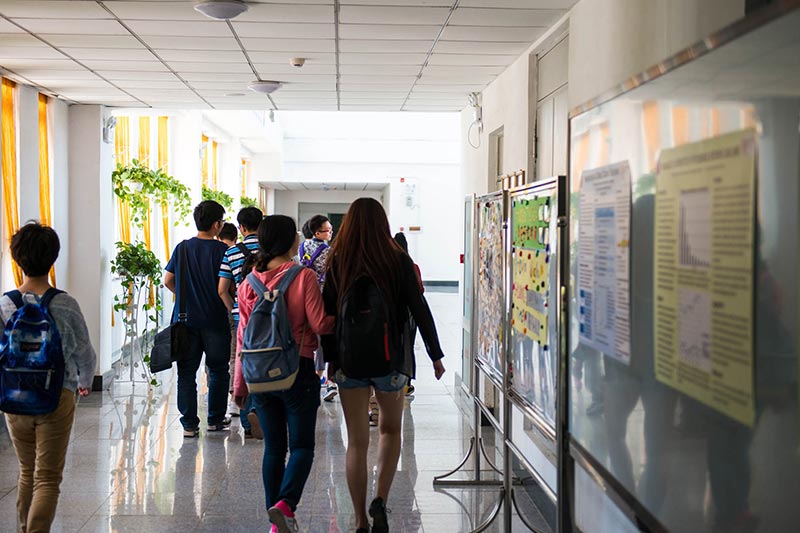 tackling global challenges
An interdisciplinary approach
Queen's has invested significantly in both discipline-specific and interdisciplinary research in order to create the environment in which our researchers can tackle the challenges that face us all on a global scale.
At The Graduate School, we believe that major challenges relating to health, inequality, technological advancement, economic growth, security, or energy and sustainability cannot be solved by one discipline alone.
These types of challenges require multiple, transdisciplinary perspectives: after all, if we're always talking to the same people, we may never end up saying anything different when it comes to solutions, so at the Graduate School, we create the opportunities, and the skills framework, for intellectual collaboration across borders.


A research sandpit is an intensive, interactive workshop designed to inspire and produce radically innovative and multi-disciplinary research proposals. Participants from a diverse range of disciplines come together in a creative, free-thinking environment and immerse themselves in a collaborative process around an important challenge (www.epsrc.ac.uk)…. It's also a lot of fun!
Recently, we have tackled challenges linked to:
Digital economies
Technology and Security
Borders and Crossings
Global Citizenship
Lifelong Health and Wellbeing
Being able to communicate the potential impact of your research to a multidisciplinary audience can only enhance disciplinary excellence. So bring your perspective to the table in a forum for transdisciplinary debate and dialogue that will allow you to have different conversations about the value and potential impact of your research with different people; it also gives you a taster of producing the kind of multidisciplinary research proposals that all Research Councils want to see.


The concept album talk uses the title of a song as an innovative way of communicating your research or course of study to a non-specialist audience. The challenge is to pick a song title that would allow you to present your research or course of study in a differnet light. You can only speak for the length of your chosen track. Concept album talks are oprn to both postgraduate taught and research students.
It will a fun and challenging way of presenting your research to a welcoming audience. In addition, it will develop your skills specifically in:
High-impact communication

Creative thinking

Articulating what is key in your research

Reaching out to an audience who are not necessarily specialists in your field

Delivering a talk within a limited time frame