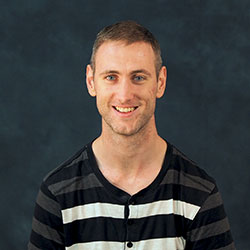 Image Gallery (1000479)
Simon Munro
My name is Simon and I am from Kildare in the Republic of Ireland. I joined the CDT in 2017 and am currently based in Glasgow. I have a bachelor (Hons) degree in Science with Nanotechnology from DIT which is now TU Dublin. I also have a MSc in Nanotechnology from University College Dublin.
In Semester 1 of 2017-18 Simon completed a short exploratory research project at the University of Glasgow on 'High Speed Laser Modulation Studies', supervised by Professor Tony Kelly. In Semester 2 of 2017-18, he conducted a practical research project at Queen's University Belfast supervised by Professor Robert Bowman, entitled 'Ferromagnetic resonance and permeability in magnetic multilayers'.
CDT PhD Project
ADVANCED EPITAXIAL SOLUTIONS FOR COMPOUND SEMICONDUCTOR COMPONENT INTEGRATION
Supervisors:
Professor Marc Sorel, University of Glasgow
Professor Robert Bowman, Queen's University Belfast
Dr. Iwan Davies, IQE, Cardiff.
My research project is on the development of technologies for integrating semiconductor lasers on silicon and silicon nitride substrates at a wafer scale. Specifically, I am working on the integration by transfer printing of AlGaAs/GaAs lasers onto silicon nitride waveguides for quantum applications in the wavelength range 780-850 nm. Initially, individual devices will be transferred but the goal will be for multiple devices to be printed simultaneously onto multiple waveguides.
Other Scientific Interests:
I have an interest in various science disciplines but one that I would like to learn more about would be Artificial Intelligence or Biomedical Engineering.
Talks / Presentations:
IPIC Annual Industry Workshop 2019 University College Cork, Ireland
Award: Best Poster – runner up
CDT Involvement:
I am deeply involved within the CDT and its various branches. I co-hosted the 2018 Conclave in Glasgow, I was on the Steering Board for 2018-2019, I am the 2017 cohort student representative for the management board. I am also a student buddy for a fellow student in the 2020 cohort.
Impact Activity:
I am an active science communicator, and have contributed at Glasgow Science Festival (2019), Northern Ireland Science Festival (2018), Explorathon (Glasgow 2017). I am also a STEM Ambassador and take part in extensive Secondary school outreach.
Outside of Work:
In my spare time I enjoy watching and / or participating in various sporting activities including athletics, cycling and rugby. I also enjoy reading graphic novels and books mainly by James Patterson.
Testimonial:
All the staff and students in the CDT are very friendly and helpful no matter the issue. The more you get to know everyone the better the experience will be and, on both professional and personal levels.
Contact me:
email: s.munro.2@research.gla.ac.uk
LinkedIn: linkedin.com/in/simon-munro-5a48bb4a