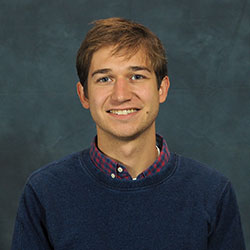 Image Gallery (1000470)
Antoine Pissis
I joined the CDT PIADS 2018 cohort after I completed a Masters in Nanotechnology for Information and Communication Technology at Grenoble INP Phelma, Politecnico di Torino and Ecole Polytechnique Federale de Lausanne.
I have started my research project about high power single mode Vertical Cavity Surface Emitting Laser (VCSEL) at IIVI laser Enterprise in Zürich (Switzerland) under the supervision of Dr. Evgeny Zibik with the collaboration of Prof. Richard Hogg from University of Glasgow (Scotland). 

VCSELs are well implanted in the datacon and 3D sensing markets. My project goal is to improve single transverse mode performance which could make VCSELs viable solutions for emerging technological challenges. One promising application is Heat Assisted Magnetic Recording (HAMR). 

During the first year of my research project, I had the opportunity to present the limitations of oxide aperture VCSEL for the annual CDT PIADS Conclave. This work allowed me to defend the technological approach I am choosing and get the necessary resources to start the project in the company.

During the first year of the CDT program, I was student rep of my cohort. Since then, I have joined the External Engagement and Outreach Committee and I am a PIADS ambassador in the industry.

CDT PIADS offers me the best environment and support I could expect when starting my PhD.

Contact me:
You can reach me by mail antoine.pissis@ii-vi.com, or we can connect on LinkedIn and Twitter @Antoinepi6.