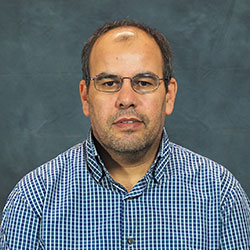 Image Gallery (1000535)
Mahmoud Ahtaiba
I joined the CDT in September 2018, previously I completed a BSc in Electronic and Electrical Engineering at Sirte University, Libya and MSc in Electronic and Electrical Engineering from University of Glasgow.
CDT PhD/Pr

oject:

INTEGRATED QUANTUM PHOTONIC SENSORS AND CIRCUITS
Supervisors:
Prof Robert Hadfield, University of Glasgow
Dr Amit Kumar, Queens University Belfast
Project description: Integrated photonics offers compact, rugged, low cost and scalable solutions for communications, data storage and computing. Ability to generate, manipulate and detect light on the single photon level opens exciting new possibilities for quantum communications and information processing. The synergy of these two paradigms is integrated quantum photonics, a breakthrough which is likely to have a profound technological impact on life in the 21st Century
This project will explore and follow through promising avenues in on-chip manipulation and sensing of single photons. Using the world class capability of the James Watt Nanofabrication Centre at the University of Glasgow low loss optical circuits will be fabricated. New device and circuit architectures will be simulated and realised using recently optimised processes. Advanced optical testing down to the single photon level will be carried out using the state-of-the-art facilities of the Quantum Sensors Group Labs, with a new nano-optical setup for rapid throughput testing. Creative solutions for robust packaging will be explored and developed. Several promising device concepts will be pursued: an on-chip multichannel integrated receiver for quantum secure communications (in partnership with BT and the QComm quantum communications hub https://www.quantumcommshub.net/) and an integrated on-chip spectrometer for remote sensing of greenhouse gases (in partnership with the QuantIC quantum technology hub https://quantic.ac.uk/).