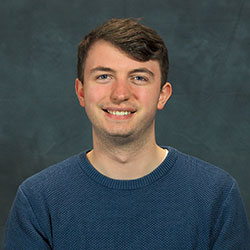 Image Gallery (1000476)
Nathan Black
I joined the CDT in 2018 about two years after I graduated from my Bachelors and decided I wanted to return to Academia. I studied a BSc in Physics at Queen's University Belfast and had been interested in a PhD at QUB for some time.
I am current researching Nanoscale Photo-conductivity in Ferroelectrics at Queens University Belfast under the supervision of Dr Amit Kumar. Amit is an exceptionally attentive supervisor and an expert in his field. We primarily use an Atomic Force Microscope to take nanoscale measurements of ferroelectric thin films. This instrument allows a wide variety of analysis and is the bedrock of my research.
I am primarily interested in photo-conductivity in ferroelectrics, and its behaviour on the nanoscale. There is a lot of interesting physics to be understood in these materials and the research is relatively novel with little existing research in the area. I also take some time to look at nanoscale thermal transport, phase transitions in ferroelectrics and ferroelectric domain switching.
CDT Involvement:
Since the start of my time at the CDT I have been the 2018 cohort representative on the research and training committee. This allows me to directly feed our experiences and ideas back to the CDT management and keeps a close relationship between the students and the management team. I also participate in many of the extracurricular activities the CDT offers from coffee mornings to quizzes.
Testimonial:
My most positive experience with the CDT has been the close knit and supportive people that make it work, from the students right up to the head management. I cannot recommend the CDT enough as an opportunity to pursue a PhD in the field of physics and photonics.
Contact Me:
If you wish to contact me about my experiences with the CDT or my research, I am available on LinkedIn. https://www.linkedin.com/in/nathan-black-604606a8/