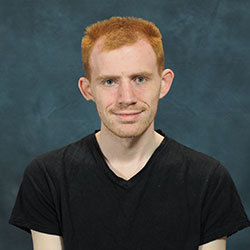 Image Gallery (1005255)
Peter Read
Hi, I'm Peter. I have a BSc in Experimental Physics from UCD in Dublin which I gained before joining the CDT. I am currently in my third year in the CDT.
CDT PhD

Project

Title

:

"Next Generation Laser Development"

My project is titled "Next Generation Laser Development" and is one of the Industrial projects offered by the CDT. I work closely with Compound Semiconductor Technologies Global in Glasgow and my Supervisor is Prof Anthony Kelly. 

General Research/Science Interests:
I find optics engaging and motivating as there's so much to discover but also every step forward we make can have endless applications in all sorts of industries and fields.

CDT Involvement:
This year, I was lucky enough to attend an industry day set up by the Irish Photonic Integration Centre and presented a poster of my research on the day. I would recommend that if anybody has the opportunity to attend this event in the future that it is well worth the time as it allows you to see the work that's currently ongoing in industry as well as the work in photonic integration by students all across the UK and Ireland and will benefit your research immensely.

Impact Activity:
Outside of the CDT, I am also involved in the Glasgow University Quiz Society and have represented Glasgow in several quiz events over the past two years.

Contact me:
Email p.read.1@research.gla.ac.uk
LinkedIn linkedin.com/in/peter-read-8b076aa1

Outside of work:
I am passionate about reading and learning and challenging myself to do try new things.

Testimonial:
The companionship within the cohort has made the PIADS experience so much easier and more enjoyable. Being part of the CDT makes me feel like I'm part of a worldwide network with so much activity and outreach and connections such as all of the resources that are available to us at the three institutions as well as the many activities such as the annual conclave which bring together experts in the various industries that PIADS is a part of and to be a part of that is something truly special.