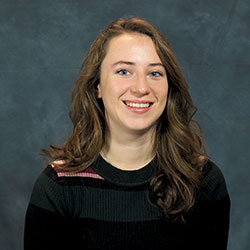 Image Gallery (1043081)
I joined the CDT in 2018, having completed my undergraduate degree in Nanoscience, the Physics and Chemistry of Advanced Materials at Trinity College Dublin.
CDT PhD/EngD Project Title: Localised thermal measurements to establish the effect of domain walls on thermal conductivity in ferroelectric materials.
Supervisors: Dr Raymond McQuaid (primary based in Queen's University Belfast) and Dr Kafil Razeeb (secondary based in Tyndall National Institute in Cork)
General Research/Science Interests:
Most of my research experience prior to the CDT was focused on Biophysics, having completed an internship at Nanyang Technological University which involved the creation of a colorimetric sensor for Phenylalanine levels for Phenylketonuria sufferers (a metabolic condition). I did my final year project for my undergraduate degree at The Scripps Research Institute in San Diego, where I used DNA nanolevers to monitor the dissociation of proteins related to amyloid diseases.
Despite this, my degree focused on material science so I have enjoyed moving back into research that more directly relates with that, as well as developing new experimental skills. It is easy to see how my project is applicable to the real world with advancing technologies in microelectronics increasing the need to manage excess heat to allow for more efficient devices.
CDT Involvement:
I took a primary role in the organisation of the 2019 Annual Conclave based in Belfast. Along with Anna Casey, I helped with the organisation of a wellness and mindfulness retreat which was scheduled for August 2020 but due to Covid19, it has been postponed.
Impact Activity:
I took an R course run by fellow CDT student Anthony Murphy to improve my data analysis. I also participated in workshops on Public Speaking run by Podium Perfect, and Innovation After Hours by David Meade.
Contact me:
ie.linkedin.com/in/rebecca-kelly
Outside of work?:
I enjoy playing hockey, yoga, and have a dog!
Testimonial:
The most important part of the CDT to me has been the friendships and relationships formed within my own cohort and with other CDT cohorts. These relationships are really enhanced by attending events such as the Winter School and the Conclave. Having both your individual research group and your cohort around you makes for a great support network.