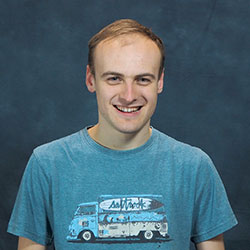 Image Gallery (1000469)
Nicholas Stephen
Hello there, I am Nicholas and I joined PIADS in September 2019. I am currently in my first year of PhD research at Queen's University Belfast having completed the academic taught year in 2019/20. I graduated with BSc Honours in Chemistry and MSc with Merit in Biostatistics both from the University of Glasgow. On completion of the PhD, I hope to use experience gained to help pursue a career in either academic research or industry.
CDT PhD/EngD Project Title:
My PhD project is titled "Investigating GaAs-based metamorphic lasers". I am under the supervisor of Dr Miryam Arrendondo-Avachvala of Queen's University and Dr Emanuele Pelucchi, based at the Tyndall National Institute in Cork.
Metamorphic growth refers to the approach used to facilitate the growth of lattice-mismatched heterostructures by using a virtual substrate with a desired lattice constant obtained by growing a lattice-mismatched buffer layer (MBL). This is a novel approach to developing GaAs-based long-wavelength semiconductor lasers, which are attractive for silicon photonics applications.
This project will investigate a variety of relaxed InGaAs MBL on a GaAs substrate, grown by metalorganic vapour phase epitaxy (MOVPE) heterostructures at by the Epitaxy and Physics of Nanostructures (EPN), at Tyndall National Institute.
The focus of the project is to use electron microscopy techniques to investigate the internal structure of the heterostructures. This includes morphology, chemical mapping and diffusion, local strain and electronic structure. In addition, dedicated software will be used for data analysis and simulations. The insight into the heterostructures will be directly linked to the growth and optical characterization process, influencing the laser engineering and optimisation.
Hence I hope that I will not only gain valuable experience in electron microscopy (TEM, SEM and FIB), but will also be involved in the structural (XRD reciprocal space mapping analysis) and optical characterisation carried out at Tyndall.
General Research/Science Interests:
What I enjoy most about science is that research done has can have be positive impact and that you will always in some manner discover new things. From the time spend on my project, I have learned quite about metamorphic lasers and some techniques required to prepare samples for electron microscopy.
CDT Involvement:
I was part of the organising committee that helped arranged the 2020 Summer PIADS conclave. I have also been involved with helping out with online information sessions for interested undergraduate students looking at joining PIADS.
Impact Activity:
Currently I am assisting with demonstrating for undergraduate Physics modules at Queen's. I was also a part of the ESPRC review into Doctoral Training which involved a day conference session answering questions about the current state of the centres and what skills alongside other students and academics across other Centres.
Outside of Work:
I am huge Rugby Union fan and have been to watch live both club and international matches. I am also a fan of Ice Hockey and have been to see matches in both Belfast and Glasgow. Outside sports, I also enjoy visiting places and building jigsaw puzzles, which include 2D and 3D ones.
Testimonial:
The CDT has given various opportunities, some of which I have already taken, to improve skills outside research for employability. It has also been a great way do the PhD in a supportive environment with people doing similar research. Finally, it has been a great way to meet new people both academically and personally.
Contact me:
Email : nstephen01@qub.ac.uk
LinkedIn linkedin.com/in/nicholas-stephen