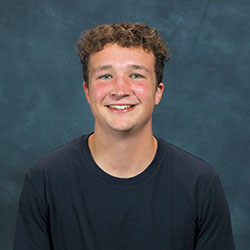 Image Gallery (1000556)
Ruaridh

Smith
I graduated from the University of Strathclyde with an MPhys in 'Physics with a specialisation in Photonics' in 2018. Following graduation, I spent a year working in the Netherlands as a Young Graduate Trainee in Advanced Concepts forin Nanophotonics at the European Space Agency before joining the CDT in September 2019.
CDT

EngD

Project Title:

Integrated

Q

uantum-

O

ptic

S

ources and

D

etectors
Supervisors:
Dr Loyd McKnight, Fraunhofer Centre for Applied Photonics
Dr Matteo Clerici, University of Glasgow
Project description: The project will develop integrated quantum-optic sources and detectors within the framework of industrially focused projects at the Fraunhofer Centre for Applied Photonics (CAP). This will include the development of single-photon detectors based on optical up-conversion and integrated sources of correlated and entangled photons. The production and detection of quantum states of light has near-term applications in areas such as precision lidar and secure communications.
Successful Funding:
I was awarded EPSRC funding to attend the SPIE Photonics West conference in San Francisco in February 2020.
CDT Involvement:
I am currently the 2019 Cohort representative and Chair of the Doctoral Forum. These roles involve relaying information to and from my cohort at the monthly management committee meetings and providing the student voice on the Steering Board.
I was a member of the 2020 Conclave Organising Committee, which was held as a series of student run virtual short conference sessions in the summer of 2020.
I am also a student buddy for new colleagues on the CDT!
Impact Activity:
As part of the Glasgow Science festival I submitted a public engagement video of a "laser jelly" experiment. http://www.glasgowsciencefestival.org.uk/events/sciencefestival/scienceonthesofa/hands-online2/cdtpiads/
Contact me:
r.smith.7@research.gla.ac.uk