Research Profile: James McCloskey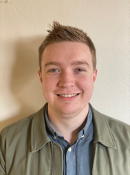 Image Gallery (1003840)
James McCloskey
I joined PIADS this September as an IPIC student in Tyndall National Institute. I have just this year completed my degree in Physics and Mathematical Sciences in University College Cork, in which I received a first class honours.
CDT PhD

/

EngD

Project

Title:

Non-Classical Light Emission from Nitride Based Quantum Dots
Supervisors: Dr Stefan Schulz, Dr Emanuele Pelucchi, Tyndall National Institute
General Research/Science Interests:
I'm interested in anything physics related! I chose to work in photonics because of how broad it is as a field, and because of the interesting quantum mechanics involved. The project I am doing involves many-body quantum mechanics calculations, which is what I'm primarily interested in. I generally enjoy any maths-heavy physics and computational physics.
Successful Funding:
I am currently being funded by SFI for my PhD. Previous scholarships that I have been awarded include the University College Cork Employability Scholarship and a funded studentship in the Dublin Institute for Advanced Studies.
CDT Involvement:
I'm currently in my first year with the CDT, however I look forward to getting involved as a student buddy to help introduce next year's IPIC students. I am also looking forward to getting involved in more science communication.
Contact me:
LinkedIn: https://ie.linkedin.com/in/james-mccloskey-57714b196
Any other info?
I enjoy doing bits of physics in my spare time too! A lot of my friends study different fields of physics which I enjoy talking about. Generally, I still enjoy learning new things outside of my PhD. That could be anything from science to history to economics.
Testimonial:
My favourite part of PIADS is the fact that everyone is so approachable. People have all been very welcoming, from all three of the involved institutions.