From a Human Trafficking Research Symposium to a Trafficking Research Network
Maja Grundler (Queen Mary, University of London); Joshua Findlay (Salford University); Adedayo Akingbade (QUB); Gillian Kane (QUB)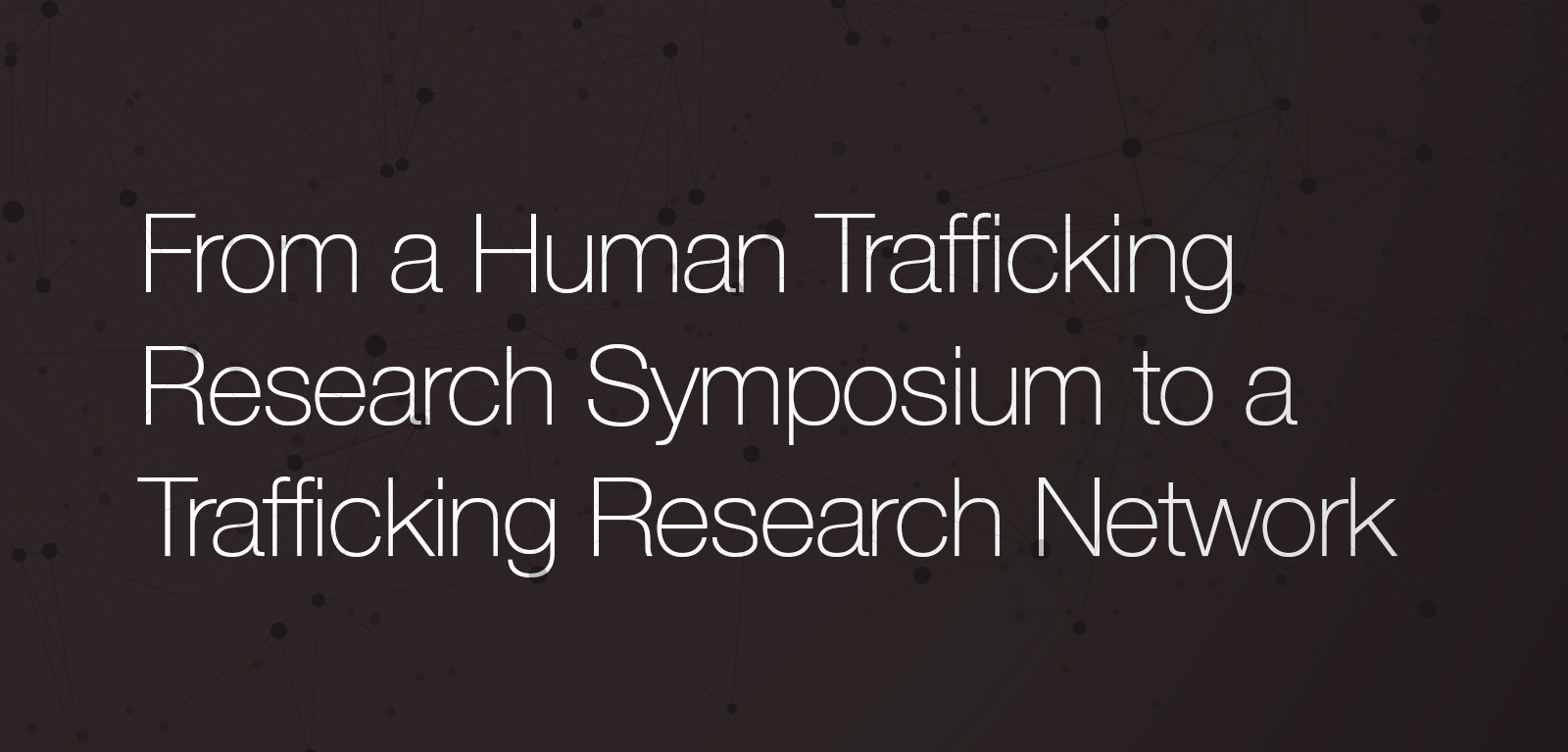 Human trafficking is a criminal law concept which has sparked engagement by legal representatives and scholars, sociologists, anthropologists, social workers, and many others. With 2020 marking the 20th anniversary of the adoption the first legal instrument to define human trafficking - the Protocol to Prevent, Suppress and Punish Trafficking in Persons, Especially Women and Children (Palermo Protocol) - as well as the 15th anniversary of the adoption of the Council of Europe Convention on Action against Trafficking in Human Beings (ECAT), one might think that there is widespread consensus on what human trafficking involves.
Yet, human trafficking is a multi-layered concept, shifting under the gaze of different disciplines and angles of engagement. The concept can be approached from the point of view of criminal law, human rights law, or refugee law. It can be viewed through the lens of politics, sociology or anthropology. Research on human trafficking may focus on the experiences and actions of perpetrators or "victims", protection mechanisms or border control, legal concepts or policy implications.
Against this background, four PhD researchers from Queen's University Belfast, Queen Mary, University of London, and Salford University, came together to organise a symposium on "Emerging Issues in Human Trafficking Research", with the support of QUB Human Rights Centre. The symposium took was held online, on 14 and 15 September 2020. We were interested in PhD and early career researchers' perspectives on human trafficking. Twenty years after the first international legal definition of human trafficking, what effects has this concept produced? What can current research contribute to understanding or critiquing the legal construction of human trafficking? How is it understood, applied and interpreted by legal practitioners, policy makers and survivors? How does trafficking intersect with other legal regimes and does the trafficking regime offer protection to all who need it? Where do responsibilities lie? What ideas and problems emerge from the concept of human trafficking? Is the concept still useful? And, what place does human trafficking have among the emerging issues of the 21st century?
Over the two days, we heard from ten PhDs and ECRs, as well as three keynote speakers and discussed themes emerging from these presentations at a roundtable. The discussion was so engaging and productive that we decided to keep the conversation going and to establish a Human Trafficking Research Network aimed at PhD and early career researchers (but also open to more senior academics) working on human trafficking and related issues. The network will provide opportunities to present research in progress, receive feedback from peers and experts, connect with others working on similar topics and encourage a multidisciplinary research environment with opportunities for interdisciplinary collaboration.
Below you can read more about the symposium as an example of what future events of the research network might look like. If you are researching human trafficking and related issues and would like to join the network, please get in touch at hrcsymposium2020@gmail.com.
Research on Emerging Issues in Human Trafficking
On the first day of the symposium we had two panels. The first was concerned with '"Trafficked Persons" on Dangerous Journeys'. Sarah Adeyinka from Ghent University spoke on 'The Psychosocial Impact of Experienced Violence on Trafficked Nigerian women in Italy'. Sarah's presentation provided important insight into the specific nature of juju control in the trafficking of Nigerian women. Localised specificity vs. universal commonality became a discussion point for the symposium. Maja Grundler of Queen Mary, University of London, then looked at 'Protection for Irregularized Migrants? – Trafficked Persons' Asylum Claims and their Implications for Smuggled Persons'. Maja considered another important question for the symposium, that of the blurring experience of 'trafficked', 'smuggled' and 'irregularized' migrants, and the legal distinctions between them. Maja spoke on establishing a future risk of harm which might protect irregularized migrants, while contemplating which aspects of refugee law might encourage this.
Gillian Kane and Adedayo Akingbade, both of Queen's University Belfast, gave the first two presentations of our second panel, which looked at the question 'What Can the Law Do for "Trafficked Persons"?' Gillian's paper, 'Preventing and Tackling Human Trafficking Among Refugees and Asylum Seekers: A Role for International and Regional Refugee Law?' proffered the argument that international and regional law, though not designed with trafficking in mind, could play a positive role in trafficking situations among those with enduring vulnerabilities. Next, Adedayo argued that due diligence offers a specialised standard that requires states to disengage from the securitisation of migration in their approach towards victims of sex trafficking. Athanasia Petropoulou of the National and Kapodistrian University of Athens discussed 'Human Trafficking and Positive Obligations: Developments and Challenges for the European Court of Human Rights', considering challenges the Court faces in the light of the migration and asylum crisis in Europe. She argued that greater clarity was needed around key terms, in order to improve legislative and operational measures. Finally for this panel, John Trajer, of the European University Institute, presented on 'Tracing the Interaction Between Social Rights and Lawful Residence for Victims of Trafficking: Examples from Recent UK Case Law'. John discussed the tension between victim entitlements to support and the exercising of immigration powers, and explored ways in which European anti-trafficking instruments have been interpreted by UK courts, in which the social rights of victims have been recognised, enabling the regularisation of their stay.
The second day of the symposium featured our third panel, on 'Perceptions of "Trafficked Persons"'. We began with Joshua Findlay, from the University of Salford, whose paper, 'Who Wants Government Support? The Outworking of the ECAT on the Ground', raised questions on the utility of EU and UN legislation, by discussing the distortion of such legislation in the way state systems outworked 'trafficking support' through frontline workers. Danielle Gallagher of Ulster University then presented on 'The "Act" of Knowledge Production: A Proposal for Ethical and Experiential Research with Trafficked Persons'. Danielle contemplated academic ethics and proposed a new method of working with survivors and gatekeepers, to explore both initial harms and experiences of the criminal justice system. She argued for a rethinking of traditional research models in favour of a more collaborative, creative methodology. Finally Dr Laura Foley of Queen Mary, University of London, shared: '"An Obsession with Trafficking": Analysing Trafficking Discourses and Policies in Malaysia'. Laura unpacked how trafficking narratives in Malaysia, and their representations of female migration, can drive restrictive laws and policies which increase the precarity of migrating women. The focus on 'rogue' actors rather than state actions in trafficking constructions was another recurring theme of the symposium.
Keynote Addresses
The keynote addresses were given by Professor Elspeth Guild (Queen Mary, University of London) and Professor Siobhán Mullally (UN Special Rapporteur on Trafficking in Persons Especially Women and Children, NUI Galway), as well as Dr Rosemary Broad (University of Manchester) on the first and second day of the symposium, respectively.
Human Trafficking and the impact of Covid-19 – Professor Elspeth Guild
Professor Guild's keynote questioned whether the challenges occasioned by Covid-19 in trafficking are new or old. In addressing this question, she considered the challenges identified by international and regional organisations with a European focus, namely, the Organization for Security and Co-operation in Europe (OSCE), the Inter-Agency Coordination Group against Trafficking in Persons (ICAT) and the United Nations High Commissioner for Refugees (UNHCR). These organisations found that Covid-19 had increased the already existing violence in systems of exploitation. State resources have been stretched, diverted, and victims have less access to useful resources and assistance. Victims have become more vulnerable; there has been an increase in online recruitment and additional barriers to law enforcement and authorities' cooperation and coordination. She further identified future research issues worthy of consideration in the discourse. They include problems associated with trafficking in an online world, particularly in the reality of Covid-19. In such situations, where are the new borders? Can the ECAT and the Palermo Protocol provide standards which will apply without border crossings which can be used to identify and assist victims of trafficking?
Human Trafficking: New Directions in research and critique – Professor Siobhán Mullally
Professor Mullally's presentation focused on the law's role in a climate of reliance on criminalisation as a policy means. She also highlighted the legal framework on trafficking for labour exploitation. Her talk emphasised the double jeopardy occasioned by law's dual role. Accordingly, there is a legal categorisation of skills in migration, but there is no legal pathway to settlement for victims, and there is a denial of rights to family unity. Importantly, who is the 'proper subject' of the law's protection? She explained that there is an unprecedented reliance on criminalisation as a policy in the context of anti-trafficking initiatives. However, in connection with the GRETA's First Evaluation Report on Turkey (2019), she argued that there has to be an operationalisation of non-refoulement obligations in pre-removal risk assessment. As such, further research is needed in understanding home country vulnerability conditions and how the principle of non-refoulement could be applied for the benefit of victims.
Perpetrators of Modern Slavery – Dr Rosemary Broad
Dr Broad's research aims to produce an empirically informed understanding of modern slavery, specifically those people convicted for modern slavery offences. It will add a layer to the understanding of modern slavery from the perpetrators' perspective. Furthermore, the research aims to produce models of offender motivation and background, networks and personal and social histories that contribute to the organisation of modern slavery. In addition, the study will provide case study evidence for intervening with people convicted of modern slavery through biographical narrative interviews. Ultimately, the research intends to open debate about the impacts of modern slavery and immigration policies, including unintended consequences. Based on her initial findings, Dr Broad made a case for further research in understanding how increasing numbers of women are arrested and prosecuted for trafficking while others, because of their elusive roles in the criminal network/enterprise, evade prosecution. Indeed, it is easy to criticise the tension between policy frameworks for migration and those for modern slavery and human trafficking. As such, to inform policy, future research can be done to better understand the dynamics surrounding why people make the desperate choice to migrate and work.
Looking Forward: Roundtable Discussion
The symposium concluded with a virtual roundtable discussion where all participants were invited to consider three themes which had emerged from the research presented in the panels, namely:
- Conceptualising and Defining Human Trafficking
- Identifying Trafficked Persons – Who and what are we looking for?
- Trafficked Persons' Interactions with Decision-Making Processes
On the topic of conceptualising and defining human trafficking, several questions were addressed. In particular, discussion centred on whether, given what is known about the complexities of exploitation, reform of the existing trafficking definition may be necessary or even desirable. Participants expressed a variety of views on this question, acknowledging the complexity of circumstances in reality, as well as the need for political will for effective implementation of the existing definition or for any treaty change. It was acknowledged that the existing definition is capable of capturing a range of circumstances and cultural practices, for example Juju (a ritual often used in Nigeria to gain control over individuals). The question of whether the problems are at the level of norm content, i.e. the definition itself, or in understandings and implementations of the norm, was also raised.
The discussion continued by focusing on the identification of trafficked persons, and the question of 'who and what are we looking for?' Participants considered whether perceptions of trafficking may have a role to play in not only who, but also what kind of conduct is identified. It was acknowledged that in the past, labour exploitation and male victims were typically under-identified. Some spoke about how this was beginning to change, and that more data on, for example, labour exploitation, is emerging. The task, going forward, is to ensure that this data has a meaningful impact on anti-trafficking policy and practice.
The final substantive theme addressed in the roundtable was: "trafficked persons'" interaction with decision-making processes. Several participants noted that, in practice, the decision-making process is often filled with complexity, with administrative and judicial decision-makers faced with overlapping systems of protection and the choice of which regime ought to be selected in any particular case. Further, questions were raised as to the role that an assessment of future trafficking risk, or harm due to stigmatization, may play in removal decisions. It was clear from this part of the discussion that there is much further research to be done in this area, from investigating victims' interactions with the process, to the ways in which decisions are made.
The roundtable session finished with many more questions still to be asked, and many more topics still to be discussed. Even from the brief conversation which participants were able to have, one theme which connected most of the topics was 'complexity'. This complexity is compounded by gaps in current knowledge, and the significant, sometimes rapid changes of the era in which we live, as the keynote speeches discussed. Trafficking is a complex problem, and the solutions to such a problem ought to be informed by research from various disciplines. It is for this reason that participants have decided to continue the discussion through the establishment of a research network. It is hoped that, through sharing and learning from one another, the members of this network may begin to address some of the questions which are, as yet, unanswered in the field of trafficking research.