QUB Law Pathway Summer School
A QUB Law summer school has given 20 sixth formers a fascinating flavour of what it's like to study law and work in the legal profession.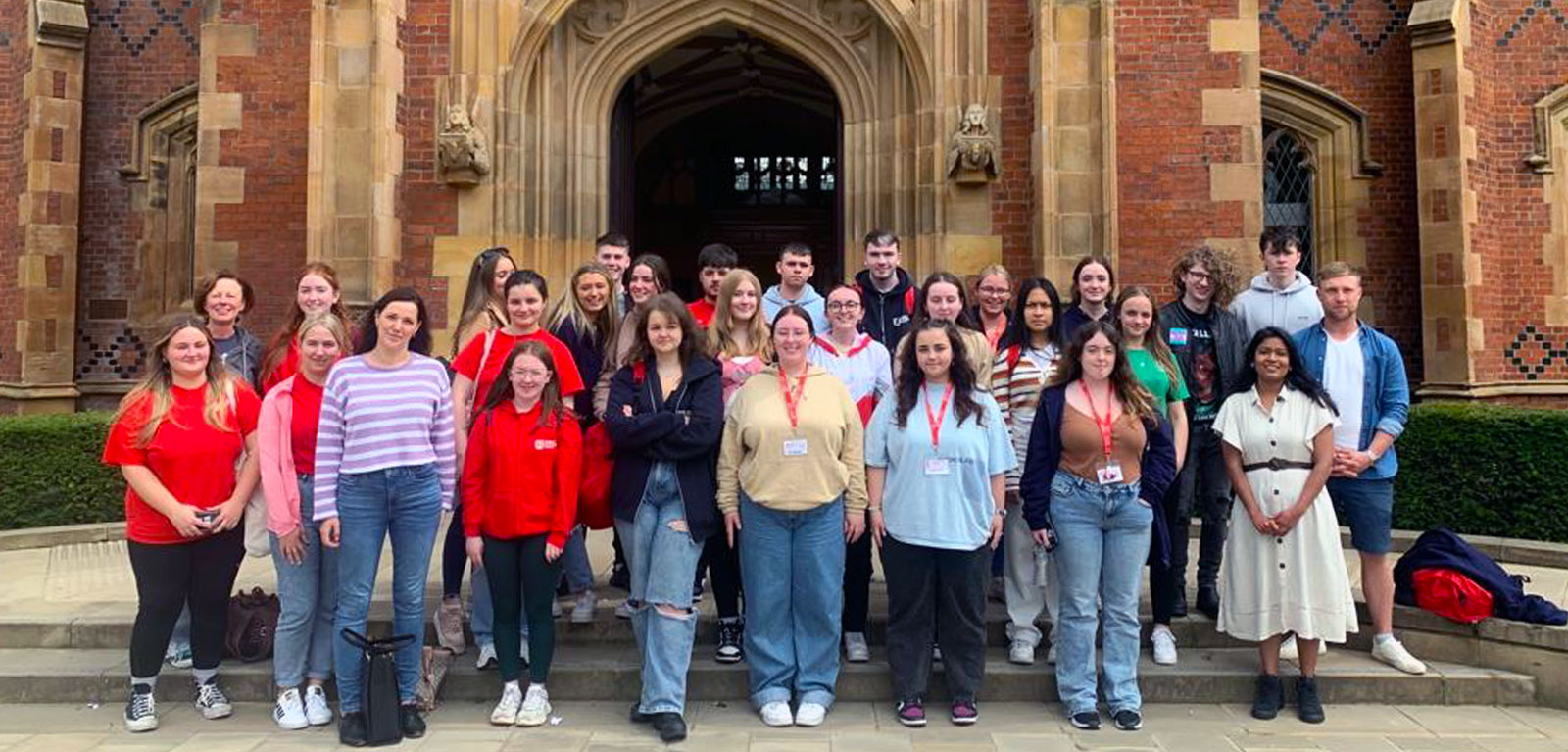 They were among hundreds of Year 13 pupils from all over Northern Ireland who participated in this year's QUB Pathway Opportunities Programme which encourages young people from all backgrounds to apply to university.
During the week-long July residential, pupils stayed at Queen's Elms, attended classes taught by QUB School of Law doctoral students and got the chance to meet and chat to top legal professionals in a wide variety of fields, including human rights and corporate law.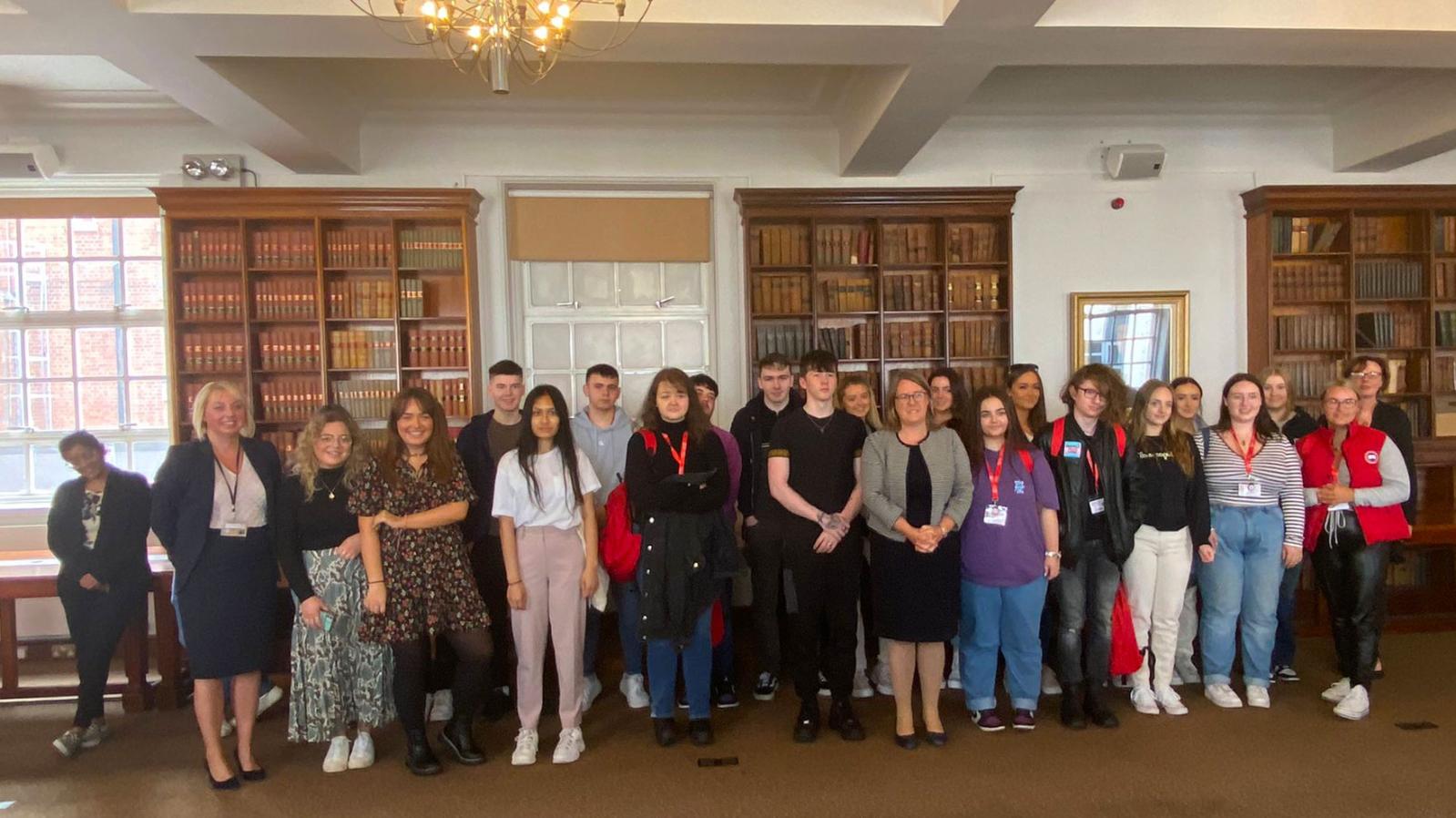 The group toured Laganside court complex and the Royal Courts of Justice where they heard from Lady Chief Justice Dame Siobhan Keegan and Bar Council chief executive David Mulholland. Pupils also visited the Belfast offices of major international corporate law firms, Allen & Overy and Baker McKenzie, where they took part in networking, interview and problem-solving exercises with staff.
QUB School of Law hosted two discussion panels where pupils questioned prominent local lawyers and human rights activists about their career paths and work. One panel featured Rhyannon Blythe of the NI Human Rights Commission, Patrick Corrigan of Amnesty NI, Liz Griffith of the Migration Justice Project at the Law Centre for NI, and QUB and Mitchell Institute Professor of Transitional Justice Kieran McEvoy. Subjects ranged from abortion rights and equal marriage legislation to the treatment of refugees. The other panel comprised two barristers: Chris Ringland and Kathy Casey, and two solicitors: Maria McCloskey and Gavin Booth. They provided a unique insight into their daily working lives which included representing child asylum seekers, prisoners and Black Lives Matter protestors.
In the classroom, pupils participated wholeheartedly in interactive lessons and debates on legal philosophy; queer, feminist and abolition theories; the culture of the courtroom; Brexit and Northern Ireland; the law and technology; academic writing and referencing, before sitting an exam at the end of the week. All students who complete the Pathway programme receive a guaranteed offer, conditional on their A-level grades, to study at Queen's, and those who do exceptionally well get a more favourable conditional offer.
Our Pathway tutors this year were QUB Law PhD students: Aislinn Fanning, Chloe Templeton, Gary Simpson, Sejal Chandak, Justyna Granacka and Rosie Cowan: Justyna and Rosie also acted as team leaders, organising and co-ordinating the week's activities with help from Pathway outreach staff, Ted Jensen and Whitney McAdam. The pupils were chaperoned by QUB students: Christine Bennett, Hannah Donnelly, Aoife Killackey, Mollie McCusker and Tegan Nesbitt.
Team leader Rosie Cowan said: 'Everyone involved found it extremely rewarding. Both our external mentors and our own QUB Pathway team were delighted to work with such enthusiastic young people. The pupils were full of questions and eager to learn. They relished this great opportunity to find out more about law, the legal profession and university life in general. We hope many of them will follow their dreams to study law at Queen's.'