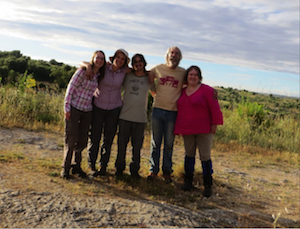 Michelle Farrell is a palaeoecologist who studies the relationships between prehistoric societies and the physical environments that they occupied, and is particularly interested in how these relationships developed within small islands. Following her Ph.D. research, which utilised pollen analysis and a suite of allied techniques to explore concepts of marginality and anthropogenic responses to changing environmental conditions in prehistoric Orkney, Michelle developed interests in the use of models of pollen dispersal and deposition for quantitative reconstruction of past land-cover and cultural landscapes. Her previous post-doctoral research developed and applied a standard methodology to test one of the fundamental assumptions which underlies the use of these models – that pollen productivity has remained constant in space and time. Following a brief spell working as a palynologist for English Heritage (now Historic England), Michelle joined the FRAGSUS team in May 2014.
Michelle's role within the FRAGSUS project is to contribute to the reconstruction of prehistoric environments in the Maltese Islands by undertaking palynological analysis of sediment cores retrieved from several locations. She is also researching modern pollen-vegetation relationships in Malta in order to understand potential taphonomic biases within the palynological data, and has carried out fieldwork in Sicily with the aim of obtaining estimates of Relative Pollen Productivity which can be used to produce quantitative reconstructions of past vegetation cover and land-use in Malta.
Publications
Farrell, M. (2015) Later prehistoric vegetation dynamics and Bronze Age agriculture at Hobbister, Orkney, Scotland. Vegetation History and Archaeobotany 24: 467-486.
Farrell, M., Bunting, M.J., Lee, D.H.J. and Thomas, A. (2014) Neolithic settlement at the woodland's edge: palynological data and timber architecture in Orkney, Scotland. Journal of Archaeological Science 51: 225-236.
Bunting, M.J., Farrell, M., Broström, A., Hjelle, K.L., Mazier, F., Middleton, R., Nielsen, A.B., Rushton, E., Shaw, H. and Twiddle, C.L. (2013) Palynological perspectives on vegetation survey: a critical step for model-based reconstruction of Quaternary land cover. Quaternary Science Reviews 82: 41-55.
Fyfe, R.M., Twiddle, C., Sugita, S., Gaillard, M.-J., Barratt, P., Caseldine, C.J., Dodson, J., Edwards, K.J., Farrell, M., Froyd, C., Grant, M.J., Huckerby, E., Innes, J.B., Shaw, H. and Waller, M. (2013) The Holocene vegetation cover of Britain and Ireland: overcoming problems of scale and discerning patterns of openness. Quaternary Science Reviews 73: 132-148.