FIVE IMPORTANT SOCIO-CULTURAL QUESTIONS WILL BE ADDRESSED BY THIS PROJECT.
1. What was the impact of human settlement on Malta, and how rapid was the process of deforestation, erosion and degradation? When did technical mechanisms to manage the environment develop – such as terracing, water and food storage? Were such mechanisms in place before or after the Temple Culture collapsed?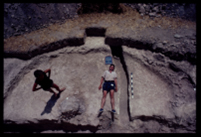 View of the Neolithic Temple-Period house under excavation at Ghainjsielem, Gozo, 1987
2. How did a very small island community in prehistoric times manage to sustain dense, complex life over millennia, and what specific social, economic and ritual controls emerged to enable this? Were the monumental temples instrumental in the process of sustaining cultural life?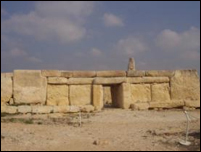 Facade of the Hagar Qim Temple
3. What sort of agriculture was used, and what did people eat, especially as the landscape became increasingly degraded and the environment more unpredictable? Were there failures in the food supply? What impact did diet, disease and stress have on the population?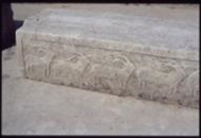 Carved block of animals at Tarxien Temple
4. What was the size and nature of the early Maltese population and what role did demographic connectivity (immigration) play in maintaining island sustainability?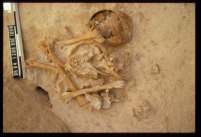 Skeleton excavated at the Brochtorff-Xaghra Circle, Gozo
5. Was there social-economic or environmental failure at the end of the Temple Culture, and what may have caused society to collapse or change so drastically? Was there a hiatus between the Temple Culture and later Bronze Age settlers?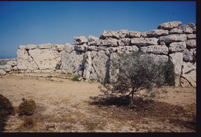 Ggantija Temple
The project explores the relationship between changing environments, natural resources and the rise of complex human social systems. Specifically, we aim to understand and explain the nature of the impact of expanding human populations on restricted, resource-limited and fragile environments, such as islands. Our goal is to advance knowledge of the mechanisms and innovations (cultural, technological and political) that traditional (prehistoric) farming societies developed in order to cope with changing resource availability and environmental unpredictability. We seek to understand how some societies managed their impact on resources, and sustained their socio-economic system and culture over long periods of time. We do this through examining the evidence preserved in the environmental and archaeological record.