The Belfast Stories project team invites you to attend a consultation event on Belfast Stories.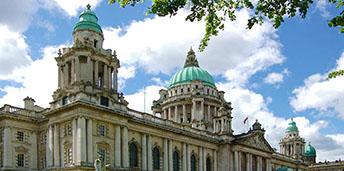 September 27, 2022 - October 4, 2022
Various venues in Belfast
---
By 2028, Belfast Stories, a new visitor attraction, will open on the site where North Street and Royal Avenue meet including the former Bank of Ireland buildings. An exciting and authentic experience with Belfast's people and personality at its heart, it aims to attract both tourists and locals.
Belfast City Council is running a public consultation in August – November 2022 to gather ideas and evidence to help shape Belfast Stories. It will focus on:
raising awareness of Belfast Stories so that people are excited and want to continue to be engaged in its development

making sure that Belfast Stories is for everyone. This means making sure that the building is welcoming and accessible and everyone can see themselves reflected in its stories.
Belfast Stories will be a success if the people of Belfast love it, are proud of it and feel that it is truly theirs. We can make this happen by talking to the organisations that work in the city and the people who call it home.
We want to talk to you about our plans for gathering stories, these will be first-person accounts of the city by the people who call it home. These stories will be discovered through an ambitious citywide story gathering programme that will include:
uncovering the stories that are already held by museums, archives, local history groups, communities and

exploring how we might work in partnership with those already telling the city's stories.

gathering new stories, particularly those from people and groups whose stories may not yet have been heard
Belfast City Council are holding workshops on the following dates to focus on arts and heritage:
Arts sector: 27 September at 10am – 11.30am in The Crescent Arts Centre
Arts sector: 5 October at 2pm – 3.30pm in Belfast Exposed
Heritage sector: 22 September at 10am – 11.30am in 2 Royal Avenue
Heritage sector: 4 October at 9.30am – 11am in The Crescent Arts Centre
Register here: Belfast Stories | Your say Belfast (belfastcity.gov.uk)
Or provide input to the consultation at the link here Belfast Stories | Your say Belfast (belfastcity.gov.uk)