Top UK engineering students team up with Chinese counterparts
The next generation of engineers from the UK and China have met in Beijing to develop new technical and creative skills that will help them to solve global challenges.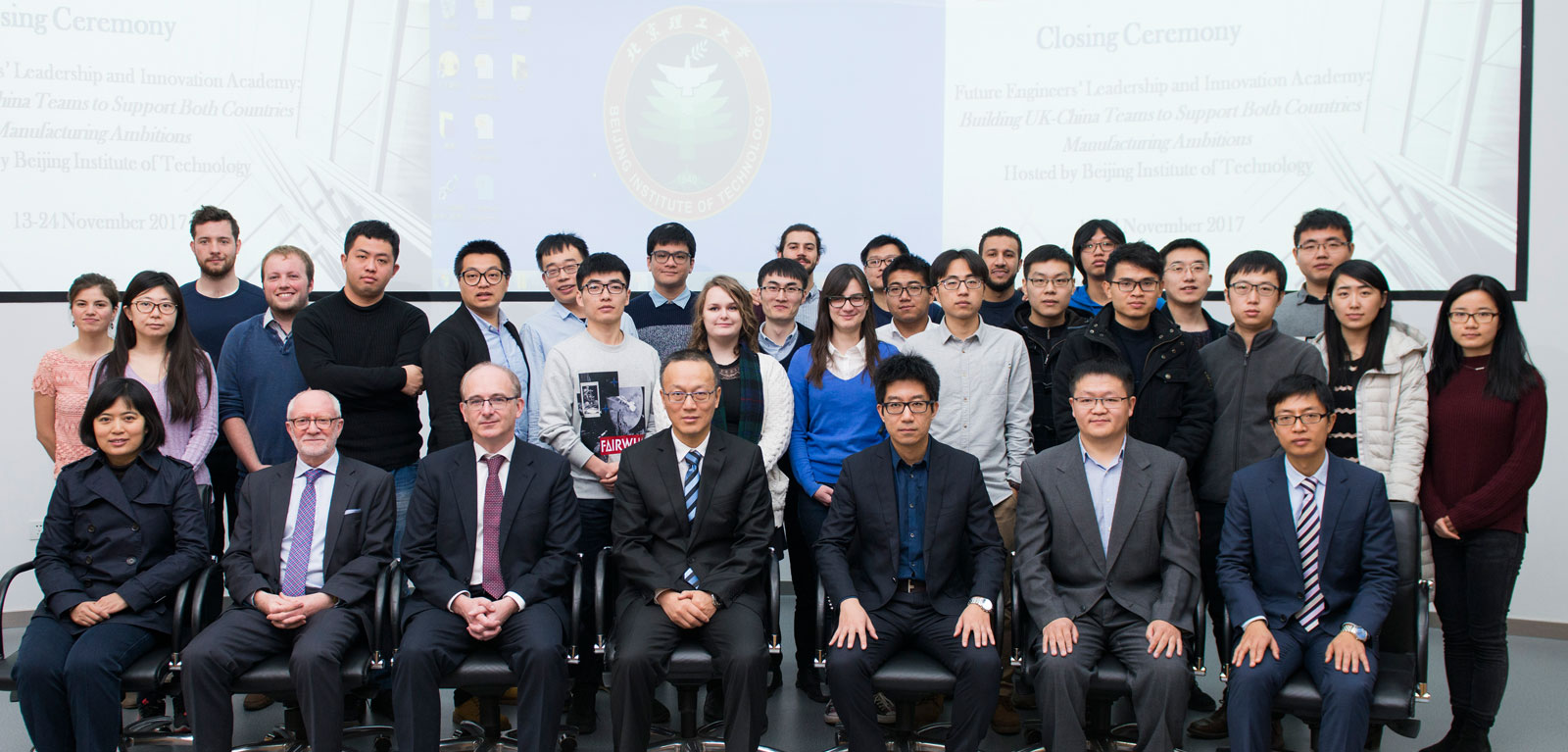 The students were taking part in the Future Engineers' Leadership and Innovation Academy, which was developed through the UK-China University Consortium on Engineering Education and Research (UK-China UCEER)and aims to build UK-China teams to support both countries manufacturing ambitions.
The Consortium was established over the past six months with seed funding from the UK Department of Business, Energy and Industrial Strategy, and led by the British Council in China. Initially, the Consortium is focusing on innovative technologies in intelligent manufacturing and sustainable energy that will help reduce greenhouse gas emissions as both countries transition to a low carbon economy.
The Consortium is the first of its kind to partner leading UK universities with the top engineering research institutions in China. It is led by Queen's University Belfast and Southeast University (Nanjing) and is made up of six UK universities and nine universities in China.
Over a period of two weeks, 26 PhD students from across the Consortium have been enhancing their creative, technical, transnational communication, and leadership skills. The Academy is hosted by the Beijing Institute of Technology (BIT) and delivered by staff from Queen's University Belfast and BIT. Working together in transnational teams the students have applied their innovation and leadership skills to topics such as disaster management using unmanned aerial vehicles. This is the first step in building enhanced transnational PhD educational opportunities between the UK and China in engineering.
Southeast University and Queen's University Belfast also intend to sign a Joint Declaration on establishing a UK-China University Consortium on Engineering Education and Research at the UK-China High Level People-to-People Dialogue, which will take place in London in December.
Professor Stan Scott, Dean for Internationalisation, Queen's University Belfast and Director of the Future Engineers' Leadership and Innovation Academy (FELIA) Programme, commented: "I'm delighted that after six months of planning FELIA has been successfully delivered in Beijing. I pay tribute to my colleagues in Queen's University Belfast and Beijing Institute of Technology for their skill, enthusiasm and dedication in delivering this exciting and ground breaking initiative.

"During the two week programme the twenty-six research students from 13 universities across China and the UK have developed skills that have enabled them to work effectively in transnational teams. The networks they have tapped into will prove invaluable in their research careers and bodes well for productive UK-China collaboration."
Commenting on the project, Professor David Rooney, Vice-Chancellor's Envoy to China, Queen's University Belfast, said: "Engineering innovation and leadership are essential to support the manufacturing ambitions of the UK and China and at Queen's University Belfast we are delighted to be leading on this very important consortium.
"This Future Engineers' Leadership and Innovation Academy has helped our students from both the UK and China to develop creative, technical, transnational communication, and leadership skills. Through the UK-China Consortium we are training up the next generation of engineers, innovators and entrepreneurs and equipping them with the skills they need to make a positive impact globally."
Jazreel Goh, Director Education China at the British Council, said: "The UK and China have a long history of education collaboration. Indeed, with more than 275 joint programmes and institutes, the UK and China are world-leading partners in transnational education. But if we want to take forward our shared ambitions of increasing international collaboration, accelerating the growth of world-class universities, and boosting our engineering capacity, we need to look beyond institution-to-institution partnerships. With the establishment of the UK-China University Consortium on Engineering Education and Research we have taken a significant step towards making those ambitions a reality and initiating a new era in UK-China education collaboration."
Professor Ye Zhirui, Director of International Co-Operation, South East University: "The UK-China University Consortium on Engineering Education and Research is unique and of great potential because it has specific goals and focus and aims at high level collaborations. The FELIA program is a perfect example of how the consortium can quickly respond to the need of the new era internationalization development of China higher education and the ambition of UK top universities to expand their presence in China. We really appreciate the efforts made by Queen's University Belfast and BIT which has ensured the successful operation of this programme."
Dr Tim Bradshaw, Chief Executive of the Russell Group, said: "Collaborations between the UK's Russell Group universities and China's leading universities bring a range of mutual benefits. They can enable us to grow our capabilities and expand students' horizons. They provide researchers with opportunities to create new partnerships, broadening the scale and impact of their research.
"The Leadership and Innovation Academy for some of our countries' most promising engineering PhD students will help forge new links between our countries and build skills that are central to the success of our globally competitive economies."
Vivienne Stern, Director of Universities UK International, commented: "Universities UK welcome the provision of funding from the Department of Business, Energy and Industrial Strategy to support innovative initiatives in China such as this transnational Consortium. Having worked with BEIS and the British Council to design and secure funding for this initiative it is fantastic to see Queen's University Belfast and their partner UK universities success in delivering this programme, which promises to create long term benefit for both countries."
Media
Media inquiries to Emma Gallagher at Queen's University Communications Office T; +44 (0)28 9097 5384 E: emma.gallagher@qub.ac.uk