TECHNICAL SKILLS | MANAGERIAL AWARENESS
MSc MECHANICAL ENGINEERING
WITH MANAGEMENT
Queen's University
RANKED 3rd IN THE UK FOR GRADUATE PROSPECTS IN MECHANICAL ENGINEERING
Complete University Guide 2022
Gain the technical qualification of an advanced mechanical engineer with the managerial skills necessary to advance your career in the field. This programme is for students from a broad range of STEM-related degrees who want to develop the relevant skills to practice mechanical engineering in an industrial setting, as well as practising engineers who are looking to improve their professional and management skills and also refresh their skills and knowledge in technical engineering subjects.
The School of Mechanical and Aerospace Engineering at Queen's University Belfast offers advanced degrees in Mechanical Engineering of the highest standards taught by enthusiastic staff with reputations in research, teaching and innovation and who will inspire you to become the best you can be once you graduate and become a professional.
Applications for 2023 entry are now open
Register your information below for more information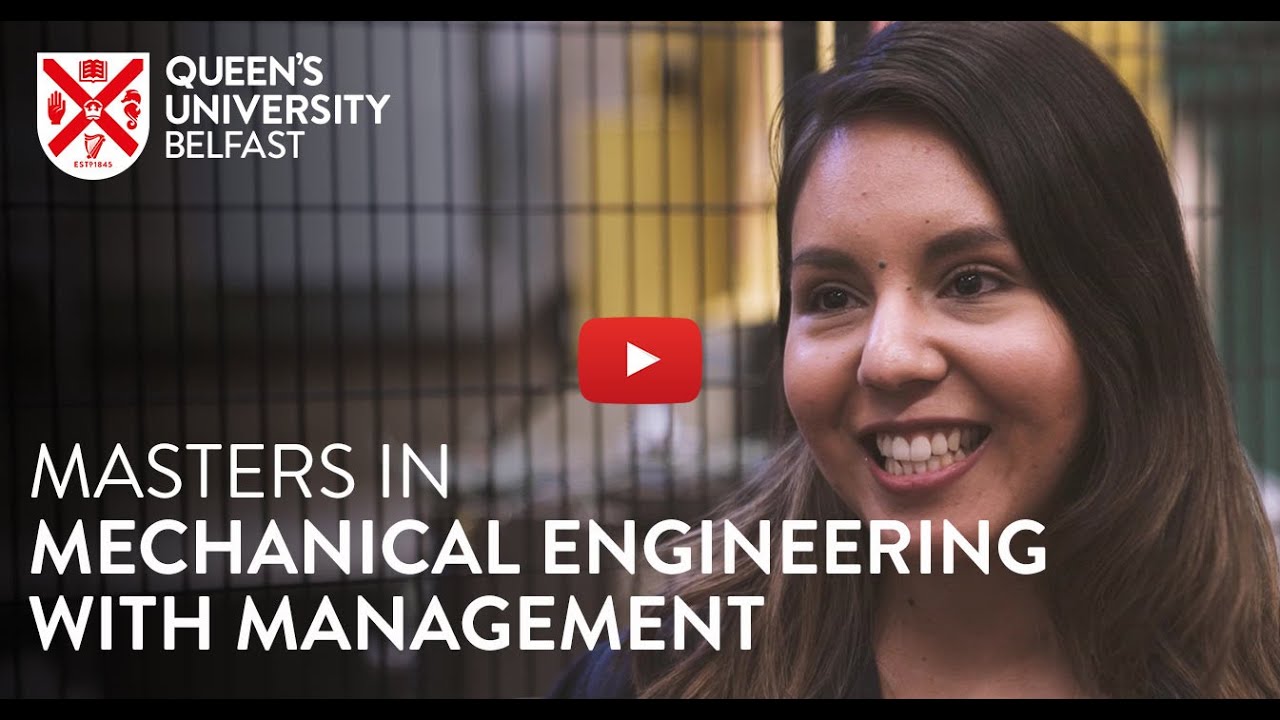 MASTERS IN MECHANICAL ENGINEERING WITH MANAGEMENT
You will develop competency and skills that include the latest advances in engineering disciplines of energy and power, manufacture and design. In addition to covering the latest engineering technology, you will be equipped with the creative, commercial, business and management skills that are necessary to be an innovator, entrepreneur and industry leader.
"This programme offers a portfolio of challenging modules in several areas of society importance, and the substantial project element allows students to develop independent working skills. The international mix of students and staff reflects the working environment in global businesses. The degree is an excellent qualification for students wanting to prepare for an extraordinary career." Professor Stephen Spence
Why Choose Queen's
Top 170 in the world for graduate prospects
(QS Graduate Employability Rankings 2022)
World-class university
'One of the world's most beautiful universities' (Huffington Post), Queen's is the 9th oldest university in the UK, established in 1845 with over 170 years of teaching excellence.
The UK's Best Value Student City
Belfast has the lowest cost of living in the UK (Mercer Cost of Living City Ranking 2023)
Employment potential
Queen's offers opportunities for work placements, industry-led programmes and ground breaking research projects. 94.4% of Queen's graduates are in employment or further study six months after graduation
State-of-the-art facilities
Be taught by world-leading researchers and experts in their field in state-of-the-art facilities. 15 Queen's subjects in the top 200 in the world (QS World Rankings by subject 2023)