Queen's University, Belfast presents
Science at Queen's
Parent's Evening, Thursday 4 March, 2021
Time: 6.30pm - 8:00pm
Venue: Online
[THE SCIENCES] ALLOW US TO WRITE WITH A PIECE OF CHALK ON A BLACKBOARD THE VERY STRUCTURE OF THE UNIVERSE AND THE SHAPE OF IT. I MEAN… WHAT'S NOT TO LOVE?" - DARA O'BRIAIN
This is an exciting time for school leavers to pursue a career in science-related fields. There is a high demand for graduates in Northern Ireland, GB and globally, and starting salaries for Queen's University graduates in the Sciences currently start from £18K.
Please Register online and save the date:
Date: Thursday 4 March 2021
Time: 6:30pm - 8pm (GMT)
Unfortunately due to the ongoing pandemic we are unable to welcome you on to the campus this year, however we hope to offer you an immersive and interactive experience online, and hopefully answer all of your questions!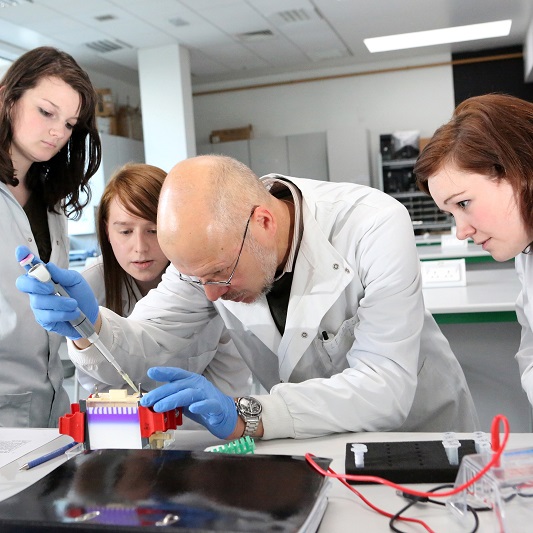 This event is for parents/guardians and sons/daughters in years 11, 12 and 13 who have an interest in Science subjects. Attendees will have a unique opportunity to hear about some of the reasons why their son or daughter should consider a science degree. They will also hear from academics on our courses and employers, and have the opportunity to ask questions about the following subjects:
Archaeology and Palaeoecology
Biological Sciences
Biomedical Science
Chemistry
Geography
Mathematics
Pharmacy
Pharmaceutical Sciences / Biotechnology
Planning
Psychology
Physics
PLAN YOUR DAY WITH US
Programme of events will be available soon
Why Choose Queen's
Ranked 200 in top universities in the world
(Times Higher University Rankings 2021)
World-class university
'One of the world's most beautiful universities' (Huffington Post), Queen's is the 9th oldest university in the UK, established in 1845 with over 170 years of teaching excellence.
The UK's Best Value Student City
Northern Ireland has the lowest student cost of living in the UK. (Which? University, 2018)
Employment potential
Queen's offers opportunities for work placements, industry-led programmes and ground breaking research projects. 96% of Queen's graduates are in employment or further study six months after graduation
State-of-the-art facilities
Be taught by world-leading researchers and experts in their field in state-of-the-art facilities. 15 Queen's subjects in the top 200 in the world (QS World Rankings by subject 2020)