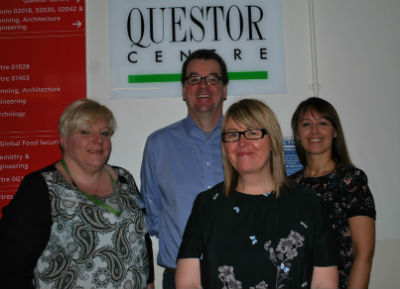 Remediate management team: Dr Julie-Anne Hanna, Dr Nick Johnston, Ms Kerry Kelly and Ms Kathryn Rogers
Management Team
The REMEDIATE management team consists of Dr Julie-Anne Hanna, Dr Nick Johnston, and Ms Kathryn Rogers.
Dr. Julie-Anne Hanna
Dr Julie-Anne Hanna is the Project Manager of REMEDIATE.
A chemical engineer who joined QUESTOR in 2003, her previous experience has included a period working for industry with Springfarm Mouldings Ltd. She also worked on a team, which resulted in the following International Patent Application, PCT/GB01/03994 Improvements relating to water treatment. She also, for a short time, worked with Harland and Wolff ship repairs on a project to remove Tri-butyl Tin from ship wash effluent.
She was one of the QUESTOR team for Indus, an EU-funded project intended to transfer best practice in water and energy use in the food and textile industries to companies in India and QUESTOR's second Asia Pro eco project TIPOT.

Julie-Anne's other tasks within the QUESTOR Centre include working with companies to maximise profit and reduce environmental impact through waste minimisation, including recommendations for cost effective effluent treatment and energy efficiency, through technology transfer and management of the consultancy work and assisting in developing and running training programmes on environmental issues.
Dr Nick Johnston
Dr Nick Johnston is the Training and Communications Manager of REMEDIATE.
Nick has 20 years research experience in biological sciences, with a degree and a PhD in Biochemistry from the University of Edinburgh. He has completed post-doctoral research positions at Dartmouth College (USA) and Queen's University Belfast (QUB), and managed a work package of a FP7 funded project (MacroSys) based at the Veterinary Science Division of the Agri-Food and Biosciences Institute in Belfast.
Most recently, from November 2014 to November 2015, Nick was the Project Manager of ReNEW, an INTERREG IVB funded (Priority 1) project based at QUESTOR at Queen's University Belfast.
Nick is able to contribute technical expertise to research activity, technology transfer, and commercialisation projects to ensure exploitation of research.
Ms Kathryn Rogers