Duchess of Gloucester Meets Prostate Cancer Patients at Queen's CCRCB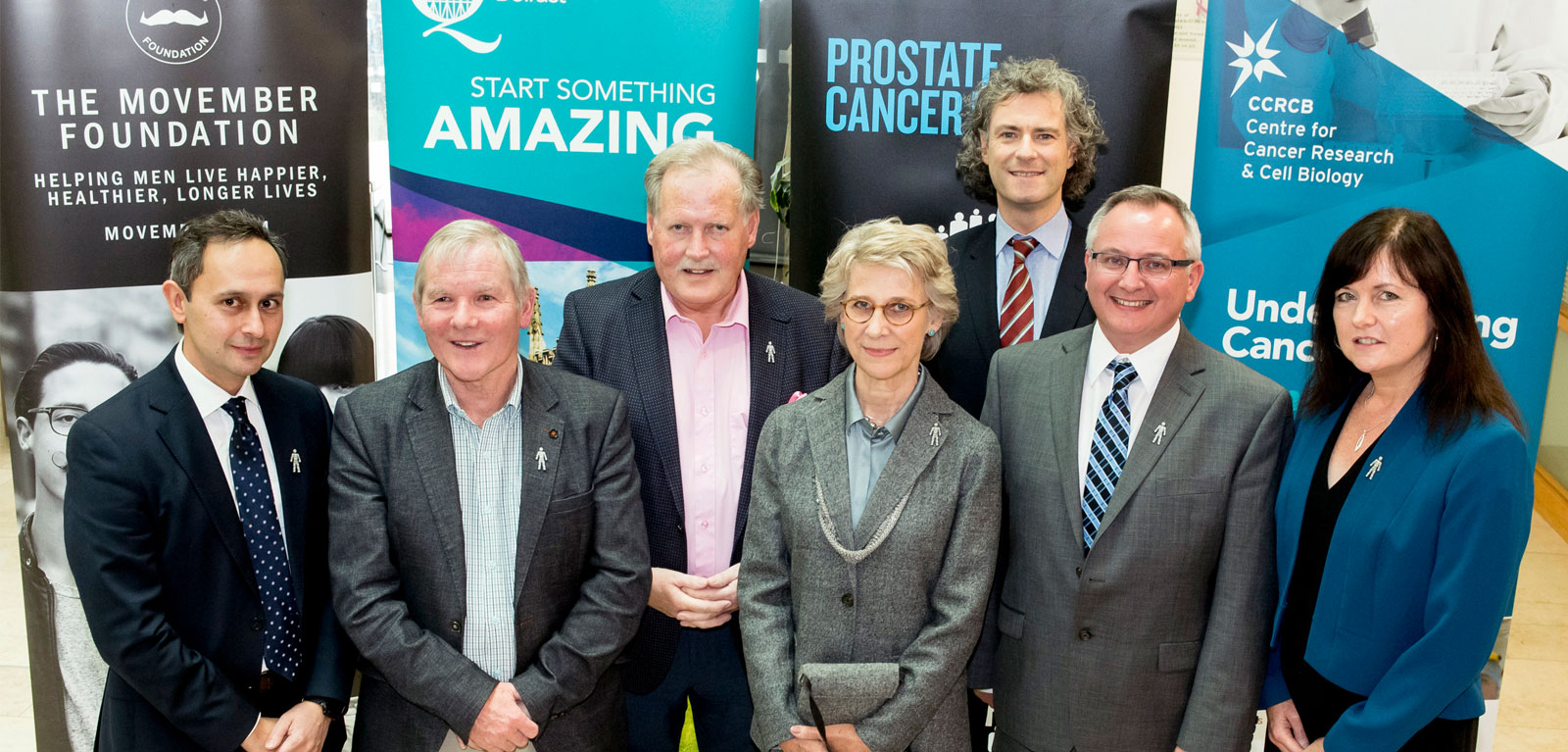 Her Royal Highness the Duchess of Gloucester today (Friday 22 September) visited the Movember Centre of Excellence based within the Centre for Cancer Research and Cell Biology (CCRCB) at Queen's University Belfast to learn about the ground-breaking prostate cancer research taking place.
The Duchess of Gloucester, who is the royal patron of the men's health charity, Prostate Cancer UK was introduced to patients and researchers leading on revolutionary projects at the Movember Centre of Excellence, one of Prostate Cancer UK's major research programmes.
Professor David Waugh, Director at the Queen's University Centre for Cancer Research and Cell Biology said: "Our mission in the Centre is to translate our scientific discovery to inform how best to treat patients in the clinics. In this regard, our research has a direct impact in improving patient outcomes and their quality-of-life. We are delighted to welcome the Duchess of Gloucester to the Centre and to introduce her to our prostate cancer research team, patients and their families to experience first-hand how our research makes a real difference to people's lives."
Commenting on the visit, Angela Culhane, Chief Executive of Prostate Cancer UK said: "Prostate cancer kills one man every 45 minutes. It's the most common cancer in men and it's set to become the most common cancer of all by 2030. Together with the Movember Foundation we launched the Centres of Excellence programme to bring the best minds in prostate cancer research together in a bid to stop prostate cancer in its tracks and ensure more men survive the disease and continue to lead a good quality of life. The Belfast-Manchester Centre has been making great strides in finding new ways to treat men living with advanced prostate cancer and we're delighted to be showcasing some of this potentially game-changing work to our royal patron, the Duchess of Gloucester."
Queen University's Professor Joe O'Sullivan has led a clinical trial for men who present with prostate cancer which has spread to the bone. The trial, known as ADRRAD, offers a novel combination of therapies to patients including treatments only available to those on the trial.
Prostate cancer patient, David Livingstone spoke to the Duchess of Gloucester about his involvement in this trial: "If it wasn't for this research, I simply would not be here. On May 2016, I received my diagnosis that I had very aggressive prostate cancer that had spread to the bones. The prognosis was bleak."
David was offered a combination of therapies through the trial, including a high-dose radiotherapy and radium-223. Following the treatment, David has now been told his tumour is 'under control' and says: "He enjoys a good quality of life."
Her Royal Highness the Duchess of Gloucester also met with Dr Suneil Jain, a clinical researcher at Queen's University who is leading the SPORT clinical trial. This trial seeks to improve the use of radiotherapy in men diagnosed with high risk prostate cancer.
Dr Jain explained how the trial works: "One of the potential complications from using radiotherapy is the potential damage that can be inflicted on neighbouring tissues. In this trial, we are evaluating the performance of a biological spacer which is inserted between the prostate gland and the lower spine of the patient. This creates a greater distance between the prostate tumour and other tissues, enabling us to concentrate the radiotherapy dosage provided to the tumour and thus reducing the chance of radiation harming other tissues close to the tumour such as the bowel."
James Greene was the sixth person to take part in this research trial which is only available to patients in Northern Ireland. James said: "Taking part in this trial meant I was offered a high-dose five treatment course instead of enduing three months of treatment.
"The treatment was really successful in getting rid of the tumour. I even recently ran a 10k marathon to fundraise for the life-saving research taking place at CCRCB along with my two sons, Dr Jain and his wife so that more patients can benefit from this work."
Media
Media enquiries to Suzanne Lagan suzanne.lagan@qub.ac.uk or +44 28 9097 5292.