Landmark precision medicine study presented at All-Island Cancer Research Institute Showcase
PGJCCR-led research demonstrates economic benefit of precision medicine in treating cancer.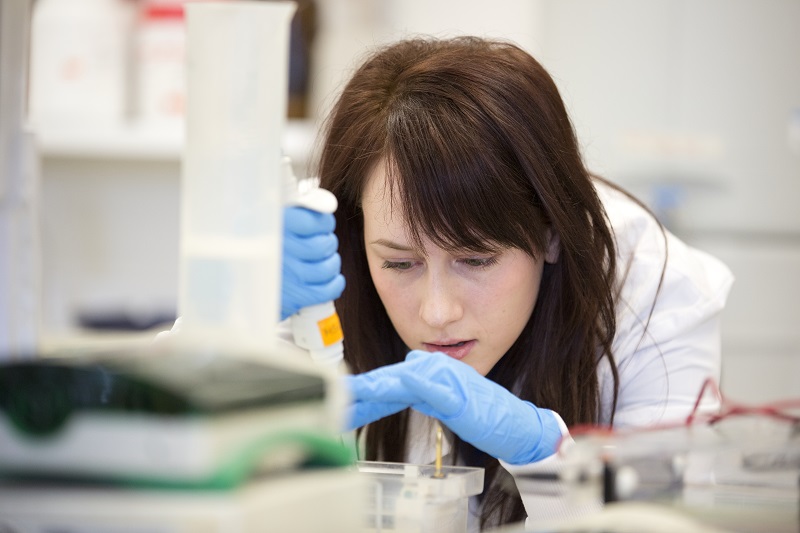 A landmark study led by PGJCCR was presented at the All-Island Cancer Research Institute (AICRI) Showcase on Wednesday 27 September.
A study led by researchers from the Patrick G Johnston Centre for Cancer Research (PGJCCR) has shown how precision medicine can be a cheaper and more efficient way to treat cancer and is the world's first and most comprehensive study of the initial wave of precision oncology medicines in the marketplace.
Cancer treatments rely on tried and tested combinations very frequently in a "one size fits all" approach. It has become increasingly clear that the responses to these traditional medicines is very unique to the individual patient, and very hard to predict which patients would benefit or not from those treatments, highlighting the need to treat the patient along with the disease - a more precise approach to treatment. But at what cost? This study went about examining the economic impact of precision oncology medicines compared to traditional oncology medicines. It found that it saves over $1 billion in research and development (R&D) to develop an oncology medicine that is guided through clinical trials in a precision oncology approach, compared to the classical approaches.
Dr Raymond Henderson, lead author on the paper, sums it up: "This study emphasises how a precise health economic approach can provide the evidence base to underpin the delivery of precision oncology for patients."
It suggests that by using the "CDx-guided approach", which uses a companion diagnostic to identify patients who are most likely to benefit from a particular medicine, increases the likelihood of a treatment being successful, which directly cuts the costs associated with unsuccessful treatments. The study was carried out by the All-Island eHealth Hub for Cancer and was conducted in collaboration with a team of precision healthcare economists and researchers from Salutem Insights Ltd, Diaceutics PLC and King's College London, and the full findings have been published in the Journal of Pharmaceutical Policy and Practice.
The study was presented in Dublin at the AICRI Showcase on Wednesday 27 September. The AICRI brings together cancer researchers across the island of Ireland to work together to deliver high quality research with health and societal impact.
Mr Simon Harris TD, Minister for Further and Higher Education, Research, Innovation and Science, remarked: "This is exactly the type of work that we wish to encourage and support. It shows how an all-island approach can drive a research and innovation agenda that delivers both for patients and for society, emphasising both the health and innovation dividend of research."
PGJCCR's Professor Mark Lawler, Professor of Digital Health at Queen's University Belfast (QUB), Co-lead of eHealth Hub for Cancer and senior author on the research presented these exciting data, and added:
"This landmark study highlights how precision medicine can deliver affordable care for cancer patients. To date, the presumption has been that precision medicine is expensive and unaffordable, but our work suggests that there is a pathway that delivers both health benefit and value. Moving towards a precision oncology guided approach can deliver health benefits at a potentially affordable cost, including in the development phase, lowering expensive clinical trial attrition rates and sparing patients from those treatments that are ineffective and may have significant side effects. If we don't deploy a CDx-guided approach we are missing a huge opportunity to deliver the best, most affordable care to our patients."
This study hypothesises that a $50 million timely investment in better testing would potentially gain significant lifecycle revenues per therapy; for every $1 million invested in better testing, an additional $100 million+ in additional lifecycle revenues for that therapy could be realised. However, Prof Lawler adds, "despite the mounting evidence that precision oncology approaches appear to offer better value to the key stakeholders; payers, patients and the pharmaceutical industry, there are still barriers to be overcome that require a new operating model which enables these cost-effective innovative treatments to reach all of our patients."
Professor Aedin Culhane, Professor of Cancer Genomics and Director of the Limerick Digital Cancer Centre at University of Limerick, and Co-lead of the eHealth Hub for Cancer, said: "This work highlights how we can deploy quality data to highlight the benefits and potential cost saving of a precision oncology approach."
Peter Keeling, CEO of Diaceutics and co-author of the study, highlights the importance of these findings for the pharma industry: "Utilising this landmark financial analysis, we can for the first time postulate what might be the actual lifecycle advantage of recovering patients lost to the diagnostic pathway with an investment in better testing."
Professor William Gallagher, Professor of Cancer Biology at University College Dublin and Co-lead, AICRI, said: "I am delighted to see this critical work clearly showing the benefit of cancer precision medicine presented at the AICRI Showcase event. Such studies are key to the mission of AICRI which is to create an overarching framework for cancer research across the island of Ireland, so as to better enable fast-tracking of new diagnostics and therapies into care."