Meet Our Newest Research Assistant Daniel Crummey
Daniel tells us about taking up his new position at PGJCCR after completing his Master's here in 2022.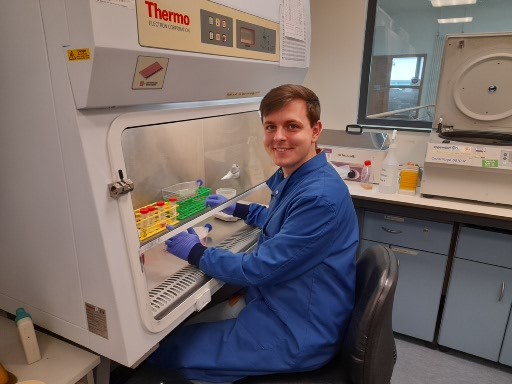 I am Daniel Crummey and I have just started working in the Patrick G Johnston Centre for Cancer Research as a Research Assistant. I am very happy to have returned to the centre following the completion of my Master's here in 2022.
I started my studies at Queen's in 2018 with an undergraduate degree in Biomedical Sciences. I have always been interested in medical research but during this time I became really passionate about cancer research. I chose to continue studying with a Master of Science by Research in Cancer Medicine, which brought me to the PGJCCR.

My MScRes studies gave me the opportunity to get a lot of hands-on experience in the lab including experimental design, maintaining cell cultures and the day-to-day maintenance that is part of a research lab, as well as a chance to present results to my group and learn how to use statistical software for data analysis. I joined Professor Karen McCloskey's Research group to carry out my research project which was focused on the effects of ionising radiation on endothelial cells. This involved mimicking the effect of radiotherapy on patient blood vessels and how radiotherapy might damage endothelial cells and cause inflammatory diseases such as radiation cystitis. I gained lots of experience in standard lab techniques, such as immunofluorescence and cell-based assays, as well as in-depth training in some really cool techniques used to look at calcium signalling following irradiation.

During my masters, I realised that I really wanted to pursue cancer research as a career. Having worked closely with so many members within the PGJCCR, I always knew it would be the perfect place to pursue a career in cancer research so I was very excited when I saw the advertisement for the role of Research Assistant on PGJCCR Online.

Since returning to PGJCCR I have re-joined the McCloskey Group to continue my work looking into bladder cancer. Our work is currently focused around how cells signal and "talk" to each other and how this discourse changes in cancerous cells. We hope our work will be able to help us better understand how cells change when they become cancerous with the aim of identifying physiologically relevant targets that could support the development of new bladder cancer treatments.
I have really enjoyed my first week in the centre in my new role getting to meet some new people and help design some new experiments in the lab.