Marks & Spencer announce placement programme for Queen's students
The M&S CEO, Steve Rowe, has delivered the annual KPMG Lecture at Queen's Management School where he announced a new student placement programme.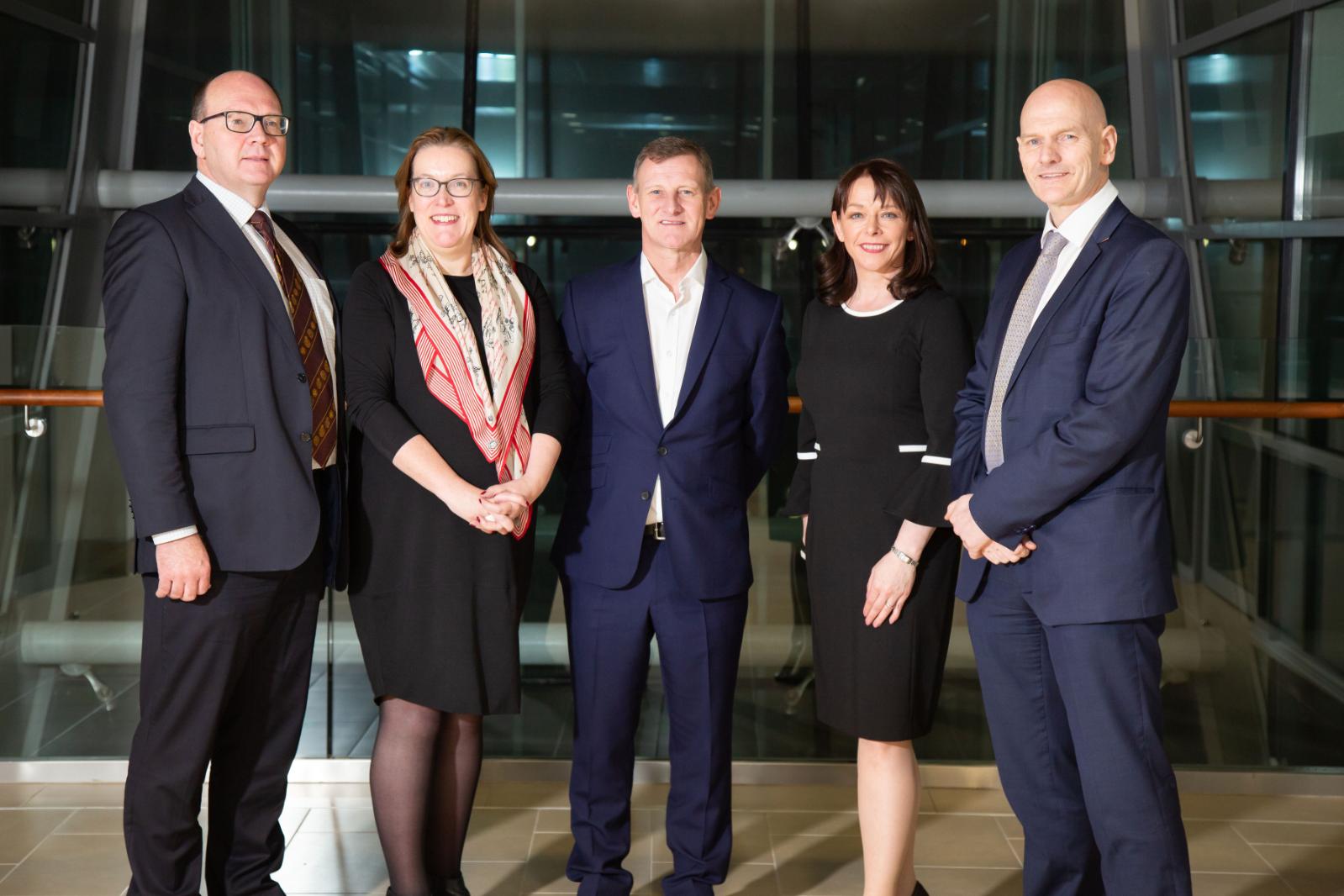 During the 'M&S Food: Transforming with Integrity' lecture, which is run in association with Queen's Management School and the Chief Executives' Club at Queen's, Mr Rowe announced a new placement programme, which would see Queen's students work with Marks & Spencer's industry-leading food technical team to support in building supply chain resilience.
Mr Rowe was appointed CEO of M&S in 2016, with a career that has spanned almost 30 years across all parts of the business.
Welcoming the announcement, Professor Chris Elliott, from the Institute for Global Food Security at Queen's said: "We were delighted to welcome Mr Steve Rowe to Belfast to deliver the annual KPMG lecture in association with Queen's Management School and the Chief Executives' Club at Queen's.
"M&S plays a very important role in Northern Ireland, and has been a valued partner of Queen's University Belfast for many years. I am delighted that Mr Rowe has announced a continued partnership with Queen's through a new placement programme for our students which will give them the opportunity to learn from the leading experts in food security in the industry."
Speaking at the event, Mr Rowe, Chief Executive of M&S, commented: "Being described as a "great friend" to both Queen's University and to Northern Ireland is a true honour. Last summer, I had pleasure of receiving an Honorary Doctorate for services to business and commerce from the good people at Queen's.

"In Northern Ireland we enjoy a special relationship with our suppliers, colleagues and customers - especially in M&S Food. We overtrade here with over 7% market share and four of our 21 Northern Irish stores are in our top 30 stores. In fact, Lisburn is our number one Food Hall in the entire business.

"But we know M&S Food needs to transform in order to stay relevant and compete. One thing remains true; going back to our DNA, we are changing our business for the better, but we are committed to doing so with integrity and retaining our stance on quality, innovation and standards."
M&S has pioneered and shaped the food industry over the years, leading the creation of the Food Industry Intelligence Network, set up to combat the threat of fraud in the supply chain, and are working with the Consumer Goods Forum and its members (Walmart, Nestle, Mars, Metro and Unilever) to tackle global issues such as preventing deforestation sourcing; and tackling forced labour.
Stuart Irwin, Partner and Head of Agribusiness, KPMG in Northern Ireland, said: "We were delighted that Steve Rowe took time out of his busy schedule to visit our office and give our guests a fascinating insight into M&S. The company buys £128m worth of goods every year from NI suppliers and this figure is growing significantly year-on-year.
"At a time of huge transformation for the retail sector it is heartening that a bedrock of the sector is focusing so strongly on innovation while at the same time charting a course built around integrity."
Following the lecture, Mr Rowe took part in a panel discussion with Professor Chris Elliott discussing food integrity and the challenges facing the global food supply chain.
Pictured with Mr Steve Rowe (centre) are: Professor Nigel Scollan, Director of the Institute for Global Food Security; Professor Adrienne Scullion, Pro-Vice-Chancellor for AHSS Faculty; Professor Nola Hewitt-Dundas, Head of School, Queen's Management School; and Professor Chris Elliott, Professor of Food Safety and Founder of the Institute for Global Food Security
Queen's Management School, Institute for Global Food Security, Queen's University Belfast