Conflict is inherent in all societies and has persisted for thousands of years, leaving long-lasting economic, educational and political effects. Nothing, though, is more devastating than the impact on people.
The University of Chicago's Pearson Institute for the Study and Resolution of Global Conflicts and The Senator George J. Mitchell Institute for Global Peace, Security and Justice at Queen's University Belfast will convene world leaders, scholars and those who are actively working on the ground in conflict zones for Global Conflict | The Human Impact. This two-day conference will examine the lessons learned from resolved conflicts, challenges presented by current conflicts, and the tremendous negative impact on individuals and families.
Click here to read the official press release.
23-24 August, 2018

Queen's University Belfast
Register to attend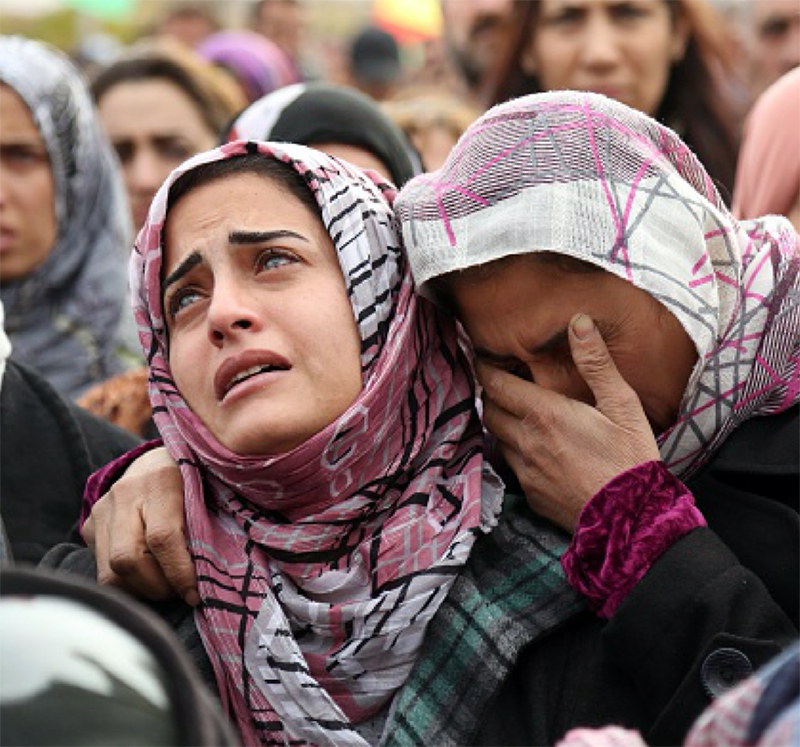 Morning

Conference Opening: 10.00am

Welcome

Professor Ian Greer

Vice-Chancellor, Queen's University Belfast

Opening Remarks

Robert J. Zimmer

President, University of Chicago

---

Keynote Address: 10.15am

Introduction

Professor Richard English

Distinguished Professorial Fellow, The Senator George J. Mitchell Institute for Global Peace, Security and Justice, Queen's University Belfast; Pro-Vice Chancellor, Queen's University Belfast; Author, "Armed Struggle: The History of the IRA"

Keynote Address

Senator George J. Mitchell

Inaugural United States Special Envoy for Northern Ireland (1995 – 1998); Independent Chairman, Northern Ireland Peace Talks; United States Special Envoy to the Middle East (2009-2011)

---

Northern Ireland: How Peace was Built: 11.00am

Discussion

Bertie Ahern

Former Taoiseach, Republic of Ireland (1997-2008)

Father Gary Donegan

Talks Chair, North Belfast Community Resolution Panel; Director, Peace and Reconciliation for the Passionist Order

Reverend Dr Harold Good

Recipient, World Methodist Peace Award (2007)

Professor Monica McWilliams

Co-Founder, Northern Ireland Women's Coalition; Chief Commissioner, Northern Ireland Human Rights Commission (2005-2010); Emeritus Professor, Transitional Justice Institute, Ulster University

Yvette Shapiro (Moderator)

Journalist

Lord David Trimble

Former First Minister, Northern Ireland (1998-2002); Former Leader, the Ulster Unionist Party (1995-2005)

Lunch

12.00pm

Afternoon

Keynote Address: 13.30pm

Keynote Address

Sergio Jaramillo Caro

Former High Commissioner of Peace, Colombia (2012-2016)

---

Colombia: The Path to Peace: 14.15pm

Discussion

Sergio Jaramillo Caro

Former High Commissioner of Peace, Colombia (2012-2016)

Professor James Robinson

Institute Director, The Pearson Institute for the Study and Resolution of Global Conflicts; The Reverend Dr. Richard L. Pearson Professor of Global Conflict Studies and University Professor, The University of Chicago; Co-author, "Why Nations Fail: The Origins of Power, Prosperity, and Poverty"

Maria Teresa Ronderos (Moderator)

Director, Open Society Program on Independent Journalism; Editor-in-Chief, VerdadAbierta.com

---

Q&A: Colombia: The Path to Peace: 15.15pm

---

Closing Remarks - Professor Richard English: 15.30pm
Morning

Keynote Address: 9.00am

Welcome

Professor Richard English

Distinguished Professorial Fellow, The Senator George J. Mitchell Institute for Global Peace, Security and Justice, Queen's University Belfast; Pro-Vice Chancellor, Queen's University Belfast; Author, "Armed Struggle: The History of the IRA"

Video Message

António Guterres

United Nations Secretary-General

Introduction

Peter B. Finn

Principal, St. Mary's University College Belfast

Keynote Address

Filippo Grandi

United Nations High Commissioner for Refugees, The UN Refugee Agency

---

Policy Responses to the Refugee Crises: 9.45am

Discussion

David Donoghue

Former Ambassador and Permanent Representative of Ireland to the United Nations

Lyse Doucet (Moderator)

Chief International Correspondent, BBC

Dr. Fiona Murphy

Research Fellow, The Senator George J. Mitchell Institute for Global Peace, Security and Justice, Queen's University Belfast

Maciej Popowski

European Commission Deputy Director General for Neighbourhood and Enlargement Negotiations

Honorable Anne C. Richard

Former US Assistant Secretary of State, Population, Refugees & Migration (2012-2017); Former Vice President of Government Relations and Advocacy, International Rescue Committee (2004-2012)

---

Tea Break: 10.45am

---

Refugee Crises and Families: 11.00am - 12.00pm

Video Message

Hazim Avdal

Student, The University of Chicago

Discussion

Muzoon Almellehan

Goodwill Ambassador, UNICEF and Syrian Refugee

Dr. Jeannie Annan

Senior Research Associate, The Pearson Institute for the Study and Resolution of Global Conflicts, The University of Chicago; Senior Director for Research and Evaluation, International Rescue Committee

Lyse Doucet (Moderator)

Chief International Correspondent, BBC

Dominic MacSorley

Chief Executive Officer, Concern Worldwide

Sanj Srikanthan

Acting Senior Vice President and Executive Director for Europe, The International Rescue Committee

---

Final Remarks: Midday

| | |
| --- | --- |
| Final Remarks | Professor Richard English |
| Closing Remarks | Daniel Diermeier |
Getting Here
Whitla Hall, Queen's University
University Road, Belfast,
BT7 1NN
Getting here