Commemorative Image of Titanic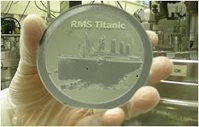 MEMS created Titanic Structure
In order to commemorate the 100th anniversary of the Titanic a commemorative substrate was created using state of the art MEMS technology.
A 100mm silicon substarte was patterned with the Titanic image using standard photolithography. The patternen was subsequently transferred to the silicon using Deep Reactive Ion Etching.The silicon substrate was anodically bonded to a glass substrate resulting in the structure shown. Finally the Titanic name was created by sputtering and patterning of aluminium.
The structure represents the link between modern engineering capabilities in Northerm Ireland to engineering of the past.