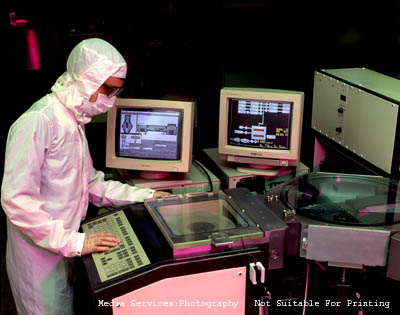 Queen's Advanced Micro-Engineering Centre houses a suite of semiconductor processing equipment which are available for customer foundry needs. The equipment set encompasses all sides of silicon processing including:
Photolithography
Nanoscribe 3D-SF/3D-MF/3D-LF true 3D printing: nm to mm scale
Chemical vapour deposition
Diffusion processes(doping and oxidation)
Etch(wet chemical etch, RIE, deep ICP etching)
Metalisation
Test and Analysis
Chemical Mechanical Polishing
Follow the Foundry Link for more details of what is on offer.
A copy of the QAMEC Brochure can be found by following the link: publisher pdf
For further information contact the QAMEC manager.
Process Available

Wafer Size

75mm

100mm

150mm

200mm

LPCVD Poly silicon

×

×

×

PECVD Oxide/Nitride Deposition

×

×

×

×

Layer Analysis: Keyence 6000X 4K digital microscope/White light interferometry/Layer Thickness measurement.

x

x

x

x

PVD Metal Deposition

×

×

×

Thermal Processing: Wet and Dry Oxidation.

×

×

×

3D nanoscale printing: Nanoscribe Photonic Professional GT


3D Polymer Printing from nm to micron scale


(Contact for details)

Chemical Mechanical Polishing

(contact for information)

×

×

×

×

ALD Al2O3, HfO2

×

×

×

Optical Lithography >4µm feature size

×

×

×

Photoresist Coat and Develop

×

×

×

×

EV Double Sided Aligner

×

×

×

RIE IE of Si3N4,SiO2

×

×

×

ICP Deep Etch

×

×

×

×

Oxide wet Etch

×

×

×

X

Poly Wet Etch

×

×

×

×

Metal Wet Etch

×

×

×

×

Wet Processing

×

×

×

×

Surface Treatment

×

×

×

×

Evaporation

×

Surface and Thin Film Measurement

x
x
x
x

Measurement and Test

x

Test include CV, IV, Transistor characteristics etc/ Gas chromotography