Belfast hosts consortium meeting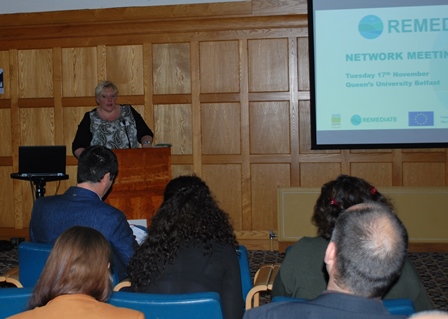 Dr Julie-Anne Hanna opens the Remediate consortium meeting
Belfast hosts consortium meeting
The latest consortium meeting was held in Belfast on 17 and 18 November at Queen's University.
Dr Julie-Anne Hanna, from the University's QUESTOR Centre, opened the meeting, with an introduction from Dr Mike Larkin, Remediate co-ordinator, who also gave an insight into the work of the QUESTOR Centre.
Held in the Council Chamber, the first day focused was on the project's four work packages and gave the Fellows an opportunity to highlight their own research projects during their individual presentations.
A poster session at lunchtime allowed delegates to network, while the afternoon brought a discussion on available sites, samples and databases by Dr Rory Doherty and Dr Siobhan Cox. The meeting ended with dinner in a nearby restaurant.
The second day was hosted in the Northern Ireland Technology Centre, and saw a series of meetings aimed at different groupings. At the Student Council meeting Stacie Tardif from University of Copenhagen volunteered to take on the role of council chair, while Cranfield's Sabrina Cipullo took up the post of secretary, positions which will rotate on a regular basis.
The technical meeting focused on secondments and revealed that with Dr Mike Larkin's retirement in early 2016 Dr Rory Doherty would be taking over as Project Co-ordinator, following a formal handover later in the year. Dates of the first summer school in Belfast were announced at the supervisory board meeting; during the four days (20-23 June) students will be able to look forward to a mixture of soft skills training and site visits.
The next consortium meeting will be held in Copenhagen in May 2016.