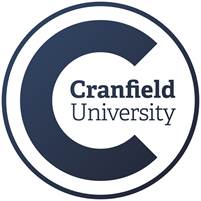 Cranfield University
Cranfield is an exclusively postgraduate university that is a global leader for education and transformational research in technology and management. It is one of the top five research-intensive universities in the UK and has a demonstrated track-record in the capacity-building of early-stage researchers through doctoral training, graduating 10% of the UK's engineering and science PhD and EngDs.
Environmental Technology is one of the key strategic themes at Cranfield. We have been contributing to the green economy for over 40 years with deep expertise in environmental governance and sustainability, natural resource management, agriculture and land management, energy and the environment, environmental engineering for the treatment of water, waste and contaminated soils and environmental health and food. In the recent UK Research Excellence Framework [REF] over 80% of the research carried out by Cranfield University was assessed to be internationally leading, indicating the quality and impact of the work carried out at Cranfield University.
We are also known for our excellence in research that transforms external organisations and for our powerful industry links and real world focus. You will join the interdisciplinary team in the Bioenergy and Resource Management Centre which has an outstanding international reputation in relation to the general themes of contaminated land, landfill science, risk assessment and decision-making, life cycle engineering and sustainable resource recovery.
Technical expertise available for the REMEDIATE fellows at CU includes:
• Environmental analytical laboratories for soil, sediment, water and air analysis
• State of the art analytical equipment including GC-FID, GC-ECD, GC-MS, HPLC, LC-MS/MS, SIFT-MS, AAS, ICP-MS, NMR
• Pilot scale testing facility
• Environmental Modelling