Cranfield University Fellow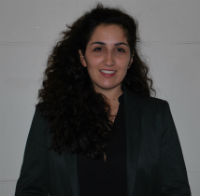 Sabrina Cipullo
Sabrina Cipullo
School of Energy, Environment and Agrifood, Cranfield University
Sabrina is a Marie Curie Early Stage Researcher in Environmental Science at Cranfield University. She has a Master of Environmental Science and Biotechnology degree from the University of Milan, Italy, and a BSc in Biotechnology. During her MSc thesis, she investigated the ultimate biogas production potential of municipal solid waste using biochemical methane potential (BMP) approach. Following her MSc work, Sabrina was involved in a short research project assessing hydrocarbon degradation profile and efficacy of a bio-augmentation product in saline environment. She has gained technical skills in experimental design, analytical chemistry, qualitative and quantitative data analysis, and has experience in preparing and delivering high quality research outputs.
Her role within REMEDIATE focuses on Environmental Chemistry and toxicological approaches to site assessments. Research efforts will focus on better understanding the sources of pollution, environmental fate transport of complex chemical mixtures, bioavailability, bioaccessibility and toxicity of contaminants. Sabrina's experimental work is based on toxico-chemical analysis to describe the interaction of poorly biodegradable contaminants with particulate matter and their impact on receptors. As a part of her research, Sabrina is undertaking an industrial placement with British Geological Survey (BGS) in Nottingham in the UK.
Beyond her PhD research, Sabrina also has an active role in student activities and laboratory committee. She is currently leading the Cranfield Research Student Forum (organising monthly research seminars) and she is an elected member of the Environmental Analytical Facility Committee at Cranfield University. She also helped organise the Impact research showcase on campus in May 2016, Cranfield's Festival of Flight and Exploratorium in September 2016, and will organise "Science for the Green Economy" conference in June 2017.
Sabrina is an associate member of the Royal Society of Chemistry, a committee member East Anglia Region of the Analytical Division (RSC), and a volunteer of the RSC benevolent fund, as well as an active member of the Society of Brownfield Risk Assessment (SoBRA), RemSoc, and student member of the Chartered Institution of Water and Environmental Management (CIWEM). She also recently became a STEM ambassador to inspire and engage young people about science, technology, engineering and mathematics.
She is involved in outreach activities and took part in two major events; Science Uncovered at the national history Museum (Part of European Researchers' Night sponsored by HORIZON 2020), and the Contamination Expo Series in September/October 2016 to help people better understand contaminated land and its impact. She is also engaging with industry and have been invited to present her work at #YourSOILution conference on Tuesday 13th December, an event organised by ALS Environmental. She also presented her work at the ISEH international conference in Galway, Ireland (August 2016) and at RSC Environmental Chemistry of Water, Sediment and Soil: Early Career Researchers Meeting, London, UK (November 2016).
Sabrina became a scientific journalist in 2015 for a digital media outlet labiotech.eu covering the European biotech industry, and wrote an article about REMEDIATE. She also published an article in the December 2016 edition of CIWEM's The Environment Magazine.
Find out more about Sabrina here.