10 Engineering or Computing movies for you to watch this weekend!
While we are all mostly confined to our homes, we thought it would be a good time to catch up on some great films. Here are 10 awesome films that relate to Engineering or Computing, available across Netflix, Amazon Prime or Disney+
Kicking off our ten suggestions we have
T
he Imitation Game
(2014)
: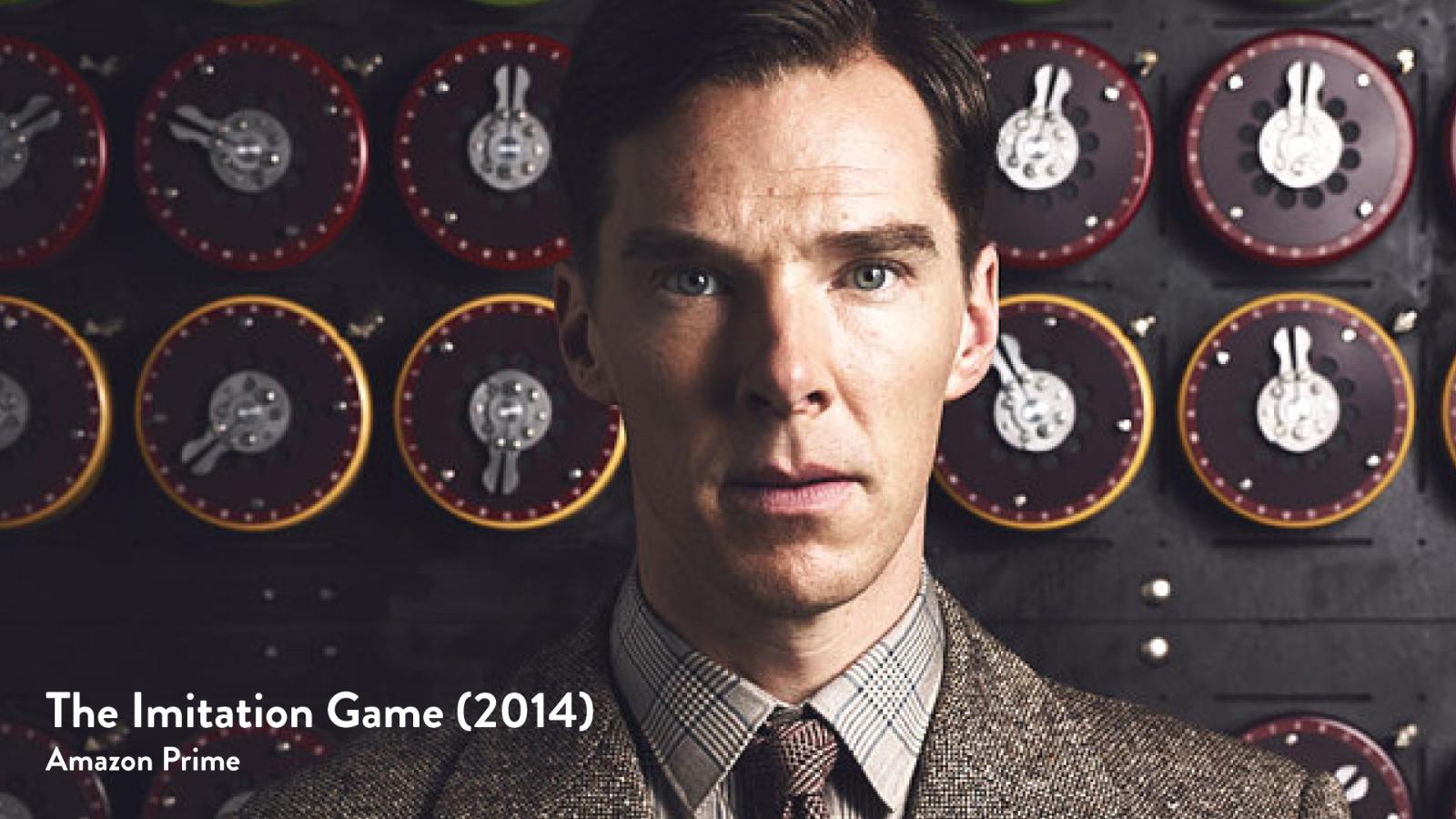 In 1939, newly created British intelligence agency MI6 recruits Cambridge mathematics alumnus Alan Turing (Benedict Cumberbatch) to crack Nazi codes, including Enigma - which cryptanalysts had thought unbreakable. Turing's team, including Joan Clarke (Keira Knightley), analyse Enigma messages while he builds a machine to decipher them. (Amazon Prime)
Following on from the Imitation Game
,
Turing's work makes another
appearance
in
EX_MACHINA
(2014)
: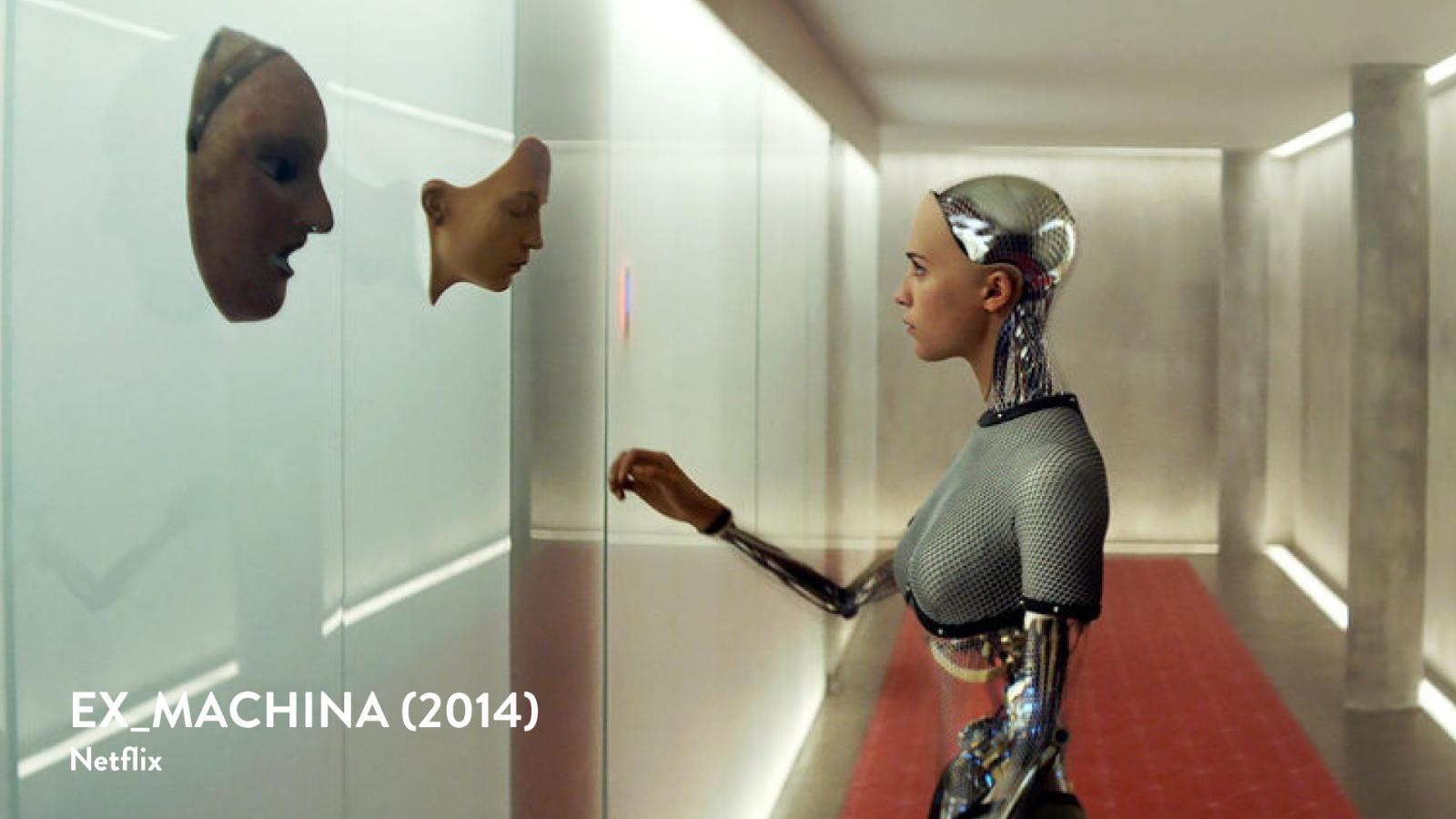 Caleb Smith (Domhnall Gleeson) a computer programmer, wins a contest that enables him to spend a week at the private estate of Nathan Bateman (Oscar Isaac), his firm's brilliant CEO. When he arrives, Caleb learns that he has been chosen to be the human component in a Turing test to determine the capabilities and consciousness of Ava (Alicia Vikander), an A.I. robot. However, it soon becomes evident that Ava is far more self-aware and deceptive than either man imagined. (Netflix)
Our next suggestion doesn't need an introduction…
The Terminator
(1984)
:

Disguised as a human, a cyborg assassin known as a Terminator (Arnold Schwarzenegger) travels from 2029 to 1984 to kill Sarah Connor (Linda Hamilton). Sent to protect Sarah is Kyle Reese (Michael Biehn), who divulges the coming of Skynet, an artificial intelligence system that will spark a nuclear holocaust. With the unstoppable Terminator in hot pursuit, she and Kyle attempt to escape. (Netflix)
Until Arnie is back… on Netflix. Choose your side on who would win in a fight between Ter
minator and our next suggestion,
ROBOCOP
(1987)
: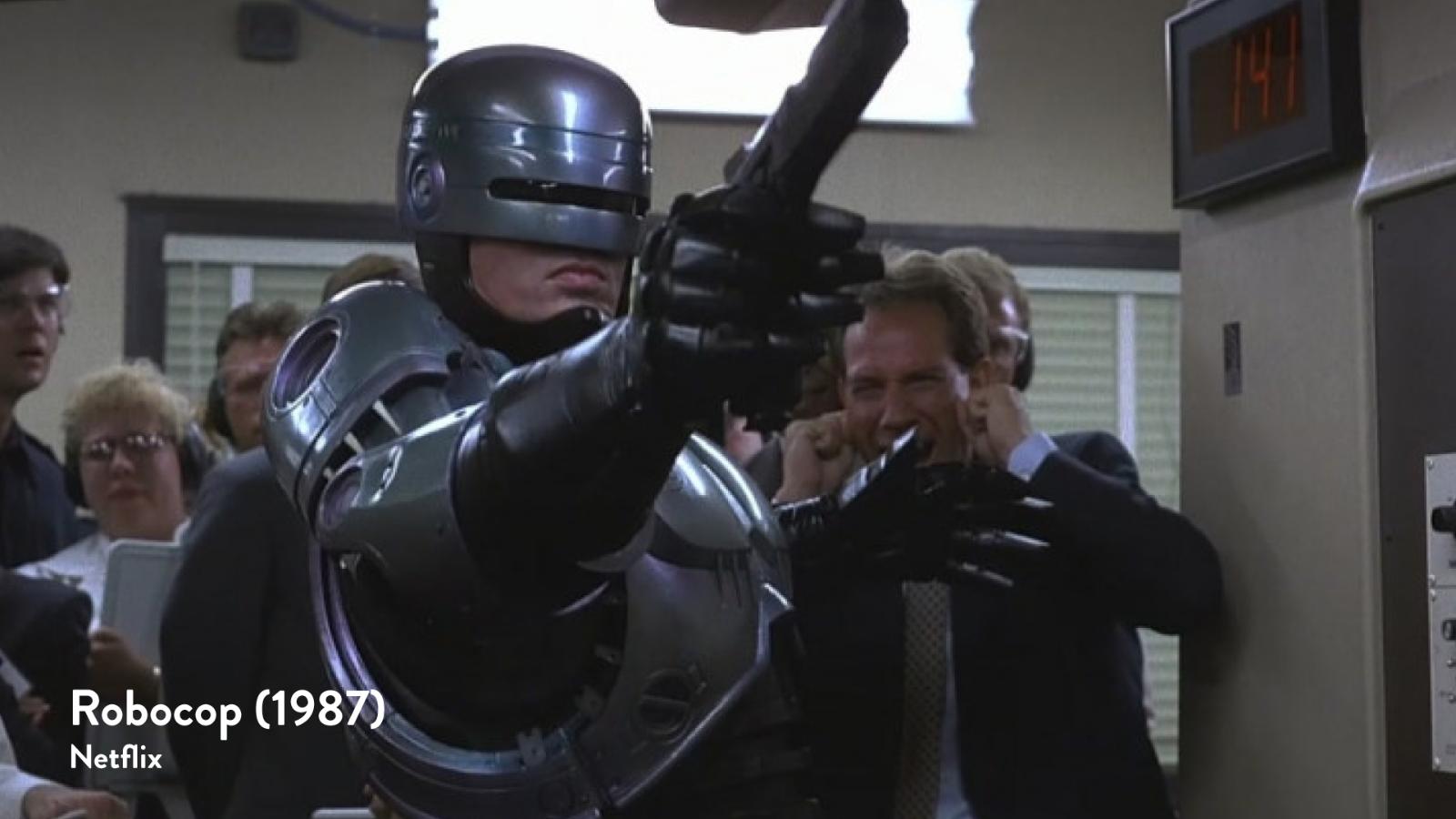 In a violent, near-apocalyptic Detroit, evil corporation Omni Consumer Products wins a contract from the city government to privatize the police force. To test their crime-eradicating A.I. cyborgs, the company sends Alex Murphy (Peter Weller) into an armed confrontation with crime lord Boddicker (Kurtwood Smith), using his body to support their untested RoboCop prototype. But when RoboCop learns of the company's nefarious plans, he turns on his masters. (Netflix)
We
would
be fined 1 credit for a violation of the movie
recommendation
statue for not mentioning this one,
f
eaturing
the
cinematic trifecta
of
Stallone, Snipes and Taco Bell!
It's
DEMOLITION MAN
(1993)
: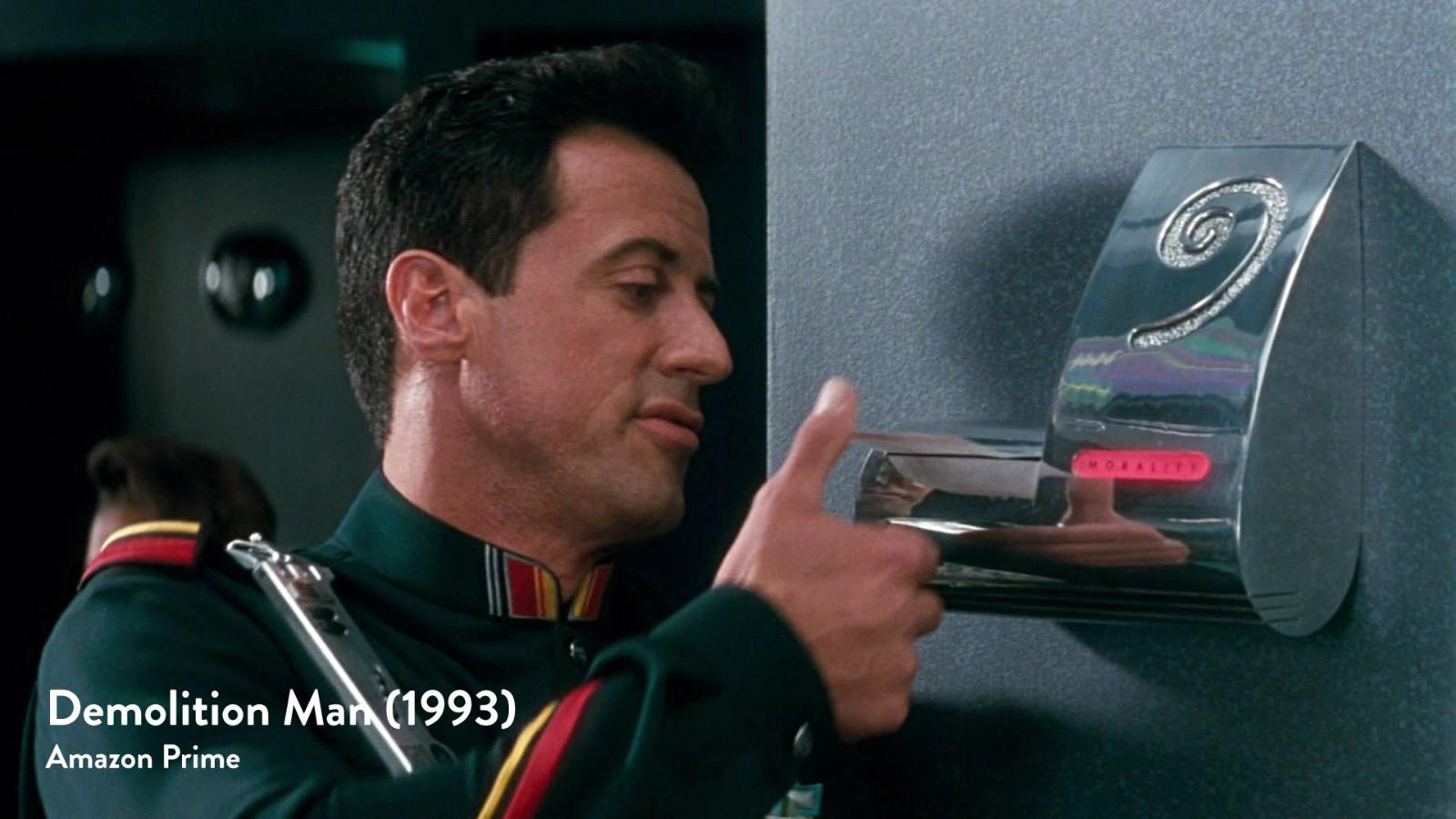 With innocent victims caught in the crossfire in Los Angeles' intensifying war on crime, both cop John Spartan (Sylvester Stallone) and violent thug Simon Phoenix (Wesley Snipes) are sentenced to a state of frozen incarceration known as "CryoPrison." When Spartan is finally thawed 36 years later, it's 2032, and Los Angeles is now a pacifist utopia called San Angeles. But with Phoenix again on the loose, Spartan must team up with future cop Lenina (Sandra Bullock) to apprehend the killer. Ten points for anyone who worked out the three seashells… (Amazon Prime)
We're all getting used to using video chat a lot more, but what if you shared
everything
?
Tom Hanks and Emma Watson
explore this
in
THE CIRCLE
(2017)
: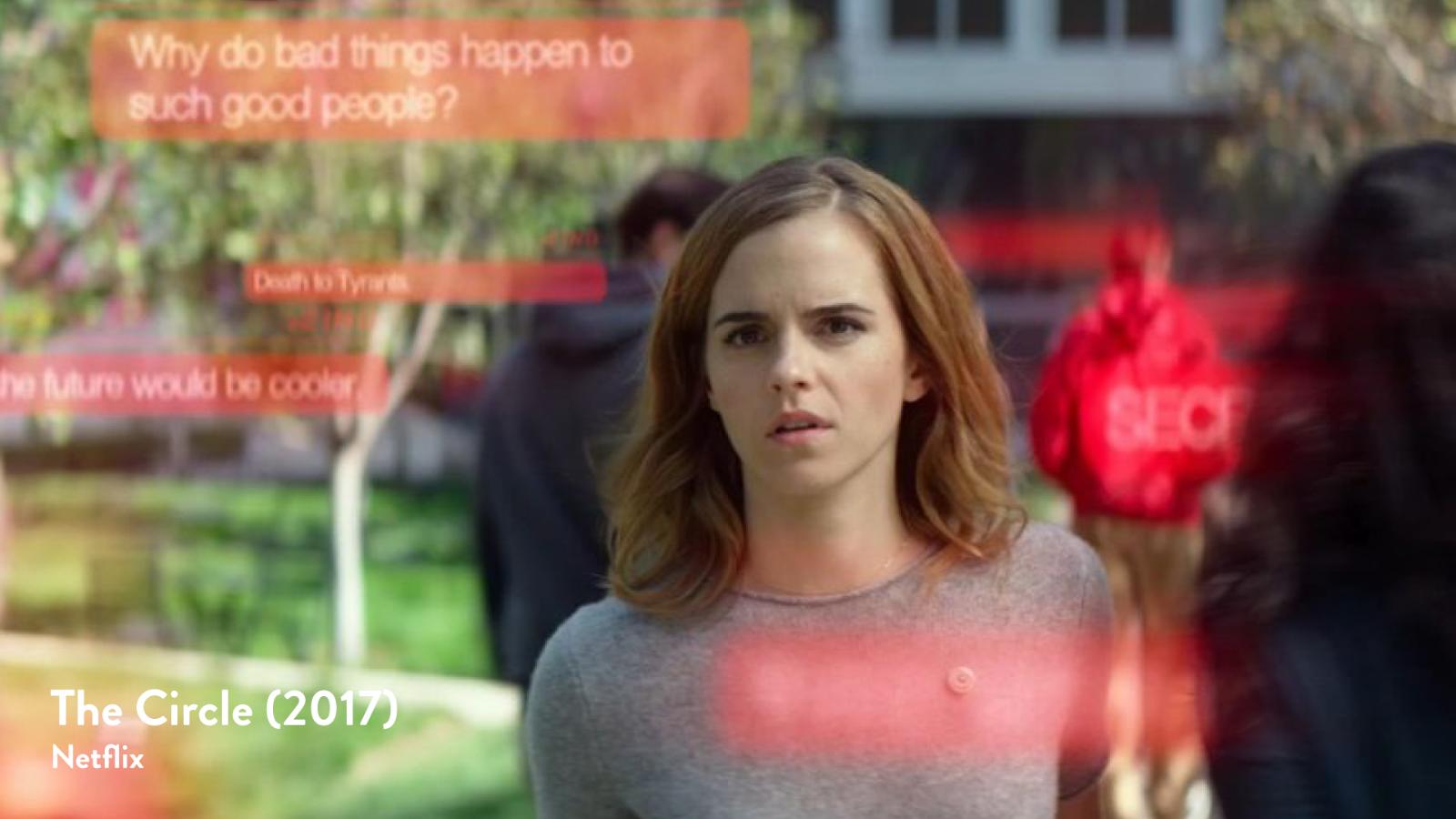 Mae Holland (Emma Watson) lands the job of a lifetime with the world's most powerful technology and social media company. Encouraged by the company's founder (Tom Hanks), Mae joins a ground-breaking experiment that pushes the boundaries of privacy, ethics and personal freedom. Her participation in the experiment, and every decision she makes soon starts to affect the lives and futures of her friends, family and that of humanity. (Netflix)
Benedict Cumberbatch makes a second appearance on our list in this fascinating insight into the battle to bring electricity to America in
The Current War (2019)
: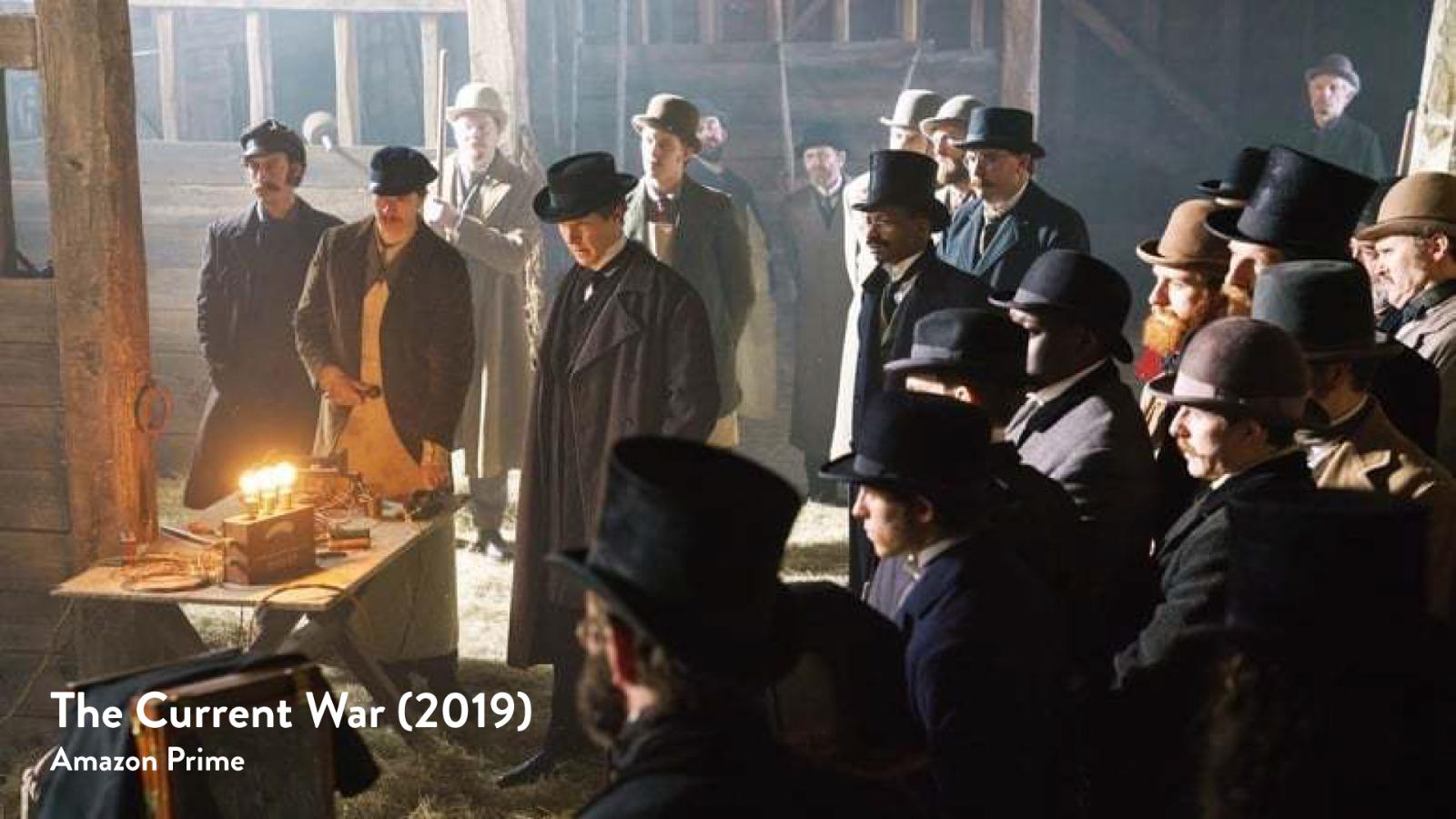 Thomas Edison (Benedict Cumberbatch) and George Westinghouse (Michael Shannon) - the greatest inventors of the industrial age -- engage in a battle of technology and ideas that will determine whose electrical system will power the new century. Backed by J.P. Morgan, Edison dazzles the world by lighting Manhattan. But Westinghouse, aided by Nikola Tesla, sees fatal flaws in Edison's direct current design. Westinghouse and Tesla bet everything on risky and dangerous alternating current. (Amazon Prime)
A silver lining of our lockdown is the launch of Disney Plus, why not do a deep dive
into
one of the greatest
move franchises
in cinema history with
our next recommendation.
Star Wars
Episode I: The Phantom Menace (1999)
: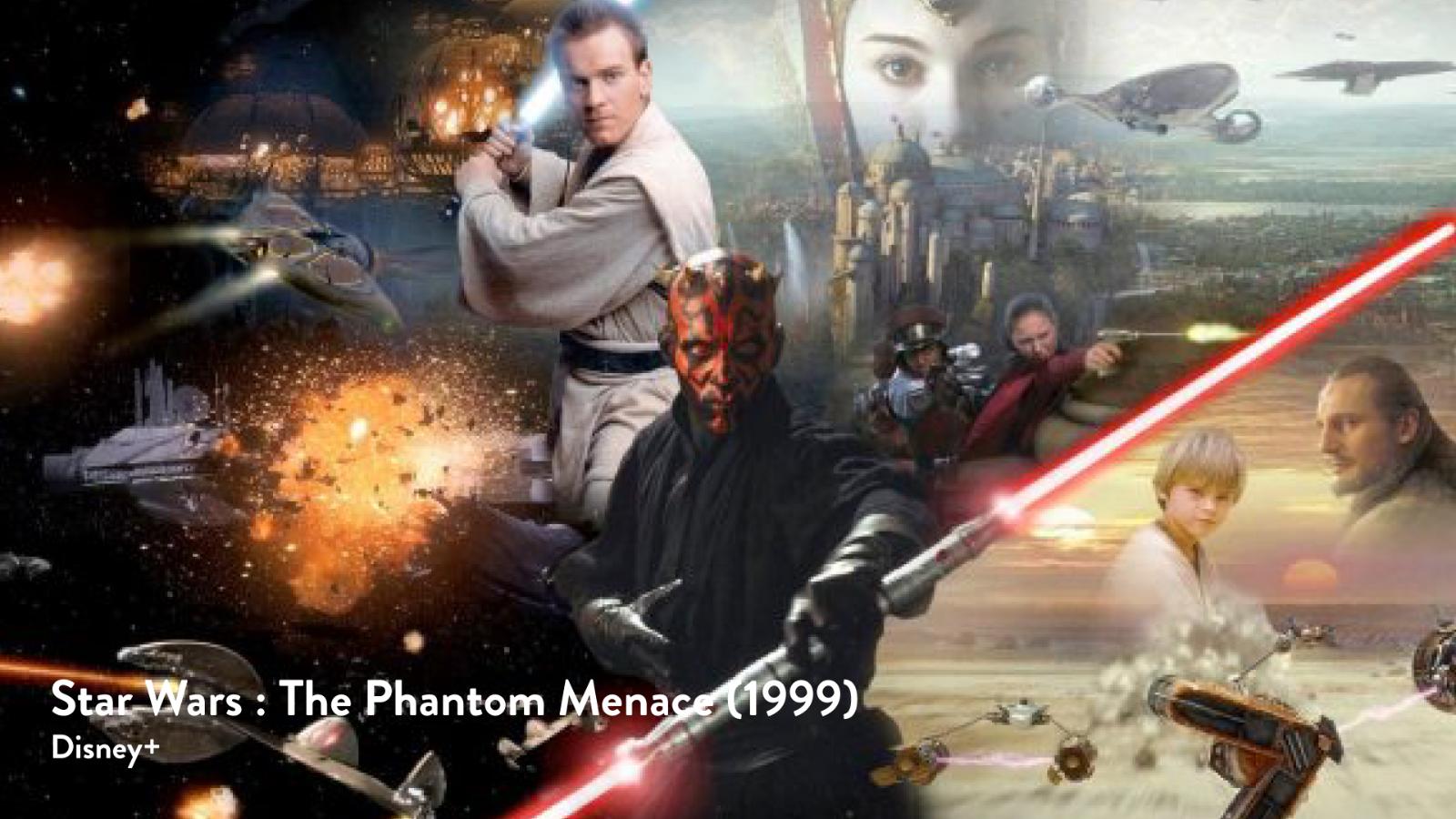 Love it or hate it, this prequel relaunched Star Wars (the first time) after decades of new film drought. Two Jedi Knights set out to search for someone who can bring peace to the Force. Their search ends when they come across a young, gifted boy on a dusty backwater world, but darkness is brewing, and there are rumblings that the Sith have returned to stake their claim to the Force. Watch the movie that relaunched Star Wars (and an entire subreddit of memes) (Disney+)
For a
ll the animal and gadget lovers out there,
Cats & Dogs
(2001)
: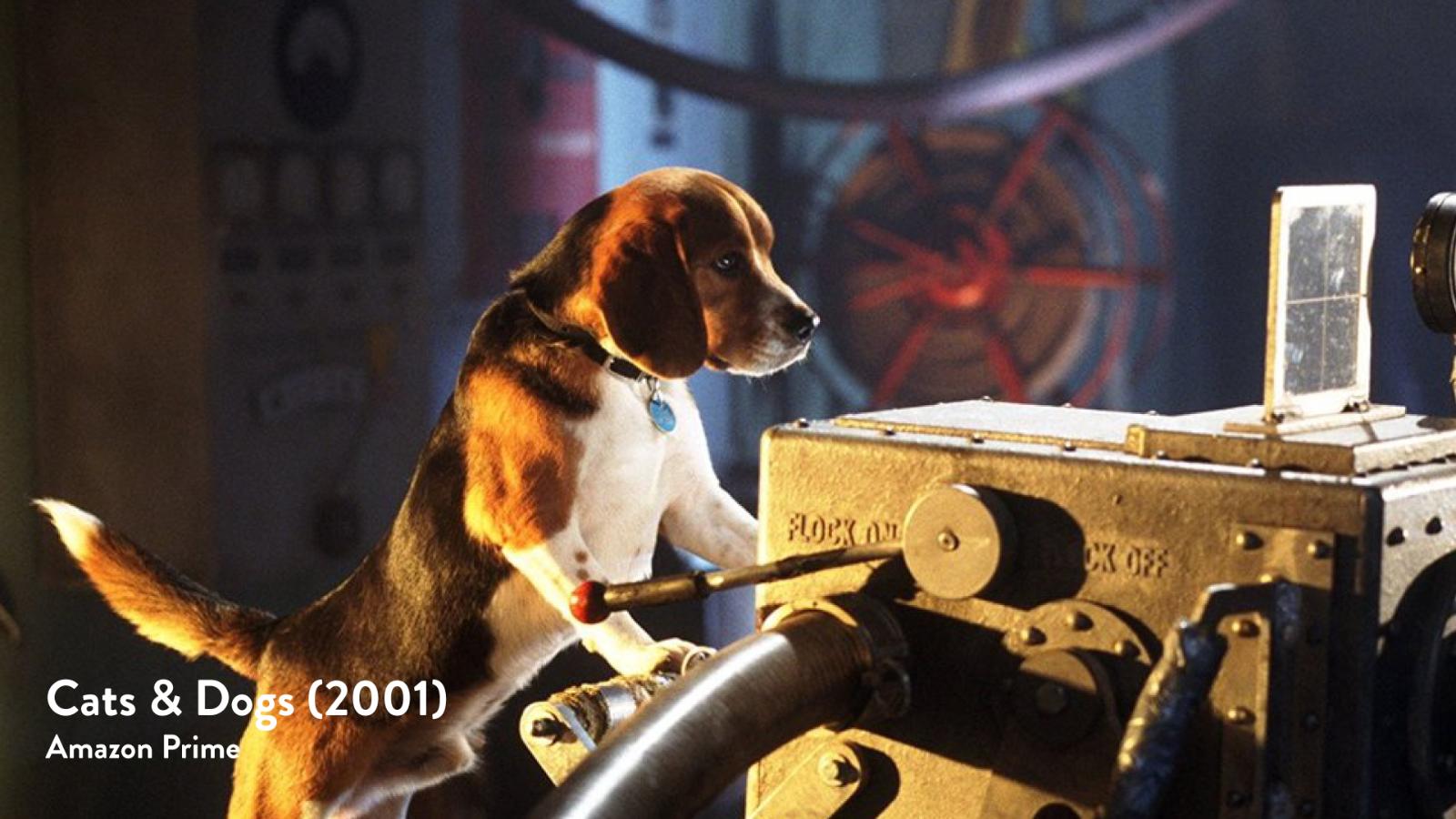 Cats & Dogs uncovers the truth about the high-tech, secret war being waged in neighbourhoods everywhere that humans aren't even aware of: an eternal struggle between the two great armies of Cats and Dogs. The story follows a Cat plan to destroy a new vaccine that, if developed, would destroy all human allergies to Dogs, and the Dogs' efforts to stop the Cats from executing their plan. (Amazon Prime)
And last but by no means least, anyone
fancy a Robotic
RomCom
? Here's
WALL-E
(2008)
: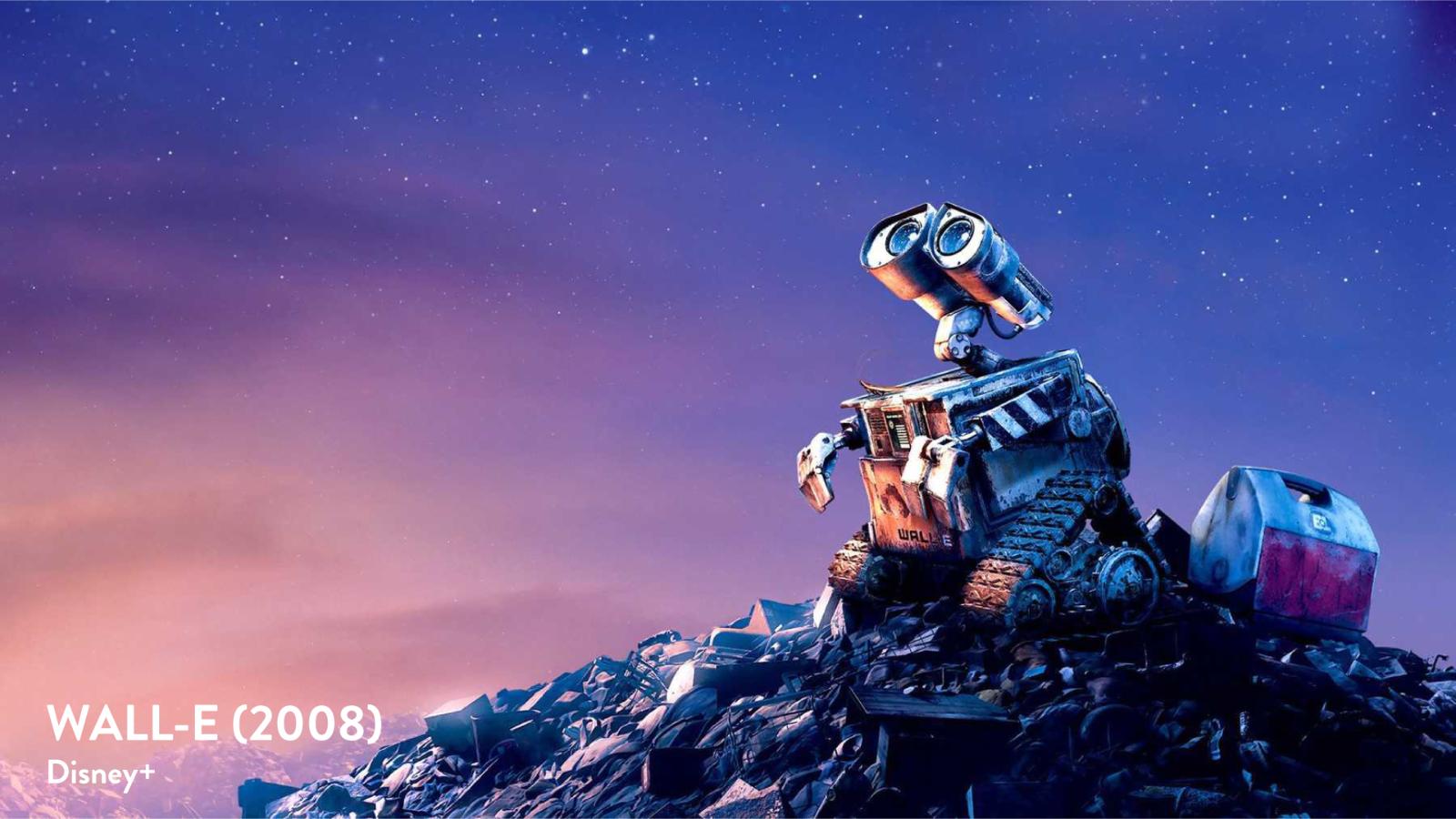 WALL-E (Waste Allocation Load Lifter Earth-class) is the last robot left on Earth. He spends his days tidying up the planet, one piece of garbage at a time. But during 700 years, WALL-E has developed a personality, and he's more than a little lonely. Then he spots EVE (Elissa Knight), a sleek and shapely probe sent back to Earth on a scanning mission. Smitten WALL-E embarks on his greatest adventure yet when he follows EVE across the galaxy. (Disney+)
However you're spending your weekend, please don't make unnecessary trips, wash your hands and be kind. There are plenty of movies and tv shows to watch, hobbies to rediscover and books to read.

Stay at home, protect the NHS and save lives.