HAPP Model NATO Success
Students from the School of History, Anthropology, Philosophy and Politics have come top in the annual UK-wide Model NATO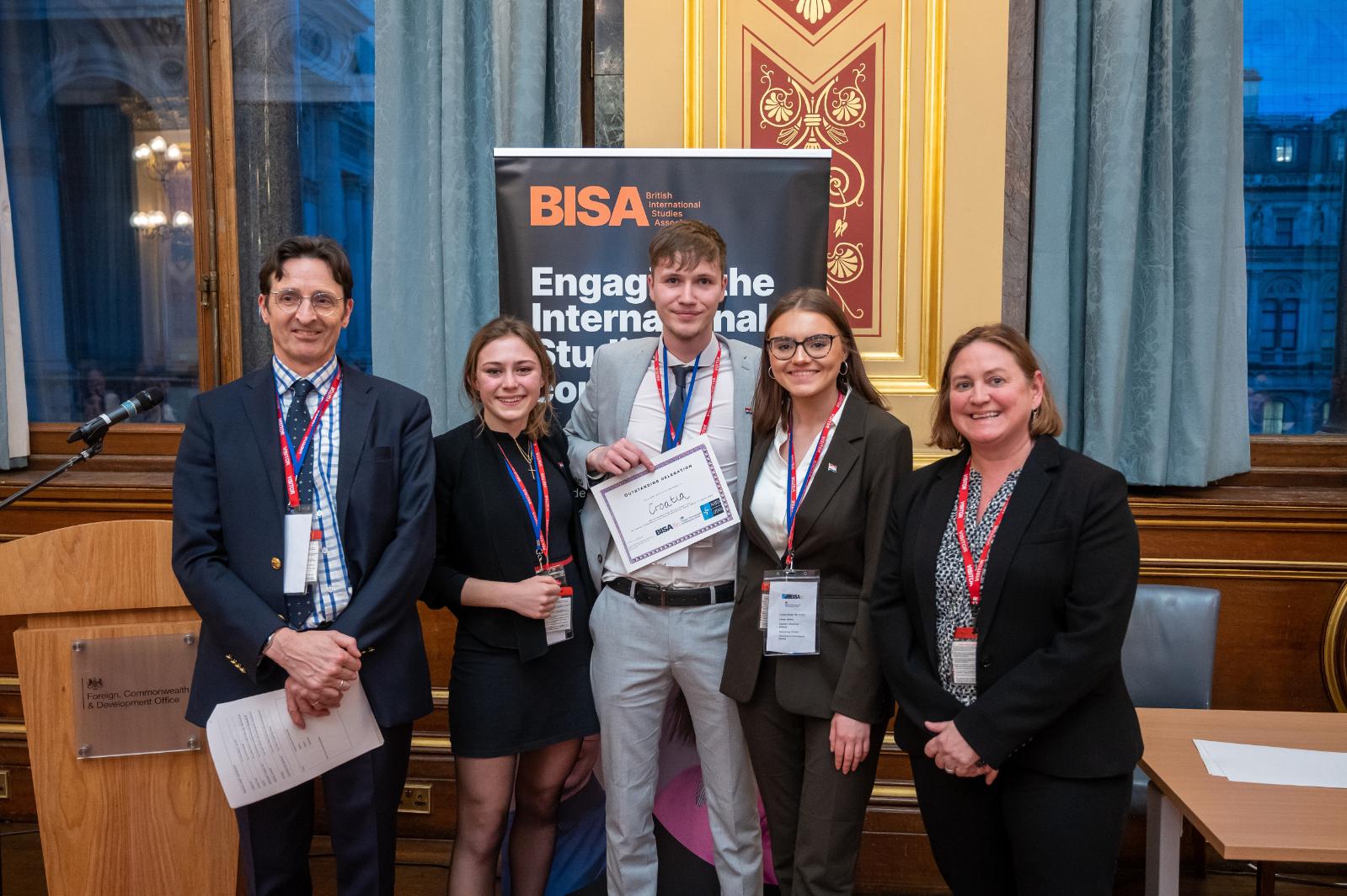 The School of History, Anthropology, Philosophy and Politics were once again delighted to take part in the British International Studies Association, Foreign Commonwealth and Development Office and the North Atlantic Treaty Organisation's Model NATO competition 2022. The event took place in the FCDO in London.
The Model NATO competition is a wonderful opportunity for students to get a feel for what it might be like to work as a diplomat. The competition revolves around a crisis to which participants work to develop a shared response. The school represented two NATO countries – Croatia and Estonia – competing against universities from across the UK. Final year students from across the school took part – Catriona Edington, Will Kenyon and Eimear Willett representing Croatia, and Tautvydas Galminas, Mark Montgomery and Jack Scott representing Estonia. Working with Prof Alister Miskimmon, both teams put in considerable effort to prepare national positions in advance of the competition.
We were delighted that our team representing Croatia were awarded the Outstanding Delegation Award. Reflecting on the experience Catriona, Eimear and Will took away the following impression from the event:
Catriona Edington

As a history rather than politics student I was a little apprehensive about Model NATO as I thought that I may have been behind some of the others who study such things on their actual course.

However, the most important thing for this is to research your countries position beforehand and to stick to it. After Alister's advice we supplemented our research with a talk with a diplomat based at the Croatian embassy in the UK. She was wonderful and just gave us that extra insight into what Croatia would want so that we could best represent them and their national position. This was something which we were determined to do and it clearly paid off in how Eimear, Will and I debated with the other participants.

Model NATO was possibly one of the most rewarding experiences I have had as an undergrad as not only was the atmosphere in the Locarno suite in the FCDO building incredible, but the task itself it encouraged teamwork, creativity and independence. Being able to make a case for something in front of a bunch of people you do not know is a challenging thing to do but has given us all a huge confidence boost in ourselves and our abilities moving forwards.

As a process it has given me an insight into the career areas which are available after I graduate and although I am not sure yet where I am going to go it was an experience which I loved and so would recommend to anyone considering it.

Eimear Willett

Taking part in Model NATO has definitely been one of the best things I've ever done. My role in representing Croatia was sitting on the Civilian Emergency Planning Committee to respond to a simulated natural disaster crisis (though it felt very real on the day) in the Mediterranean Sea. I gained an insight into the complicated intricacies of diplomacy and the importance of patience as NATO operates by consensus (which at times made for tedious negotiations). My confidence has improved, and I have learned the importance of having conviction in your beliefs but also being opened to differing perspectives and opinions which is crucial for all aspects of life. The importance of preparation was something which was crucial and which I couldn't have done without my other teammates and so my ability to work in a team has also been something I've been able to develop on. I had never considered a career in diplomacy but taking part in the competition and meeting diplomats and officials at the event has shown me the potential of a career in diplomacy which I hope to pursue after I graduate this summer.

Will Kenyon

Model NATO both increased my knowledge of diplomatic processes and radically altered my thinking and understanding of how these procedures operate in the real world. Having learned a great deal about successful diplomatic processes (and occasions when they go wrong!) throughout my three years of studying history at Queen's it was an excellent opportunity to practically apply my studies. Model NATO also highlighted the value of collaboration and co-operation in managing to achieve anything significant between nations with democratic values. Not only was the whole experience edifying, but also a lot of fun; being able to interact with my peers on that level was richly rewarding and an experience that I'd be keen to repeat.
Well done to our fantastic school team. And many thanks to the British International Studies Association, the Foreign Commonwealth and Development Office and NATO for putting on another fantastic event. More details about the event can be found here: https://www.bisa.ac.uk/news/bisafcdo-model-nato-sees-students-gain-transferable-skills
Prof Alister Miskimmon