Double finalist, Green Gown Awards UK and Ireland 2020
Congratulations to Dr Amanda Slevin, (PCAN Policy Fellow), HAPP, a double finalist in the 'Green Gown Awards UK and Ireland'. Queen's University Belfast is a finalist in three categories.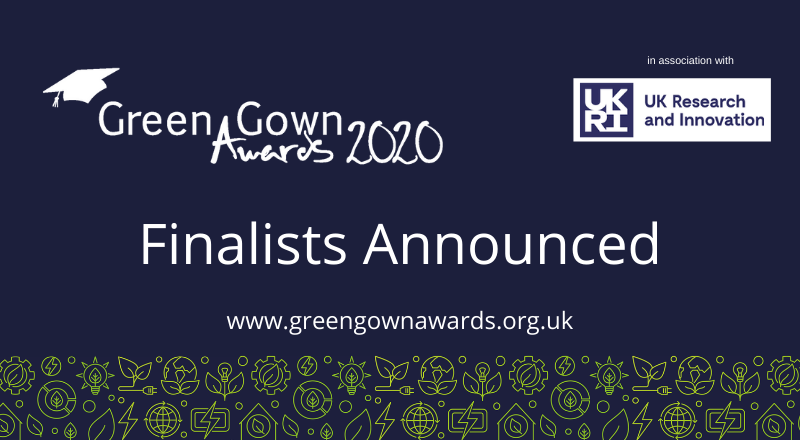 Dr Amanda Slevin has been shortlisted in both the 'Sustainability Champion' (Staff) and 'Benefitting Society' categories in the 'Green Gown Awards UK and Ireland'.
As one of four finalists in the 'Sustainability Champion' category, Amanda has been shortlisted for her work on sustainability and climate action, undertaken in addition to her work with the Place-based Climate Action Network. Co-Director of QUB's Centre for Sustainability, Equality and Climate Action, Amanda's efforts focus on three distinct strands which produce wide-ranging benefits: 1. New formal teaching and learning initiatives (e.g. Amanda initiated and co-convenes QUB's first interdisciplinary module on sustainability, climate change and just transition (PAI1010)); 2. innovations in non-formal teaching, learning and public engagement (incl. 'Creating our Vision for a Greener Future', an exciting staff-student collaboration which produces impacts within and beyond QUB); 3. Activities to advance sustainability and climate action research and practice, for example, Amanda is PI for 'Pathways for Sustainability' research with QUB staff and students; she also chairs the multi-stakeholder Climate Coalition Northern Ireland.
Working with her former SSESW students, Amanda and student collaborators Colleen Petticrew, Rosie Graves, Roxanne Elliott, Alex Popoff (all currently 3rd year undergraduate students) are finalists in the 'Benefitting Society' category of the Green Gown Awards for their 'Creating our Vision for a Greener Future' project. 'Creating our Vision for a Greener Future' is an exciting collaboration between QUB staff, students and the public focused on creative exploration of pressing socio-ecological issues as a basis for climate action within and beyond Queen's University Belfast. Informed by community arts and transformative pedagogy, the 'Green Arts' team developed an innovative non-formal educational methodology to engage wider society around co-creating visions for a sustainable future to help inform climate action. Funded by QUB's Green Fund, 'Creating our Vision for a Greener Future' began when the team collaborated to co-write our short play 'Anna's Journey' as a mechanism to communicate multi-level socio-ecological issues, prompt critical thinking and, hopefully, action among those who engaged with our project. The play became a cornerstone of six community-based workshops we facilitated across Ulster during 2019, attended by over 200 people of all ages; learning from our project is also shared in an accessible co-authored journal article (Slevin et al. 2020).
QUB has also been shortlisted in the 'Student Engagement' category for 'Nurture and Grow: Connecting People Through Nature' (a University wide project, led by Sara Lynch and Rachel Vaughan in Estates). Through the project, Queen's University staff, students and residents from the local community joined forces in an effort to enhance the range of habitats within Queen's community, ensuring South Belfast is providing a home for wildlife and enabling our local community to pull together and take action for climate change. Working together they have designed, planned, and created a range of biodiversity schemes resulting in a network of biodiversity hotspots and carbon sinks in the local community. These include the Lennoxvale Tree Nursery, Alleyway Transformation Project, Biodivers:City, Green at Queen's Allotment, DKB Orchard and the Medicinal Garden.
Winners and highly commended entries will be announced at the Green Gown Awards Ceremony which will take place in March/April 2021 (venue/date TBC). Both projects in the 'Benefitting Society' and 'Student Engagement' categories will also feature in the Green Gown International Awards.
Dr Amanda Slevin, PCAN Policy Fellow,
School of History, Anthropology, Philosophy and Politics