Queen's Communities and Place welcomes Belmont delegation
Members of the Queen's Communities and Place team, along with their community partners, hosted a visit from delegates of Belmont University, Nashville, Tennessee to the Market area of South Belfast, Friday, 15 October 2021.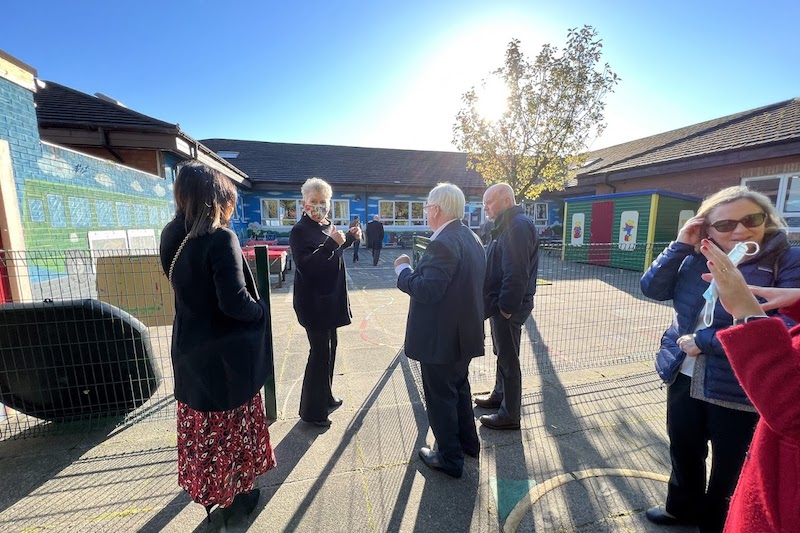 The visit began with a welcome addressed from Professor Kathy Higgins, Communities and Place Director, and Mr Fionntan Hargey, Market Development Association (MDA) Manager, in the Market Community Centre.
The visitors were introduced to the history of the area, and given an outline of the challenges the community faces. This was followed by a walking tour of the area, beginning in St Malachy's Primary School, and hosted by Dermott Flynn.
The delegation met some of the pupils and teachers and Mr Flynn gave a wonderful overview of the primary school history and the demographics of the school population.
Mr Flynn expressed how valuable the research of the Communities and Place team was in terms of the outcomes for children and young people.
Mr Fionntan Hargey guided the rest of the walkabout around three key sites in the area that are connected to the communities and place work packages, namely: the Social housing Zone in Eliza St; the Heritage site in the old convent in Sussex Place; and the tunnels project at East Bridge Street – a project on which he has been working in collaboration with Professor Brendan Murtagh.
The visit was seen as a great success with plenty of future possibilities to strengthen the partnership between Belmont and Queen's.
The visit was attended by Dr L Gregory Jones, Rev Dr. Susan Jones, Dr Darrell Gwaltney, and Dr Mimi Barnard from Belmont; and by Prof Kathy Higgins, Prof Michael Alcorn, Prof Joe Duffy, Dr Gavin Duffy and Ms Niki McKnight from Queen's.
Follow this link to find out more about Belmont University of Nashville Tennessee